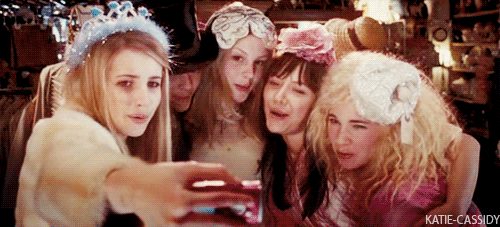 via mbgifs.tumblr.com
It's no surprise to find everyone glued to their phones nowadays. Texting, surfing the internet, and taking a snap of one's latest agenda via phone has officially become a lifestyle. And yes, taking selfies is added to the routine as well. These days, there's a misconception that taking a selfie makes you narcissistic or vain. However, that's not necessarily the case. A selfie is derived from "self-portrait" and is considered as simply expressing oneself— so what borders vanity and confidence?
Vanity: Posting an influx of repetitive selfies—ones that are obviously taken in the same place and same time. No, angles and poses do not give it a difference.
Confidence: Putting the selfies into moderation and for good reason (e.g. new hairdo or dolled up for a party)
Vanity: Finds the constant need to get everyone's stamp of approval. They're the type who fish for compliments by using captions that opposes to what they truly want to hear.
ADVERTISEMENT - CONTINUE READING BELOW
Confidence: Doesn't ask for reassurance. They believe in themselves and their humble about it.
Vanity: They flaunt, show off and/or pose in such a (sometimes sexually) provocative manner. They live and seek for the attention.
Confidence: They know their limits and what is right to share— it's never an act of bravado.
It's hard to pinpoint what makes a person vain or confident and this creates misjudgment among everyone. But there are two words one must remember: admiration and appreciation. A vain person has self-admiration and exudes with pride, while a confident person believes and appreciates oneself. Whether it's about taking selfies or not, it's all about putting things in moderation and being mindful about the things we do.