Features
Friday, I'm In Love: Scarred For Life (And For The Better)
Of scars and burns and love.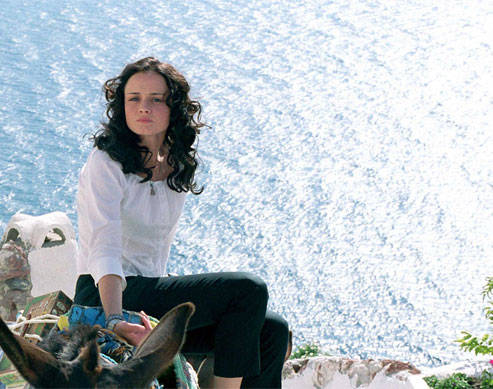 PHOTO Alcon Entertainment
Grown-ups tell you to be careful so you don't hurt yourself. You observe extra caution so you don't end up with cuts and bruises, but really, no matter how careful you are, the world has its ways of marking you.
As a kid, you daydream about your own Aladdin who, with his magic carpet, would show you the world. You find him, but he's not the fairytale prince you had in mind—he's a rascal, stubborn, and a bit of a bully (so yeah, maybe he's a little bit like Aladdin). One day you come home with a bruise on your forehead and a crack in your heart. You fight back, though, and together you fight your way to friendship. Still, the crack in your heart grows.
Years later, you are out to see the world (and in hindsight, to escape that growing crack in your heart, courtesy of that Aladdin and some other rascals). As you hop on a bus to God-knows-where, you brace yourself for the unknown. You prepare to put your guard down, to earn a few stories to tell, to wander and get lost. You look forward to the scorching heat, the freezing rain, and the excruciating hike.
ADVERTISEMENT - CONTINUE READING BELOW
CONTINUE READING BELOW
Recommended Videos
One thing you do not expect is to get burned—scarred even. So when you get off that motorbike and get singed by the mean machine's exhaust pipe, panic overwhelms you. The two-hour hike is yet to start, but the universe has already marked you. Every step you take, you feel the sting. But you know that turning back is not an option. So you decide to suck it in, bask in the pain, and continue walking as if your life depends on it. Every painful step makes a journey worth telling.
You dream of getting inked, but the fear of pain has always made you hesitate. The uncertainty of the outcome and its permanence has always held you back. On a soul trip to Kalinga, the opportunity to get inked the traditional way presents itself. You are more than tempted, but yet again, a niggling voice of reason tells you not to. Another voice, louder and more persistent, tells you it's a once-in-a-lifetime chance. It tells you that fear is all in the mind. So before you lose your temporary courage, you take a deep breath, lift the back of your shirt, and give the artist the green light. You just know it's now or never.

This is what you've learned: all the wounds, burns, and scars—the visible and invisible—do not make you imperfect. They are battle scars, trophies even. They are reminders that at one point, or several instances too many, you loved too much and got hurt but you lived through it. So you continue to venture out of your comfort zone and throw caution to the wind. If you get scars and burns while you're at it, let them tell your story of a life well lived.
ADVERTISEMENT - CONTINUE READING BELOW
Do you have stories about love—all the forms of it—that you want to share with other Candy Girls? Send us your story and we'll post it here!
It's a slap in the face when the person who eagerly swept you off your feet suddenly goes floating away.
They've got beauty and brains.
No more need for alt accounts.
Every corner is Instagrammable!
Store the small items scattered on your table in these cute trays!
Here's where you can score this bottled chocolate spread.
She may not have won the Miss Universe Philippines crown, but she's no doubt a true queen.
Did you know that Miss Universe Philippines 2020 is a licensed physical therapist?
Life is more fast-paced over there.
From The Candy Bulletin Community