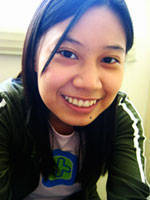 Regina Silva, 24
Illustrator

1. What got you started in illustrating? Was it something you've always wanted to do?

Straight from college, I worked as a motion graphics artist in the News department of a major broadcasting network for three years. It was a good and stable job but I spent long hours at the office and the work was monotonous and repetitive (one of my shows was a daily primetime news program). But I wanted to do new, creative things-design for fun, take pictures, draw. So as idealistic as it sounds, once it got to the point that I was dreading coming to work every day, I resigned from my job to pursue the things I wanted to do. It wasn't an easy decision as the job was also very financially rewarding but in the end, I knew I wasn't going to be happy doing routine design work. So when I resigned, I had a lot of free time on my hands and I spent that time working on random illustrations for myself and putting my work up my website. I've managed to get some projects from visitors who come across my website randomly.
ADVERTISEMENT - CONTINUE READING BELOW
ADVERTISEMENT - CONTINUE READING BELOW
Illustration is something I've always wanted to do as a kid. I've been drawing ever since I can remember and I always took part in art contests in school. One of my childhood dreams was to illustrate a children's book and the nice thing is I've been blessed with that opportunity-I recently illustrated a story written by a client of mine from my former job and it's going to be published by the end of this year or early next year.
2. What are your favorite things to draw?
If you flip through my little notebook which I keep for notes and sketches, you will notice a little bear practically on every other page. He started out as a character for my cartoon animation class in college and I've been drawing him since. I also like to draw little kids. I tend to gravitate towards drawing "cute" illustrations but every now and then I'll go draw something photorealistic, like hands and non-cartoon bears. But I'm really partial to cutesy stuff!
ADVERTISEMENT - CONTINUE READING BELOW
3. Who or what was your inspiration getting into illustration?
I peruse a lot of various illustrators' blogs on the Internet. Looking at other peoples' work is inspiring enough and that's among the reasons I got up and left at my job at the network. I'd browse through their portfolios, drool over their illustrations and think, "THIS is what I want to do!"
4. Where do you get ideas/inspiration for your illustrations?
I get my ideas from conversations and experiences that I have had. For example, if I hear a funny coversation or have an interesting experience while commuting, I might translate that into a drawing if I think the visuals will add to the humor.
And then there's Illustration Friday, a weekly challenge for illustrators to come up with an illustration based on a given word or prompt. It's good practice to enhance your skills, jumpstart ideas and to network with fellow illustrators. I try to participate in the weekly challenges whenever I can.
ADVERTISEMENT - CONTINUE READING BELOW
5. Did you study drawing or was it something you learned on your own?
Both. As a kid I was always drawing (on my school textbooks, on the walls at home) and I can't remember why or how I started. I just did. I used to take art lessons for kids during summer when I was younger. I went through a basic drawing class to enhance the drawing skills one acquires naturally as a child. As a teenager, I still took summer art lessons but for various media-watercolor, oil painting, pastel painting. Then in college, I took up Multimedia Arts at DLS-College of Saint Benilde's School of Design and Arts. We had classes in basic freehand drawing, color theory, cartoon animation, and more. It's good to learn on your own as well, though. Drawing, basically, is learning how to see and translating what you see on paper.
6. What made you start selling your illustrations (through other products like pins, paper, etc)?
ADVERTISEMENT - CONTINUE READING BELOW
Earlier this year I stumbled onto Etsy.com, an online marketplace dedicated to selling handmade goods. I browsed through some of what other people were selling-handmade pendants, notebooks, art prints, and other amazing stuff. I got excited about putting up my own shop and selling some of my own work. I figured that, 1) it's a good way to spread my work out to others, 2) it looks like a fun thing to do, and 3) it's a nice way to earn a little extra on the side. I don't devote as much time to my shop (which I share with my boyfriend who contributes product ideas from time to time) as I should, though. Right now it's taking a backseat as I prioritize meeting the deadlines for my other projects first. My Etsy shop is more of a hobby. I'm just glad it's a hobby that pays for itself.
ADVERTISEMENT - CONTINUE READING BELOW
7. What tips do you have for Candy Girls who would like to start a career in illustration?
Draw as much as you can. Carry a small sketchbook with you wherever you go. Upload your work online-you never know who might stumble across it and commission you for an illustration. Participate in Illustration Friday. Leave feedback on other people's art (and provide a link to your art as well). Basically, get your work out there on the Internet. Just have fun drawing. If you love doing what you do, everything else follows.
Check out Reggie's illustrations on her website.