Features
Read This If You're Feeling Down Because of Failing an Exam or a Subject
This girl survived it and so could you!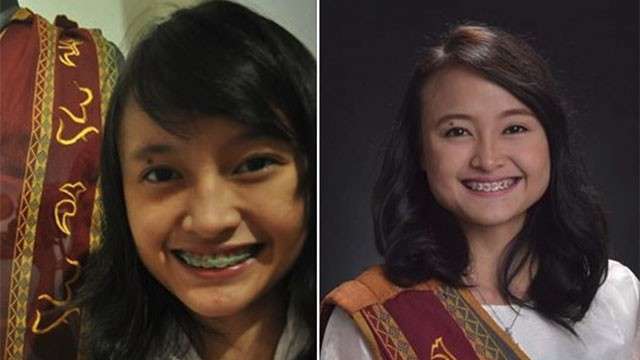 IMAGE Aimee Chavez Octaviano
Everyone understands the struggles of being a student: the failing grades, the botched recitation, the less than average grade you got for your essay, the list goes on. And while it's easy to just give up and let things be, it's far more fulfilling to challenge yourself and work your hardest to prove yourself wrong. After all, getting perfect grades isn't the be all and end all of being in school; it's learning. Take it from fresh graduate Aimee Chavez Octaviano, who not only failed a subject once or twice, but thrice! Imagine how frustrating it can be? Good for her, Aimee didn't let it faze her. She survived the challenges and lived to tell the tale. Below is her story.
ADVERTISEMENT - CONTINUE READING BELOW
To those who feel down because of failing exams...this is my story.
The first picture was taken during the summer before my 2nd year in college, 2013. My family and I visited the National Museum and I took a selfie with the displayed sablay which we, UP students, wear on graduation day. Little did I know that the coming school year would be the hardest I would ever have in my college life and our family's lives in general since we lost tatay that year in September.
My freshman year came by swiftly. Being a really sensitive person, I had a hard time adjusting to living in a dormitory away from my family. (We're living in Quezon City but I studied in UP Los Baños, Laguna). I went through high school in FEU Diliman not doing my best, content in just a passing mark. That's why in freshman year of college, I experienced a lot of firsts (mostly crying lol). First time crying because of waking up late and missing my class since there was no one to wake me up anymore, crying because of feeling homesick, crying because of my first time failing an exam.
ADVERTISEMENT - CONTINUE READING BELOW
When I first failed an exam, I called my mom crying and she said "Ano ba 'yan Aimee, iniiyakan mo yan? Exam lang 'yan. I know you can do better" and those words kept me going for three more years. I passed all my subjects in the first year.
Second year college came and boom! First semester, I failed Bio30 Genetics (IT WAS REALLY HARD FOR ME) and Chem40 Organic Chemistry (passed Chem16 and 17, they were easy but 40.....huhu). Again, I cried. But I knew it was my fault. It was a fact that the courses were hard but it was also a fact that I did not do my best. Second semester I passed Bio30 finally (yey) but still failed Chem40. On both tries I was under great professors which made the course a lot harder but it's not right to put the blame on them. It was all my fault.
Before entering third year college, I promised myself I would do better. Not just for myself but for my family especially my parents who constantly work hard for our studies. I looked at my course curriculum and the only way to graduate on time was to file for overload for the next semesters and waive subjects which had prerequisite subjects I haven't taken up yet and take midyear classes. So I did.
ADVERTISEMENT - CONTINUE READING BELOW
There were actually people who told me "Overload? Hindi mo kakayanin yan." "Ang hihirap ng subjects na kukunin mo" "Ay nako natry ko na yan believe me susuko ka rin, babagsak ka"
I had no vacation from studying since the start of third year. I took midyear classes. I passed Chem40 on my third take. Was even included in the students who topped one of the exams! Passed all my other math, chem, bio, and physics subjects. Did well on my student-teaching courses and on my research (SP). The road wasn't easy! I still cried a lot of times especially on the last few months before graduation! But I strived hard for that sweet sablay.
And here I am now, teaching mathematics and science to my students and passed the September 2016 Licensure Examination for Professional Teachers.
Do not be afraid of failure. Do not be ashamed of it, even. I am proud of myself for defeating my worst enemy which is myself.
We shouldn't degrade those who fail. We shouldn't in any way make them feel bad about themselves. We do not know what they are going through and each individual has their own way of learning. I understand that more now as an educator. We all learn in our own way, at our own pace.
ADVERTISEMENT - CONTINUE READING BELOW
Never let your failure define you.
Cliché but true. Never let your failure make you lose track of your dreams and aspirations. You're on the right track. FAILURES ARE PART OF YOUR JOURNEY. USE THEM TO MAKE YOURSELF STRONGER. FAILURES ONLY MEAN YOU HAVE ROOM FOR IMPROVEMENT!
Always remember that you have your family, friends and teachers who love you unconditionally and will never stop supporting you! (Thank youuu! And thank YOU LORD!)
"Bumagsak ako" that's okay.
As long as it is followed by "Mas gagalingan ko pa sa susunod" :) When there are students who fail I tell them what I have learned in college not so that they would repeat my mistakes but to let them view failures in a different perspective and make them strive harder in the next quizzes or exams because I know they can do it. :)
I would like to end this post with this quote, "You only fail when you stop trying". :)
ADVERTISEMENT - CONTINUE READING BELOW
What's your graduation story? Share them with us in the comments or via Twitter @candymagdotcom. We always love hearing from you. :)
From consistently badmouthing another friend behind their backs to making snide comments sneakily disguised as compliments, here's how to deal with a tricky friendship.
From sisig to bulalo, the North has a lot to offer.
Even college students like us can apply for freelance creative jobs while we're still going for that diploma!
These simple practices, when done consistently, end up being worth a lot.
It can actually *shatter* your cartilage.
Bordeos becomes meat of online talk while helping out in family's meat business.
From her gowns down to the décor and food!
Trish is part of Candy Rookies 2020, a group of influential and aspirational college students handpicked to represent #GenerationCandy in the year to come.
The more ~chill~ spots around UST might be more of your scene.
Bea is part of Candy Rookies 2020, a group of influential and aspirational college students handpicked to represent #GenerationCandy in the year to come.
This list compiles the city's tried-and tested music recording studios you'll want to check out.
Students from Humanities courses speak up.