Features
Read This If You're Battling a Disease or Sickness in College
"I would go to school with bandages on my knees and ankles. As the semester progressed I gave up going to class because I could barely walk."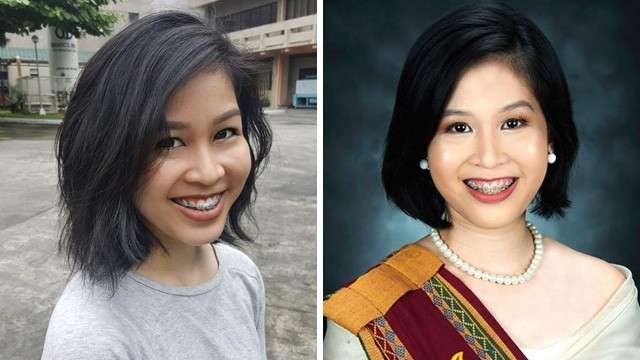 IMAGE Tiffany Uy
Earlier this week, we wrote about Tiffany Uy's story and how she managed to finish college despite the hardships she went through. By hardships, we mean going to school despite having systemic lupus erythematosus, an autoimmune disease in which her immune system attacks her healthy cells, causing her to be weak most of the time.
"I would go to school with bandages on my knees and ankles. As the semester progressed I gave up going to class because I could barely walk. I was losing a lot of hair and my body was always bloated because of the steroids and other medications," she said on her Facebook post. It even came to a point when her friends or good samaritans would help her go up and down the stairs because she was too weak.
Long story short, she overcame it and graduated Cum Laude with a degree in Public Administration last June. We reached out to Tiffany to ask her for tips on battling a disease or sickness in college. Here's what she said:
ADVERTISEMENT - CONTINUE READING BELOW
Know your condition.
"Learn as much as you can by reading about your condition. Consult your physician so you don't get overwhelmed, with all the information, especially if you search on the internet. List down the dos and don'ts if you can't remember everything. Being knowledgeable can help prepare you for the bad days."
Listen to your body.
"There will be times when we are in denial about being sick. We try to brush off the pain because we don't want to recognize the presence of an invader in our bodies. This can lead to more complications so be kind to yourself and take a break when your body asks for time to rest. You don't want to make an enemy of your sickness."
Celebrate the little achievements in your life.
"If you're going through a tough time, take it one step at a time. Focus on the goal and what you are fighting for. From time to time, do something nice for yourself. I would get my nails done with friends after class to celebrate a job well done on surviving the day with minimal pain."
ADVERTISEMENT - CONTINUE READING BELOW
Try to find a balance.
"Start by listing down your priorities for the day. Maybe you can cut down on bad habits and start practicing healthier ones. I used to dread going to the gym because I was intimidated by the machines and weights but little by little, I started creating manageable goals for my body, and incorporated exercise time into my schedule because I knew it was better for my health."
Keep expectations real.
"I would be hard on myself when I felt like my sickness was taking over my life to a point that I felt hopeless and misunderstood. I realized that not every expectation could be met with immediate results. You do not have to apologize for every limitation. You do not have to say 'Yes' to everything and yes, it's okay to say 'No.' Keep in mind that you have a condition that needs to be managed, at your own pace."
Tomorrow is another day.
"Focus on what you can control, while learning to let go of things you cannot. Your sickness may be unpredictable. Today you might be feeling down and out. From experience, I am telling you it is okay to break down and cry. You are a work in progress. You are allowed to make mistakes and we learn to make better decisions."
ADVERTISEMENT - CONTINUE READING BELOW
Find a support system.
"Love and reassurance became crucial for me when I felt sick. Surround yourself with positive energy like a support group. There may be people who seem insensitive or misinformed so try your best to stay calm and explain your condition. Stick with people who empower and motivate you towards achieving your goals."
Want to share your personal struggles and how you overcame them? Let us know in the comments below!
The network's franchise is set to expire in March 2020.
It's okay if you don't have life figured out yet.
Stress is short-lived, but your friendship is forever.
Sit back, relax, and get ready to binge!
Here are the different fragrances that the country's leading men wear.
Aside from promoting his new single, "Sasagipin Kita," find out what else is on Darren's mind.
Friendly tip: Don't adjust your introversion just to impress your boss!
Here's Part II of this month's EyeCandy!
A fourth-year marketing management student shares his experience being irreg.
Her gown and hairstyle on the red carpet were Heart Evangelista's idea.
Singer and actor Darren Espanto is this month's EyeCandy.
We got to talk to Jordan Fisher about his role in the 'To All The Boys' series!