Features
Read This Girl's Response to "Taray, naka-crop top pero ang laki ng tiyan."
And more fat shaming comments!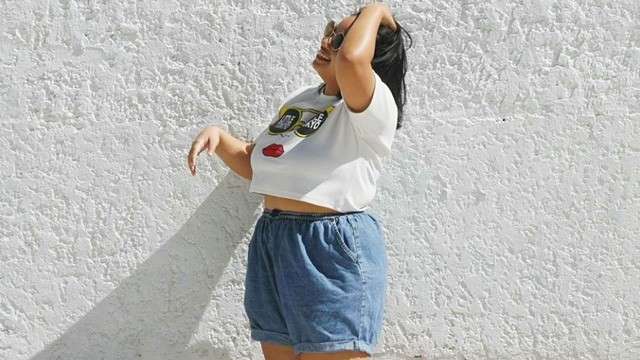 IMAGE Kayla Sowa
"Maganda ka sana kung pumayat ka," "Taray naka-crop top pero ang laki ng tiyan," and "Mabuti nakakasuot ka ng ganyan kahit mataba ka" are just some of the statements Maru Guayco, 20, has been told by well-meaning family members, friends, and random people alike, which prompted her to write a lengthy post on Facebook addressing these.
"Honestly, I will never understand how being thin equates to being beautiful, or how the idea of being FAT is synonymous to being ugly, lazy, unattractive, or unhealthy. I actually am healthy. I never eat food that is too oily or has too much fat or sugar in it. I eat vegetables and fruits and there are certain foods that I may only eat in small amounts. So never tell me that fat is equal to unhealthy because some people are just fat. Period.
"I hate it when people tell me I would be pretty if I lose some weight or how I have a good sense of style even though I'm fat. Bullsh*t. Sometimes, I would even get hate from people who think I'm too confident with my body and for wearing clothes that 'only thin people can wear,'" she said.
ADVERTISEMENT - CONTINUE READING BELOW
"Yes, I am fat. No, I don't owe you ANY excuses for my appearance." 
Maru, who has always been the big girl in her class, and was called numerous nicknames ever since she was young ("They used to call me balyena or butanding."), has always struggled to be comfortable in her own skin. In fact, when she wrote about this powerful post, she was feeling insecure for eating more than she should have.
"Yes, I have bad days. Really bad ones...ang hirap. It's just hard when you already hate yourself for being you and people around you just bring you down even more."
"So please stop the hate. Stop the stigma. STOP FAT SHAMING," she finished.
As for her message to other fat girls, "Love the skin you're in! I know it's not that easy but life is too short to be our own enemies. Wear that crop top, skirt, shorts or that cute dress and I can assure you that you can wear it as well as the next girl."
Well, said, Maru!
Read her full post below:
ADVERTISEMENT - CONTINUE READING BELOW
Sometimes, it only takes a few simple additions to brighten up your area and inspire you to stay productive.
Aside from IU, heavyweight groups like BTS, BLACKPINK, TWICE, and BIGBANG are also on the list!
Both the shop and its drinks are too pink and pretty!
There are also useful tips for showering your cat and cutting their nails. #NEED
Who else is excited for an all new season of "Kingdom"?
It's honestly a pretty decent amount for extra income!
Here's a little guide to get you ready for post-college life.
More Hyun Bin content coming our way!
Makati has plenty of heritage and culture.
These are the styling mistakes you're probably making.
It's the new takeover trend in food.
You might be rekindling an old relationship, but you also wouldn't want to cut ties with other people in the process.