Racine Pregunta, a Communication Arts student in Davao City, had her whole life ahead of her. The youngest of three sisters, the bubbly and charming Racine had also been tapped for to model in several photo shoots.
Staying positive
ADVERTISEMENT - CONTINUE READING BELOW
In 2016, Racine was diagnosed with bone cancer, specifically high-grade osteosarcoma. Her family took her to the hospital on October 18, 2016. On November 1, 2016, her right foot was amputated.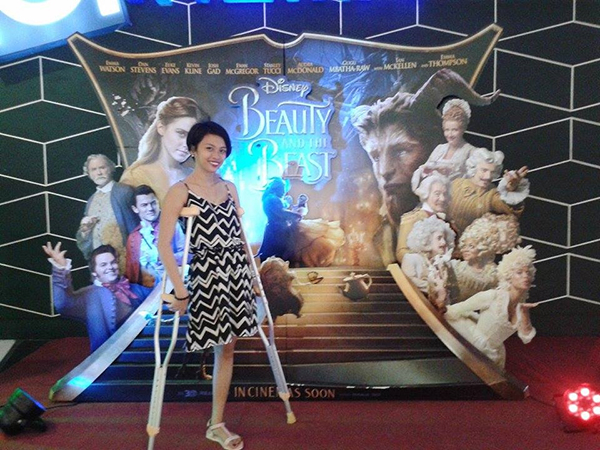 Racine's sister, Rolyn revealed, "Racine remained her usual bubbly self after her amputation. When we would go to the mall, she was so confident about walking around. It was as if the amputation never happened." In fact, Racine had even joked to Rolyn, "Ate, tell the truth. I'm still beautiful even if I no longer have one foot, right?"
Hopeful family
Rolyn related that their family was actually optimistic that Racine would make a full recovery. After all, the the amputation had been a success. Meanwhile, Racine was trying to gain weight so she would be strong enough to undergo chemotherapy. Racine celebrated her 20th birthday on December 12, 2016. Later that same month, Rolyn remembers that they watched the movie, Die Beautiful. The movie would later play a part in Racine's dying wish.
Rolyn said that because the whole family was hopeful that Racine was on the mend, they even made plans to go on a trip to Japan.
Rolyn said that the last time she and Racine went out was on March 22. They had gone to SM Lanang to watch Beauty And The Beast. Shortly after that, Racine's health took a turn for the worse.
Dying wish
Rolyn wrote that on April 12, Racine asked for an off-shoulder white dress and a white flowerband. Later on, she also asked for something that had her three favorite colors: violet, blue, and mint green. When Rolyn asked her what it was for, Racine replied, "You know what it's for."
ADVERTISEMENT - CONTINUE READING BELOW
At this point, Racine's friends, as well as the family relatives, made it a point to visit Racine every day at the hospital. Through it all, Racine's cheerfulness never wavered.
On April 13, Racine told Rolyn, "I want to be beside Papa." Their father had died in 2010.
Rolyn related, "I consulted our mom about it and she told me, 'If we can afford to buy the lot beside my father's grave.' Then, she practically suggested, 'What if we just place it on top of your dad's grave?' I immediately relayed the message to Racine and she answered, 'It's fine.'"
Racine then added her request, "If I die, I want to die beautiful."
Racine died on April 17. Rolyn immediately tapped Gladys Fernandez Ayuste, Racine's favorite makeup artist, to help fulfill Racine's final wish.
Racine's remains were laid to rest at the Davao Memorial Park on April 21.
ADVERTISEMENT - CONTINUE READING BELOW
Beautiful memories
Rolyn said she, like everyone else in their family, already misses her little sister. Despite the sadness, though, she has many happy memories to sustain her. In fact, Rolyn recalls that on the day Racine died, she had greeted her, "Good morning. Thank you that you are still here." Then, she kissed Racine on the cheek and told her, "I love you."
ADVERTISEMENT - CONTINUE READING BELOW
"Whenever I told her, 'I love you,' Racine's response would always be automatic," Rolyn said.
After that, Rolyn and a cousin of theirs prayed over Racine. Shortly after that, Racine was gone. Rolyn stated, "It hurts but I'm happy that she passed away peacefully."
Photos of Racine Pregunta were used with permission or provided by Rolyn Pregunta.
This story originally appeared on Cosmo.ph.
* Minor edits have been made by the Candymag.com editors.