Picture this: You are walking down High Street with your best friend. Your hair is blowing, your outfit is brand new, and you know you are turning heads. Then this feeling of fabulousness pops. Mid-way through your confident strut, you come to realize an uncomfortable sensation on your face. It's that dreaded oil.
From a full day of activities, you can feel the thick layer of icky oil start to cake on your face. It is as if your face has now become a magnet for dirt and pollution, which might even give rise to pimples. And then, all of a sudden, you feel slightly less awesome.
Sound familiar?
Girl, we feel your pain. Having an oily face is one of the most complained-about skin problems among Filipinas. And who wouldn't complain about something that could dampen your day? It's not right for something as trivial as oil to ruin what would be a perfectly perfect moment. So from now on, it won't.
This is because something great is out there to help you get rid of that nasty oil for an ENTIRE day. The new and improved CLEAN & CLEAR® Deep Action Cleanser has a breakthrough rice extract oil absorbing system that uses the powerful absorption power of rice to get rid of excess oil for up to 8 hours. That's 8 hours of doing what you love to do—WITHOUT having to worry about oily skin. Finally!
To help you celebrate this liberation from oil, CLEAN & CLEAR® Philippines is inviting you and your partner-in-crime (a.k.a. your best friend) to go on a BFF 8 Date. A BFF 8 Date is 8 hours of oil-free fun with the person you can't live without—your best friend! The BFF 8 Date Facebook application challenges you and your best friend to spend the best, most amazing 8 hours together, document your 8 hours through photos, and then upload them onto the app. The application will then automatically arrange your photos into a scrapbook for you to share your 8-hour adventure with the world! When the world sees how special your scrapbook is with your BFF, they can vote for your scrapbook.
ADVERTISEMENT - CONTINUE READING BELOW
Remember, this is a challenge! Depending on the genre you select for your scrapbook (Food, Fashion, Music, Arts, or Sports), and depending on how many people "like" your scrapbook, you stand a chance to win mouthwatering prizes that you will one day tell your grandchildren about:
Food: You and your BFF can win an exclusive training session with the head chef of Miss Desserts (known to sell the BEST cheesecake in town), who will coach you as you come up with the newest item on the Miss Desserts menu.
Art: Get exclusive training with the artists of the popular t-shirt company, Analog Soul. They will teach you the ins and outs of graphic design, and you and your best friend will get to design your own t-shirt that Analog Soul will sell in their stores.
Fashion: Go on an all-expense paid shopping spree at Forever 21 with your best friend. But before you revamp your wardrobe, you'll both get fashion tips from the super fab stylists, Stef Cabal and Kat Cruz.
Music: Looking for your big break? Love to be surrounded by music? If you win in this category, you and your best friend get to host a Channel [V] program! You can VJ, sing, dance, soak up the limelight—do whatever you want on the show!—to express your musical talent!
Sports: If you and your BFF are the sporty type, you can win private soccer training sessions with the none other than the Younghusband brothers! Phil and James will personally equip you and your BFF with soccer skills that will wow the crowd.
To start your BFF 8 Date, you and your best friend must "like" Clean & Clear Philippines on Facebook and "allow" the BFF 8 Date app. Once you have registered, you are good to go! You've got until December 31 to upload your scrapbook and garner votes for yourselves.
Get up to 8 hours of oil-free fun with your BFF and CLEAN & CLEAR®. Don't ever let oily skin ruin your day again. Girls, let the awesomeness begin!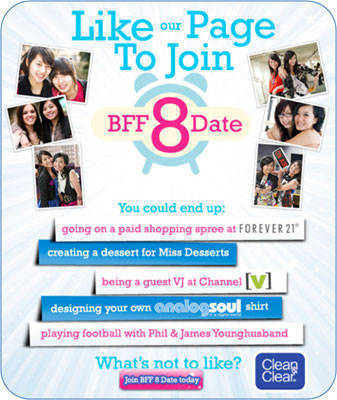 ADVERTISEMENT - CONTINUE READING BELOW