Hillary Andales was the 2017 winner of the Breakthrough Junior Challenge. Now, she is attending Massachusetts Institute of Technology where she studies physics as a scholar. "I chose this major because I've always been fascinated with the grander universe and its mysteries. When I was five years old, I learned, for the first time, that a million Earths could fit inside the Sun. My tiny mind was veritably blown at the sheer vastness of the universe. At that point, I knew I wanted to keep learning: I wanted to become a scientist. And here I am, still treading my dream path to becoming an astrophysicist."
We got to talk to Hillary about her life as a student abroad where she gets real about her study sessions, her note-taking habits, and her go-to study break routine.
Contrary to popular belief, her study routine is far from perfect.
Hillary may be attending a premier university and is taking up hard science for her major, but her study habits are relatable even for the regular college student. "Many people think that I have my study life together because I managed to get into a prestigious college," Hillary shares. "but I just want to say that my routine is far from perfect and I'm still working on it. For me, how much time I spend depends on whether it's exam week or not and on whether the class is a physics or humanities class.
ADVERTISEMENT - CONTINUE READING BELOW
"My physics classes (I'm taking three right now) are based on problem sets; and each one could take anywhere from 6 hours to 15 hours per week. My humanities readings take me around 6 hours a week. But do note that is (sadly) unfocused work. So if I was better at focusing, I'd probably take less time. I'm still trying to get better at this!"
Study tip: when studying, try listening to music without lyrics. "I just sit in front of my laptop with my iPad (that MIT loaned all students) with a water bottle on the side. I don't listen to music with lyrics because it's terribly distracting. So I either have no music on or I play Lo-fi or Celtic Study Music."
Here's what her (paperless) notes look like.
Hillary once tried out the "studyblr" trend where people take down notes and prettify it with calligraphy and intricate designs. "The people who did this said that writing their notes this way helped them retain the information. So I tried it too. I bought dotted notebooks and brush pens. I even learned calligraphy and took to Pinterest for inspiration. But as I did it, I learned that it only distracted me from the content. I was too hung up on making the notes pretty. I was only looking at the content, not thinking about it or processing it. So I stopped and shifted my focus to retaining the material I was writing."
ADVERTISEMENT - CONTINUE READING BELOW
Now, Hillary takes simpler (but still colorful) notes for her classes using OneNote (specifically in dark mode) on an iPad, which MIT provided for all its students. "I love having color on my notes because it makes the information easier to organize and recall. It's pretty to look at, too!"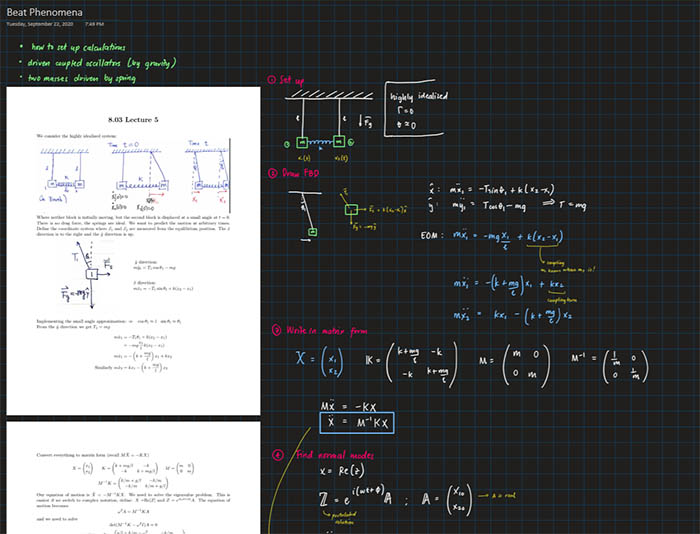 ADVERTISEMENT - CONTINUE READING BELOW
"For my Science Activism class, we mostly do readings and discussions; so I just import the entire reading into OneNote and highlight important phrases with different colors. For instance, purple stands for 'VERY IMPORTANT MAIN POINT' and red stands for 'IDEA CONTRARY TO MY EXPECTATIONS.' As I'm reading, I also get flashes of an idea so I immediately write them down as comments in a stream-of-consciousness way (hence the bad handwriting)."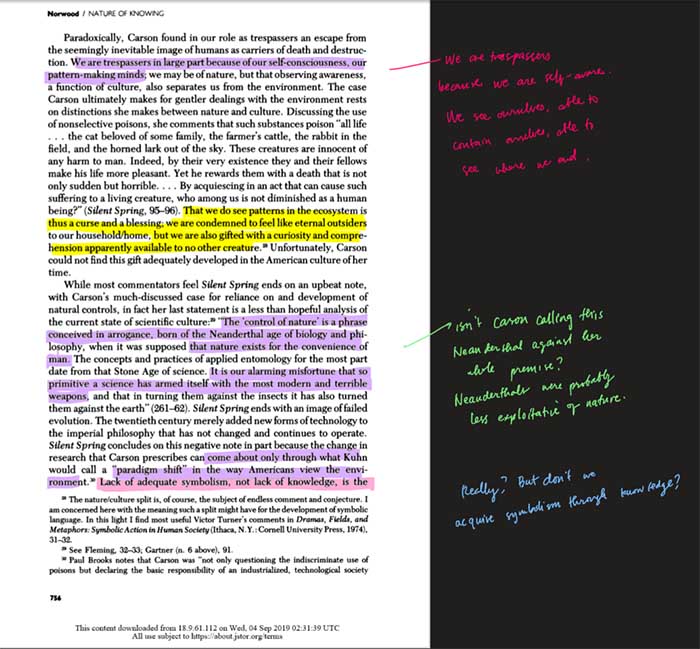 ADVERTISEMENT - CONTINUE READING BELOW
She has intentional and unintentional study breaks.
Hillary admittedly takes many "unintentional" breaks, ones that spontaneously happen because she gets distracted. "I just scroll through social media with a lot of guilt," Hillary admits.
But she also makes up for it through "intentional" breaks. "These are when I take a break because I made a wise decision to do so; it is not just me stopping work because I got distracted.
ADVERTISEMENT - CONTINUE READING BELOW
"During these intentional breaks, I get up and grab water from the other side of the building. I talk to other people in the dorm lounges (this was easier when we were doing in-person classes). I do some stretches and light exercise. I also pick up a book or watch an interesting video."
She loves physics AND K-pop.
As part of Gen Z, it's not surprising that Hillary is social media-savvy and that she utilizes the platform to feed her passions and spread her advocacies. Her social media consumption includes both her interests: physics and K-pop. "Honestly, I spend an embarrassing amount of time on social media—mostly on YouTube and Twitter. Both my YouTube and Twitter feeds are full of either physics or dance/K-pop content and I easily get distracted by both."
ADVERTISEMENT - CONTINUE READING BELOW
"My favorite [YouTube] channels are PBS Spacetime, It's Okay To Be Smart, 3Blue1Brown, The Royal Institution, MIT OpenCourseWare, the entirety of Crash Course, TED, TED-Ed, Vox, and so many more."
***
CanB is finally here! If you're an aspiring writer, vlogger, artist, or kahit marami ka lang talagang time, submit your entries here and make your mark in the Candy community! Share your feels, show your skills. Don't worry—we won't judge. ;)