Features
People Who Inspire Us Get Inspired Too
Ever wonder what motivated these people you look up to? Read on to find out.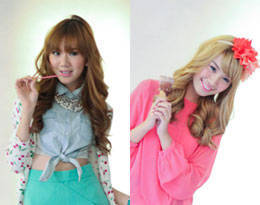 photos by Majoy Siason and courtesy of Summit Entertainment (Perks of Being A Wallflower) and FOX Broadcasting Co. (Glee)
Long before our these people we take inspiration from were walking down red carpets, posting their looks online, and singing to their heart's desire, they were exactly like us. They were motivated by various people, places, and things that could possibly exist to become who they are today. And if it weren't for their own sources of inspiration, we wouldn't have role models to look up to. Here are some people who were once inspired and now inspire us.
\\\\\\\\\\\\\\\\\\\\\\\\\\\\\\\\\\\\\\\\\\\\\\\\\\\\\\\\\\\\\\\\\\
Get the latest updates from candy!
subscribe to our newsletter!
////////////////////////////////////////////////////////////////
You know you'll regret it.
You don't even have to leave the house!
From digital art to photography to mixed media, Filipino artists show that creativity is never lost in our people.
Skip a makeup step with these beauty goodies!
Take pretty notes and study effectively with these tips!
Wait for a love like this. A love that is good to you, for you.
Are you up for this challenge?
Can't wait to see the actual gowns!