Features
Oops! I Got My Period
10 embarrassing moments from our fellow Candy Girls during that time of the month.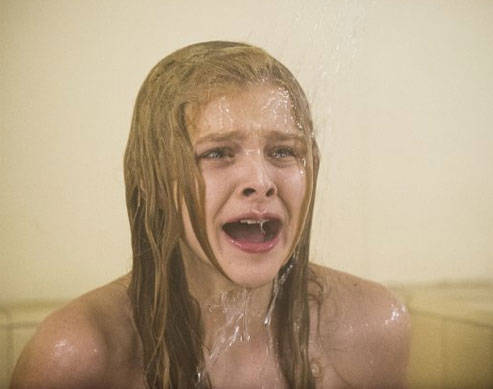 PHOTO Sony Pictures
Bad Dreams
I was having consecutive nightmares for the past week, but it didn't really amount to much. It didn't make me worry. The last one was the worst! I dreamt that someone was stabbing my stomach. The nightmare felt so real, I was sweating and panting and when I woke up, there was blood all over the mattress. I started to reconsider the existence of evil spirits and coinciding worlds. My parents could hear my screams so they rushed to my room and I told them that I think I was stabbed in my sleep. They laughed and told me to check my underwear. Well, good thing is, I wasn't stabbed. —Bloody Mary, 17
Ballet Recital
I was wearing a tutu as my costume and I was preparing backstage. Going around the place trying to get my make-up and hair done, I suddenly saw blood dripping on the floor and I was stunned. My tutu was orange but the stains reached my tights and it made me look like I was bleeding to death. I was so embarrassed and I couldn't perform anymore! I had to perform on the next show date and ask the dressmaker to sew me a new tutu. Good thing she didn't ask why. —Red Swan, 16
ADVERTISEMENT - CONTINUE READING BELOW
CONTINUE READING BELOW
Recommended Videos
Christmas Party
Being one of the main organizers for the batch's Christmas party, I was all over the place checking if the sound system was functional, if the chairs were enough to accommodate the attendees, and if the prizes were properly delivered and arranged. It was one of those days that I didn't even notice the time passing by. On the bus ride home, I felt something weird in my lower region but I decided to not pay attention. I just had my period so it's impossible to have it again! I rushed to my bedroom because I felt so drained. My brother was the only one home and when he passed me by, he laughed and said, "Well, you're having a red Christmas." —Holly Days, 15
Interview for an Org
I was already late for my period. I thought maybe I wouldn't get it for this month so I confidently decided to wear white pants. I had an interview for an org in my school that I really wanted to get into. The interview didn't take long and I could barely feel anything. I walked out of the interview room feeling good about my chances of getting in. When I went to the bathroom and turned around to go into a cubicle, I noticed a dark spot on the back of my pants. Woops. Even when it comes to your period, never assume. —Eager Beaver, 18
ADVERTISEMENT - CONTINUE READING BELOW
The First Time
My parents never oriented me about the whole period thing, so I thought I had a long way to go before I'd get mine. I was at home in the morning and while eating breakfast, I felt that it was wet down there. I immediately called my mom because I've never felt this way before. My mom instructed me to grab a napkin and go to the bathroom. After I got out of the bathroom, my dad was there standing and all teary-eyed. I was in shock because, well, I wasn't dying or anything. He just goes, "*Sniff* You're not a baby anymore…" and I had to comfort him! What an odd day. —Teena More, 13
Red & Crushed
My friends and I were at our friend's house for our barkada's annual get-together every summer. I've had a crush on my close friend for a long time and decided to slightly be more assertive. So almost the whole time there, I was glued next to him. I was complimenting him on how good he was at video games, the flirtatious slap on the arm when he'd tease me. Everything was going well. I was starting to think that maybe he liked me back! Until he tapped me and said that I should probably go to the bathroom and wash out that stain. Bye crush, it was fun while it lasted. —Blush Crush, 16
ADVERTISEMENT - CONTINUE READING BELOW
Backseat Of His Car
My crush offered to drive me home right after an event of my org. I was too kilig because I was the only one he'd offer to bring home. Right when I got out of the car, we had our sweet and flirty goodbye. My mom immediately told me that I should freshen up because we were going out again. When we had driven to the restaurant, I was about go out when my dad asked, "Anak, why'd you stain my car?" and my mom noticed that my pants were basically 30% stained already which means that I've had it ever since that org event! Dear crush, I probably owe you for laundry service for that car seat cover. —Not Talikogenic, 18
Frenemies
I had to attend an overnight leadership seminar with someone I've always considered a mortal enemy. We competed with each other ever since elementary! If I were the captain of this team, she'd be the captain of the opposing team. When I saw her there, I just brushed it off. I just thought that I could ignore her. When I went into the bathroom, she was there and she just gave me a slight nod. It turns out that I have gotten my period and I didn't bring any napkins with me on this overnight seminar! I was crying and my enemy could hear me. She knocked on the cubicle and asked what's wrong. I told her everything and she just left. How rude is that?! She came back after 10 minutes and handed me a napkin under the cubicle door. We've been friends ever since. —Lucky Me, 17
ADVERTISEMENT - CONTINUE READING BELOW
Graduation Outing
Our batch had an outing after graduation. It was a swimming party and I knew I had my period but they always said that it would stop when I submerge in water. I learned the hard way that it didn't, so I rushed out to put on a napkin under all my swimwear. My friends thought it would be funny to push a girl on her period into the pool. —Pool of Blood, 13
Partying in a Club
I was out with my friends to celebrate our semester ending and I was a bit tipsy already but I had to change my tampon so when I was in the bathroom, I fell asleep for a bit while putting it on and I dropped it inside the toilet! I couldn't believe that I walked all the way to 7 Eleven from a club to buy a napkin. Never again. —Plug n' Drop, 19
ADVERTISEMENT - CONTINUE READING BELOW
Got an Oops moment to share? Leave a comment below or join the conversation on Twitter @candymagdotcom!
She had to learn to be more resourceful to get by.
OMG, it appears like she was also Gong Li's double!
Have you tried the other flavors?
Discord isn't only for gamers!
The streamer also talks about how the game helped her cope in quarantine.
Guess we're getting ourselves a PS5 then.
He was dedicated to the fight for freedom and human rights.
Nieves Fernandez killed 200 Japanese in WWII.
It was filmed four days before he was rushed to the hospital.
Facebook is allegedly collecting unauthorized data for market research.
From The Candy Bulletin Community