Features
Oh, Father!
We all adore our fathers. But sometimes, they're not as adorable as we wish them to be!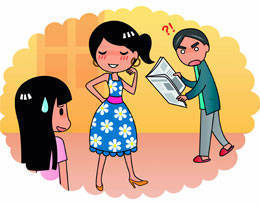 compiled by CJ Alayon and Mika Chiong * illustration by Nicole Lim
Big Dress-Aster
I wore a particularly nice dress for an afternoon gimmick with my friends. I was showing it off when my dad appeared out of nowhere and said, "Para kang katulong sa damit mo. Magbihis ka nga!" My friends were speechless. —Grysh, 20
Clueless Liar
Once, I asked my dad to sign my excuse letter for school because I had a bad case of dysmenorrhea. Weeks later at the dinner table, my dad told us that his secretary laughed at him after seeing his sick leave form. Apparently, he used my excuse and told the office he had dysmenorrhea! My mom and I couldn't stop laughing after we found out. —Leah, 19
David Who?
I'm an avid American Idol fan, to the point that I shouldn't be disturbed when the show comes on. While watching an episode from season seven, my dad suddenly blurted out, "Pinagpalit mo na talaga ako kay David Achuete!" I was laughing my head off after hearing him say that. I didn't even have the energy to correct him and say it was actually Archuleta! —Rain, 17
ADVERTISEMENT - CONTINUE READING BELOW
Face To Face
My boyfriend celebrated Christmas Eve at my house. Since our Christmas gathering ended at 2 am, my mom suggested that he sleep over. My dad wasn't thrilled with the idea, so he decided to sleep in the same room as my boyfriend! Can you say awkward? —Ange, 19
CONTINUE READING BELOW
Recommended Videos
Huff And Puff
Even if my parents don't allow me to smoke, I sneakily decided to "reward" myself while I was with my friends outside my house. I was smoking my first stick when I saw my dad. I immediately threw the cigarette, but it was too late. He scolded me in front of my friends saying, "Tsk! Sayang yung pera mo!" —Jj, 22
Duped At The Dentist
I've always been afraid of going to the dentist. It's my dad who would always encourage me to go and push all my fears aside. But when it was his turn in the dentist's chair, I saw him stiffening up and bumping his head against the light because of nervousness. Talk about not practicing what he preached! —Leanne, 18
ADVERTISEMENT - CONTINUE READING BELOW
Breaking News
My family was celebrating New Year at my grandmother's house when I suddenly got a bum stomach! After using the toilet several times, I secretly asked my dad to bring me home because I wanted to lie down and rest. As we were about to go home, my dad said he just needed to say a quick goodbye. I heard him broadcast to the whole group, "We have to go. May LBM kasi si Cheska." I was mortified! —Cheska, 21
Name That Street
My dad's name is Apolinario. When I was in second grade, we used to live along A. Mabini Street. One time, my teacher asked me where I lived. I said somewhere in Manila, and mentioned that our street was even named after my dad! My teacher just laughed at me. After retelling the story to my dad, I realized how big of a loser I seemed for saying that. —Leslie, 17
ADVERTISEMENT - CONTINUE READING BELOW
Eye Of The Beer-Holder
I was celebrating my 18th birthday at home. My dad and brother wanted to give me my first drink as an adult, so my dad volunteered to get the drink. He came back with a can of lime soda which I thought was a joke. Apparently, my dad confused the lime soda can with a Heineken (a beer brand which also comes in a green can)! He should've read the labels first. —Brent, 18
Fall Out Man
My dad loves making funny faces. During one of our wacky bonding moments, he was making weird facial gestures when his dentures accidentally fell off! My mom was wondering why we were all laughing out loud until she saw the culprit on the floor. —Llanely, 17
Hit And Run
I was a hyper-active kid. Once, I rushed down our street and got accidentally hit by a cab. It was a good thing I didn't get hurt. My dad saw the whole thing, but in-stead of helping me, he slapped me then scolded the driver. Talk about mortifying! —Hainz'el, 17
ADVERTISEMENT - CONTINUE READING BELOW
Match Point
My little sister kept bugging me to play tennis with her during finals week. I couldn't because I was too harrassed, so she asked our dad instead. Early next morning, our dad knocked on our door and woke up my sister for their tennis match. He was in complete tennis attire with matching racket in hand. My sister forgot to tell him that she wanted to play tennis on our new Nintendo Wii. Haha! —Jill, 18
March isn't off to a great start for K-pop fans.
This meaningful and now-viral song has quite the story!
Here's how you can apply.
Yup, a million girls would really kill for this job.
They have unique beverages you won't see in most coffee shops.
These organizations strive to raise awareness and initiate change in their various advocacies.
We love the cartoony details!
Here's the story behind FASH.
Time to unwind with 1/2 of the Gaya sa Pelikula love team.
Everyone has gone digital.
From The Candy Bulletin Community