Online classes are no joke. Students are feeling overwhelmed by different factors, one of which is  the amount of requirements being given to some. Some students cope by trying to stay as organized as they can with the help of apps like Notion. You've probably seen several student content creators use the app and felt intrigued by it. 
Notion is a program that is meant to help individuals and teams plan ahead and stay organized. It's available on mobile (iOS and Adroid), Windows, Mac, and even on the web.  
We asked Aiki Estrada, a student content creator, to share her experience with using Notion. Aiki discovered Notion through a friend's recommendation, and for her, it's something she'd also recommend to other students like her. If you haven't tried it yet but are curious, here's what you should know about it based on Aiki's experience:
It's collaborative.
Notion is designed not just with individual users in mind but with the dynamics of teams as well. "I am using Notion for our research subject wherein each member of the group can access and edit in Notion," Aiki shares. "This is very helpful for us especially with online class since it is very hard to interact with each member."
ADVERTISEMENT - CONTINUE READING BELOW
In a way, it could be a good alternative to Google Sheets or Google Docs because you'll have everything you need for your group project in one program--from to-do lists, list of references, to the actual document itself. 
It's customizable.
"Notion has many features including customizing pages, designing templates, and adding external link for files and websites which are my favorite," Aiki says. 
Notion lets you add your own photos and change between light and dark modes, depending on your mood.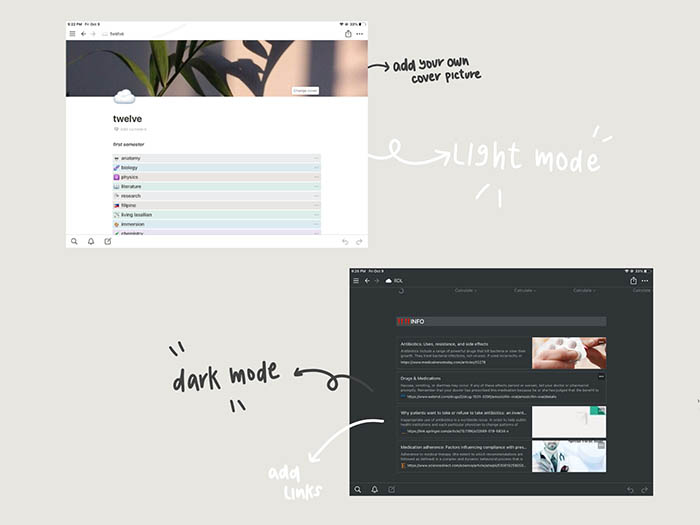 ADVERTISEMENT - CONTINUE READING BELOW
It keeps you organized.
Notion is an "all-in-one workspace" and is being used by big corps like Nike, Samsung, Hearst, and Pixar for their own teams. Students also find the app helpful in terms of "getting their life together." Aiki says, "I don't usually use these kinds of apps before but with online class it is hard to adjust with the situation and it helped me to be more organized."
Notion lets you create sections for your notes in class, your tasks and to-do lists, your reading list, weekly projects, and even a page dedicated to your org work. Like what Aiki said, you can also add external links for files and websites to make them more accessible.
It's complex.
Because it has so many complex features like collaborations and customizations, users might take some time to get used to the program. "The downside of this app is it is hard to use and it took me a lot time to familiarize [myself] with the features," Aiki admits.
ADVERTISEMENT - CONTINUE READING BELOW
If you won't be able to spare some time off to get over the learning curve of using Notion, perhaps you can save it for another day. But if you're willing to devote some time to explore its many offers, you'll find that the features are worth the time. There are sets of guides and tutorials on Notion's official website to help you get started. There are also student content creators like Aiki who create YouTube videos specifically for sharing the experience with Notion to help you familiarize yourself with the app. 
It can help "lighten the burden of online class."
Because the ~normal~ way of school life has been compromised by the pandemic, students turn to different types of coping mechanisms to deal with the situation at hand. For Aiki, Notion can, in some ways, help students deel with the difficulties of online classes. "Using Notion is fun as you could customize your own template to fit your personality. Our current situation where almost everything is done online could be overwhelming, but with Notion and its unique features can lighten the burden of online classes."
ADVERTISEMENT - CONTINUE READING BELOW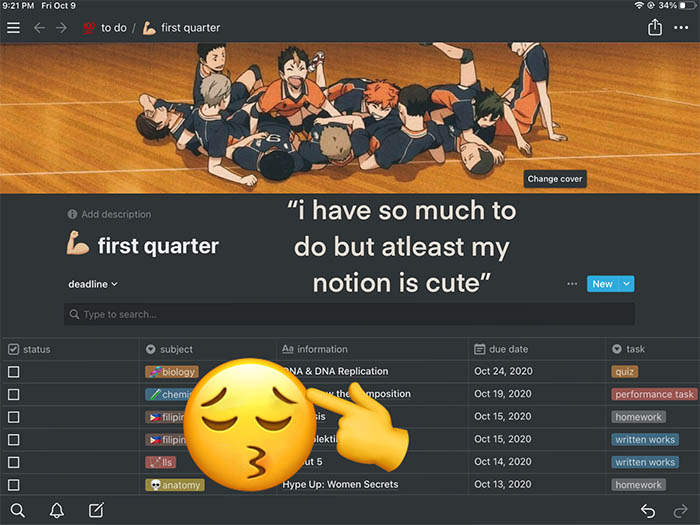 * Answers have been edited for clarity.
***
CanB is finally here! If you're an aspiring writer, vlogger, artist, or kahit marami ka lang talagang time, submit your entries here and make your mark in the Candy community! Share your feels, show your skills. Don't worry—we won't judge. ;)
ADVERTISEMENT - CONTINUE READING BELOW