For a student-athlete, there's nothing quite like returning to the game after two long years of rocky, pandemic-disrupted years. The loud cheers, the beat of the drums, the jam-packed coliseums, and the desire to bring honor to one's alma mater—nothing compares to the thrill of competing in the University Athletic Association of the Philippines (UAAP), an esteemed gathering of the most promising athletes from eight reputable universities in Metro Manila: Adamson University (AdU), Ateneo de Manila University (AdMU), De La Salle University (DLSU), Far Eastern University (FEU), National University (NU), University of the East (UE), University of the Philippines Diliman (UP), and University of Santo Tomas (UST). And when it comes to the main attraction, it's inarguably the basketball teams that get the biggest spotlight.
That said, for the much-awaited comeback of our Candy Cuties, it was almost a no-brainer to gather some of the star players of UAAP Season 84. Cheering for these on-court fan favorites reminded us of how we used to gush over our celeb crushes from years past, writing fan letters and swooning over their magazine posters! Ah, those were some really good ~memories~ to look back on. Our OG Candy Cuties—the likes of Daniel Padilla and James Reid—would remain etched in our hearts, but there's always room for new blood.
This batch of Candy Cuties highlights up-and-coming star athletes to watch out for. Beyond their charming boy-next-door looks, they have love for the game, passion for camaraderie, and a positive attitude that drives exciting things to come their way.
ADVERTISEMENT - CONTINUE READING BELOW
A new UAAP season is well underway, but we would be remiss not to pay tribute to some of Season 84's biggest names. Amid the overflowing school pride and the deafening cheers are these standout players who constantly prove that they're more than meets the eye.
Say Hello to our Candy Cuties from UAAP Season 84
Brix Ramos of UP Fighting Maroons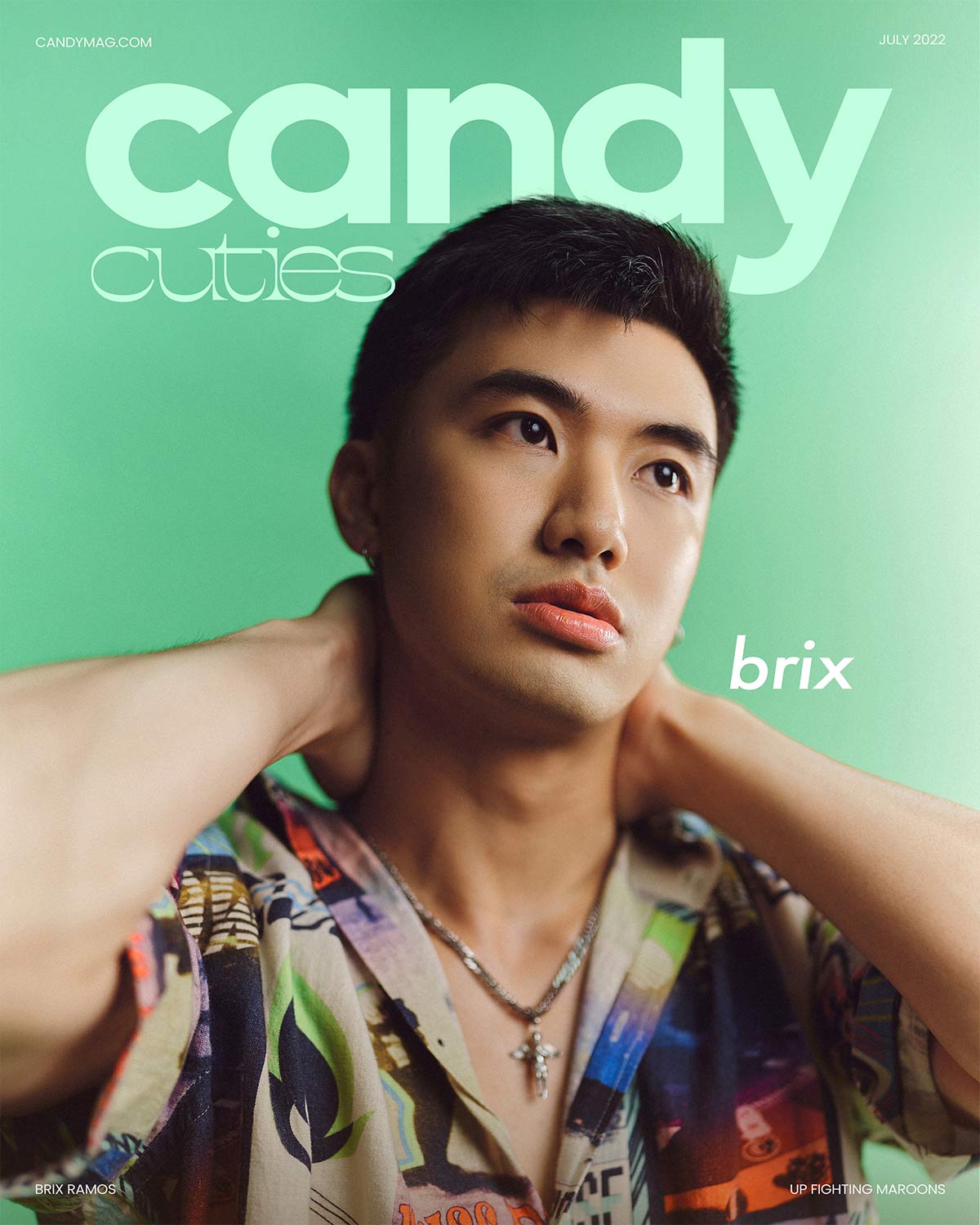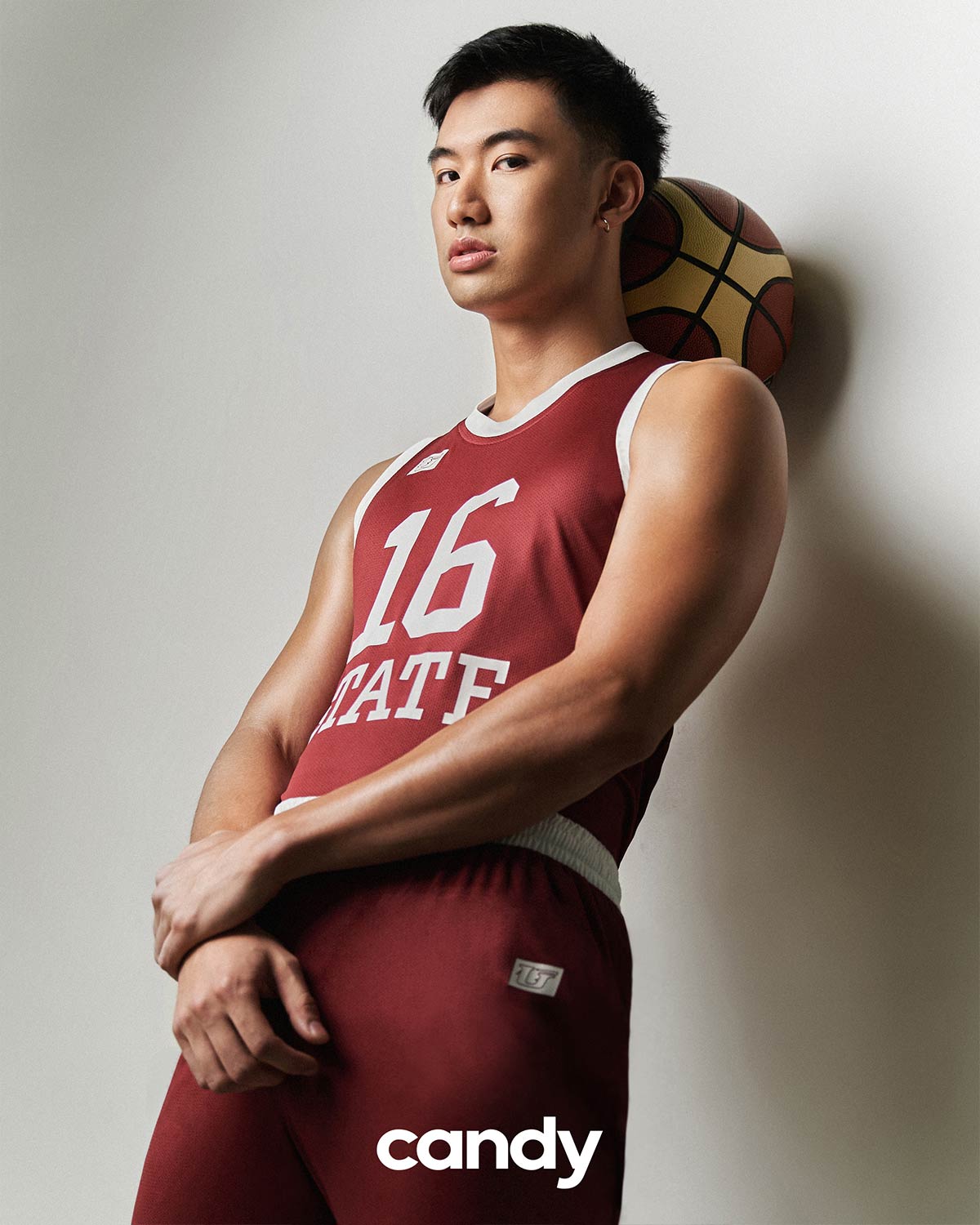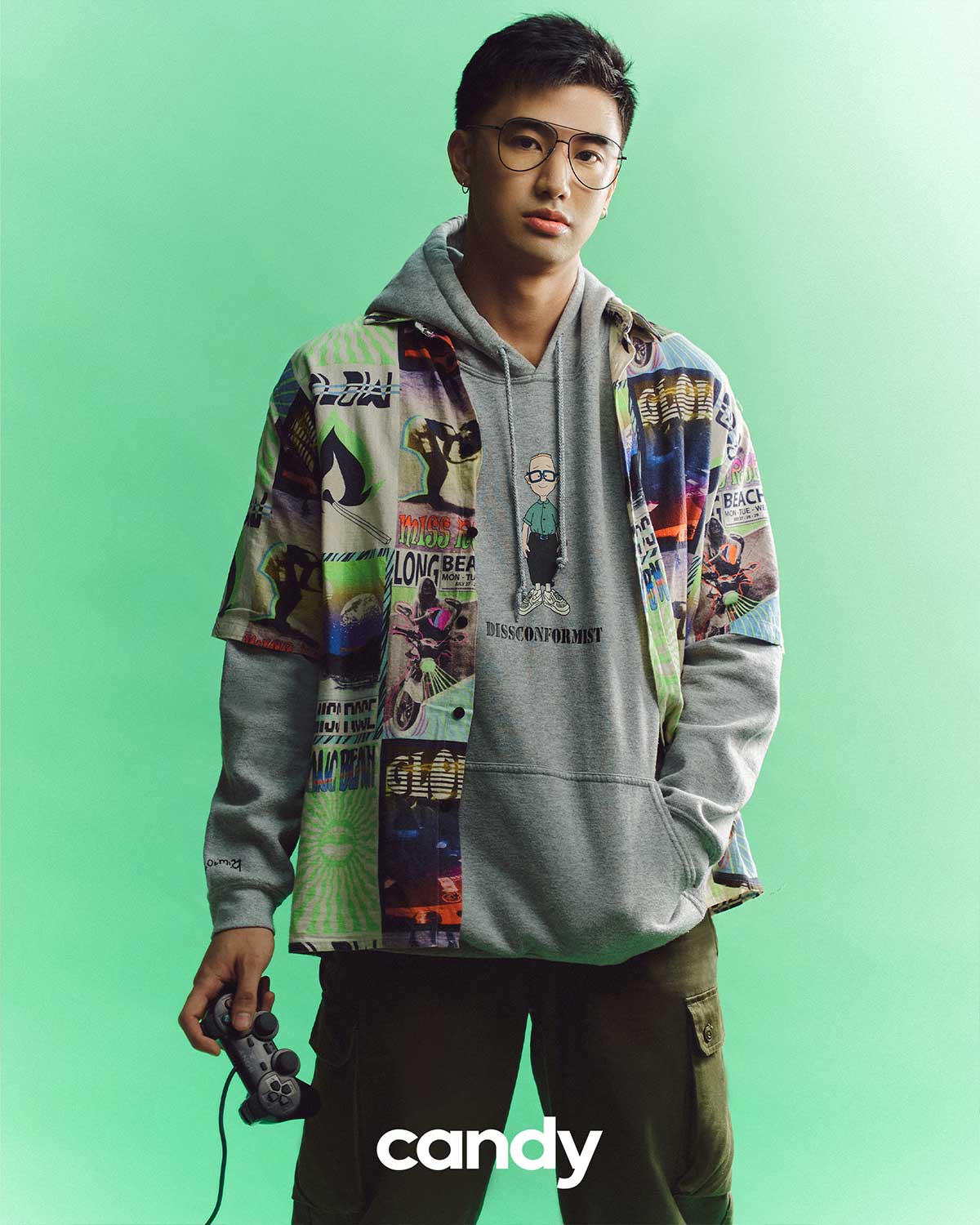 From underdogs to champions, Brix, along with the rest of his teammates from UP Fighting Maroons, keep on getting stronger. Their milestone, clinching a championship title after a 36-year drought, is to be remembered for years to come, not just in the UAAP but in the entire Philippine basketball history. For their victory, he credits their Iskolar ng Bayan's never-say-die attitude. "My biggest learning from this experience would be never losing trust and faith in my teammates and coaches. We always stuck together no matter what challenges came upon us. It's honestly amazing and I'm very blessed to be a part of this program and team. The support from the fans and everyone that worked behind the scenes made this all possible."

Last season's co-captains Noah Webb and Ricci Rivero already bid their farewell, so naturally, Brix, one of the team's older guys, is stepping up to guide the new brood. With the torch handed over, Brix is excited to make a mark. "The team needs that veteran presence and sort of an anchor that would be there for them, and I feel like I would be the one to fulfill that role."
ADVERTISEMENT - CONTINUE READING BELOW
In addition to his stint at UP, Brix also enjoys a bit of off-court publicity here and there, what with his modeling exposures and Instagram-official relationship with Kapuso actress Athena Madrid. "She's my best friend and we enjoy every moment," sharing that his idea of a perfect day is spending time with Rere, watching movies, and eating their hearts out.

Brix's boy-next-door looks and undeniable charm can definitely land him a role in TV. If there's an opportunity, would he take it? "Why not," he quips, giving us a hint that we'll probably see more of him soon.
Dave Ildefonso of Ateneo Blue Eagles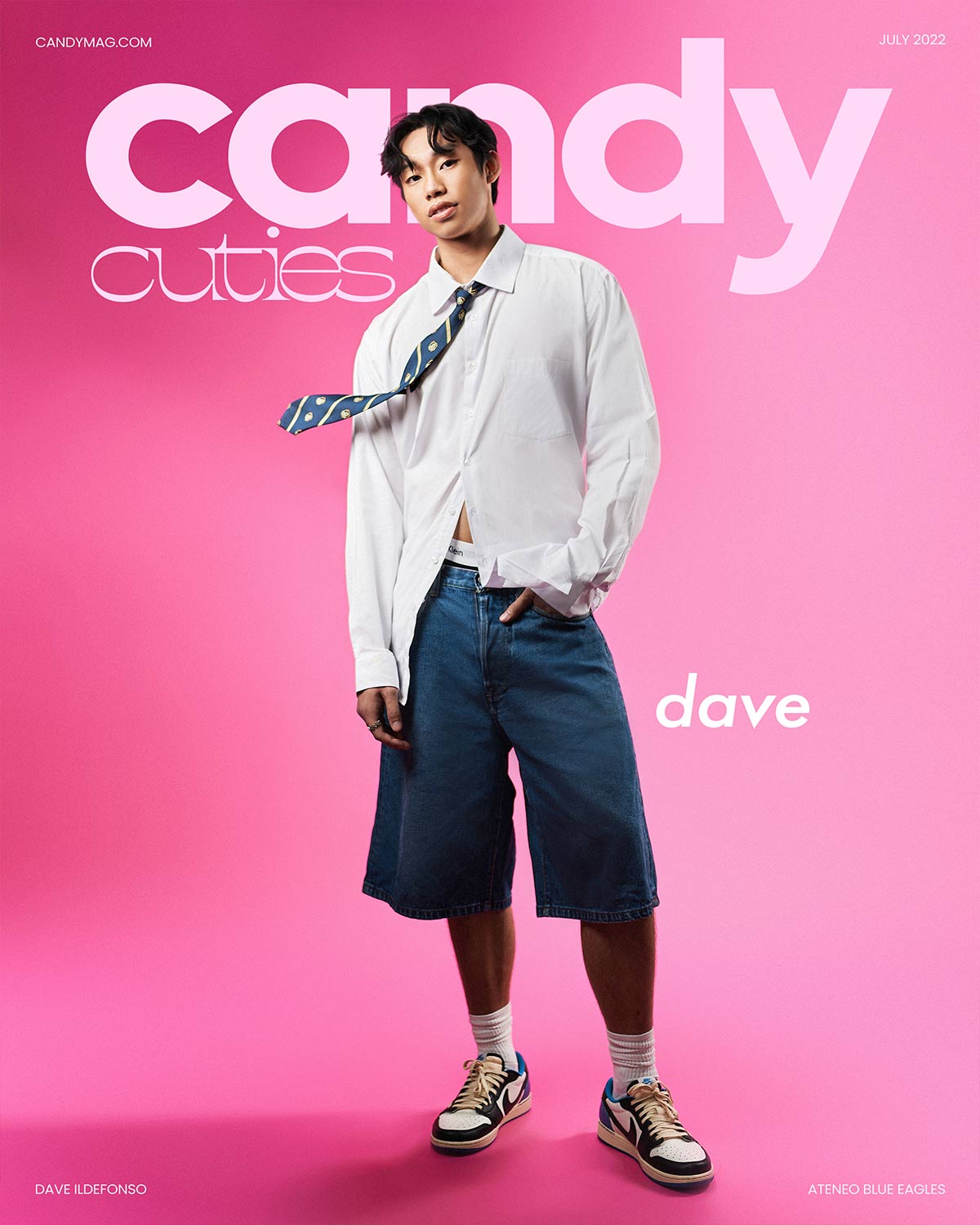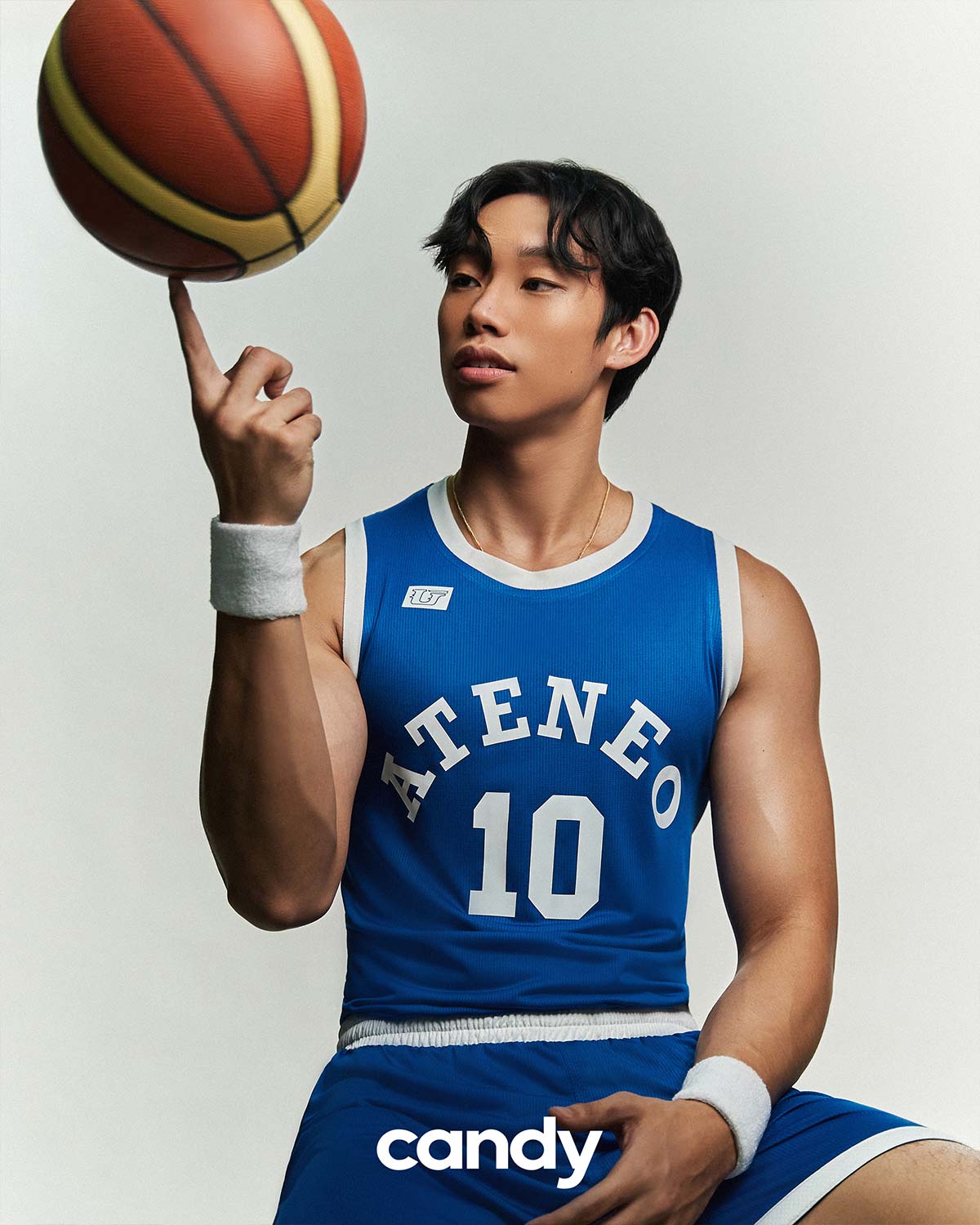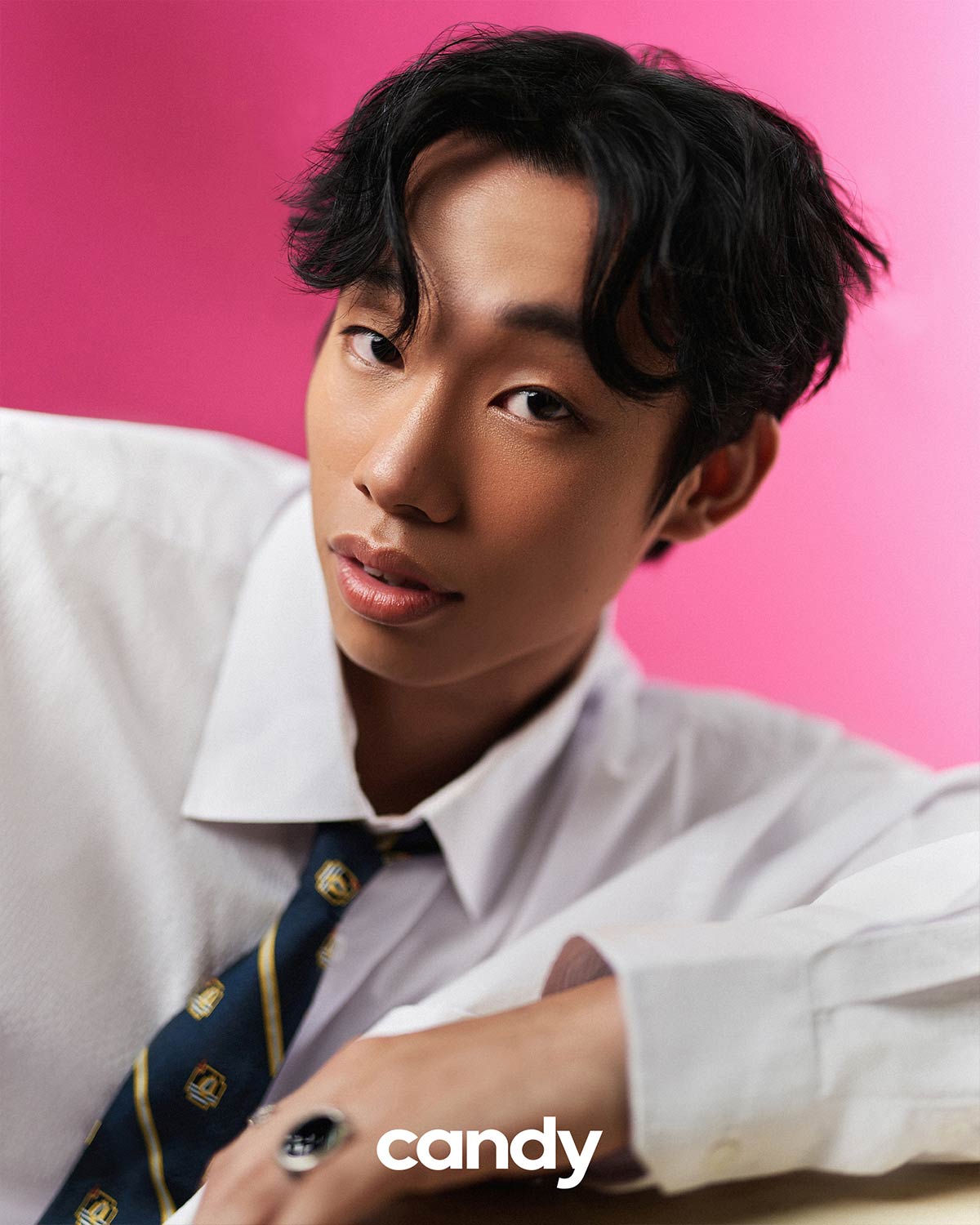 Season 84 MVP contender Dave's reputation as a solid point guard is already on lock way before he joined the mighty Blue Eagles, what with his amazing feat in the National University Bulldogs. While he might've missed out on Ateneo's four-year, 39-game win streak, his stint at his former alma mater catapulted him into a klieg light of public attention, albeit it could seem unforgiving at times. "I don't wanna think of myself as a celebrity but people have been telling me otherwise. It all so happened so fast. It all started from one TikTok and it blew from there," he tells us.
ADVERTISEMENT - CONTINUE READING BELOW
The whir of fame drove him back to life way before he was TikTok's "Angel Baby," realizing that one who has reached a scenic vantage point is nothing without a fair share of highs and lows. "I think of how my life was before all that happened—it was just quiet. No one really knew who I was. Other times, they knew me cause of my dad," he shares, referring to his father and life idol, his two-time PBA MVP Danny Ildefonso.

"There are my supporters and they help get me recognized, and I wouldn't be anywhere without them. I love them. Just don't fight me," he says of the mixed public opinion about him.
Dave admits that losing a couple of veterans definitely took a toll on Ateneo's team-to-beat lineup, but he's confident that they're definitely coming back stronger come next season. Armed with big goals, he takes into heart the most valuable lesson he got from his veteran dad: "Really just play the game the right way. That's the sad reality of Philippine basketball, whatever league it may be. There's always game fixing. There are a lot of people that don't respect the game per se. He just told me to play it the right way. If you love the sport, the sport will give back to you."
Evan Nelle of De La Salle Green Archers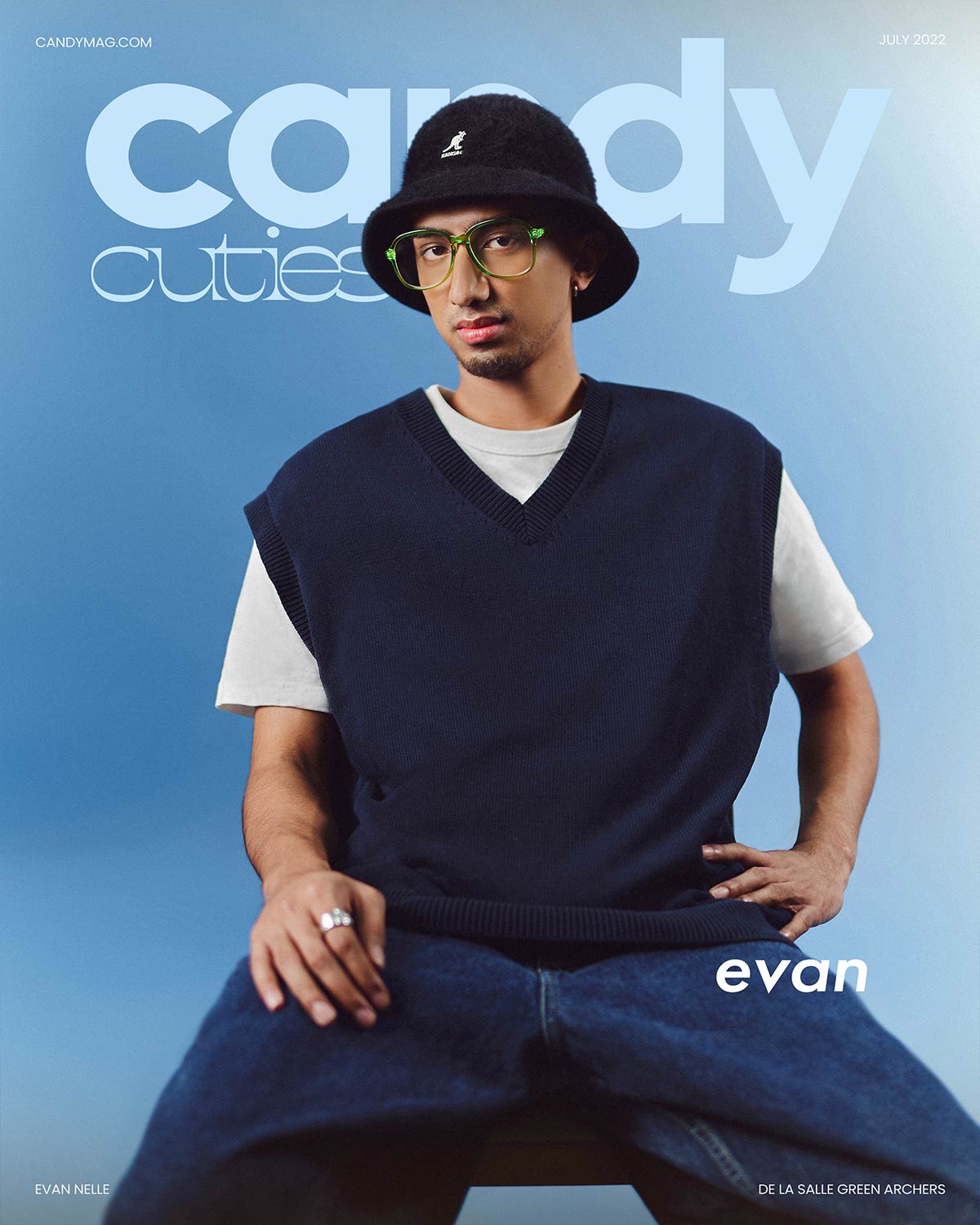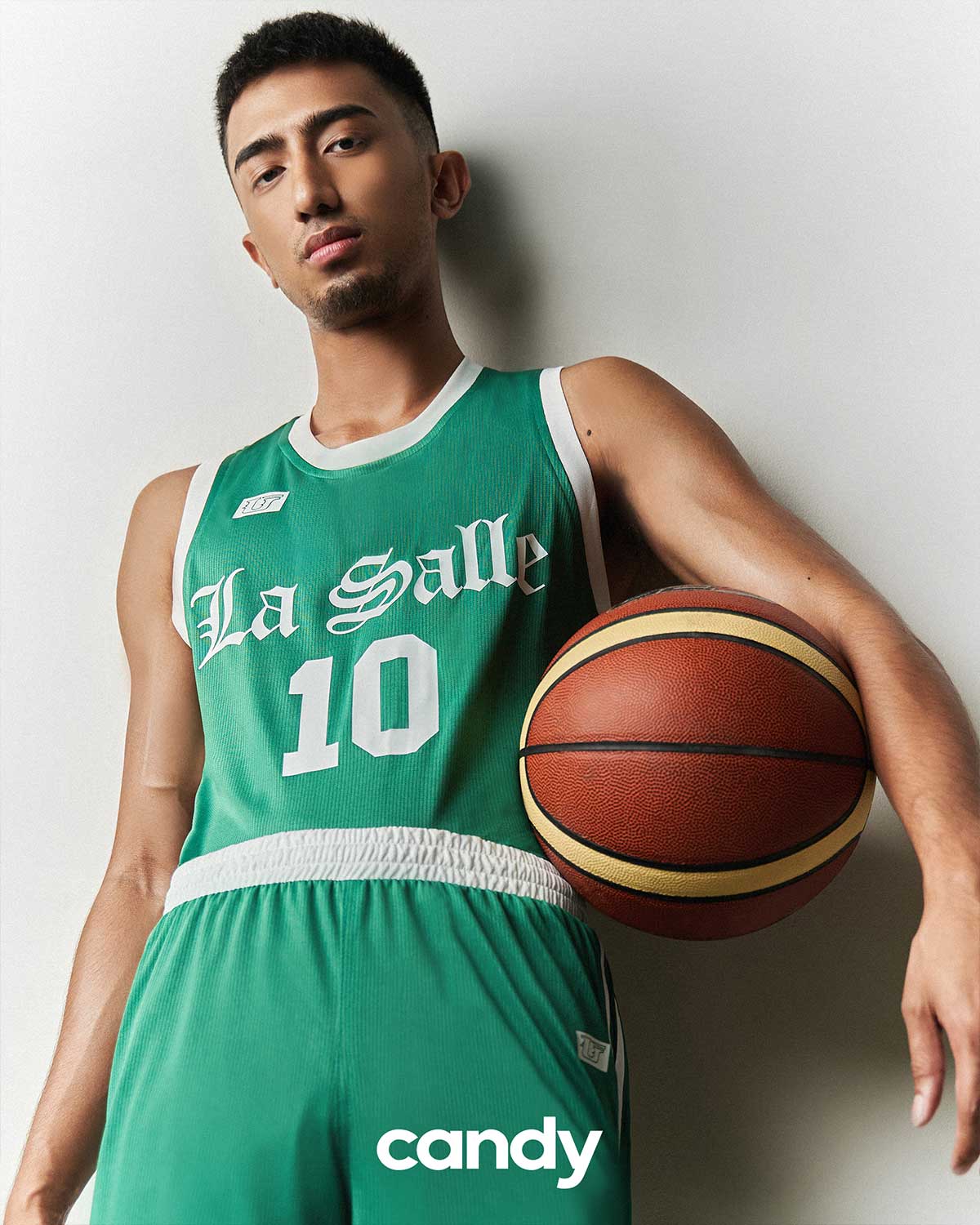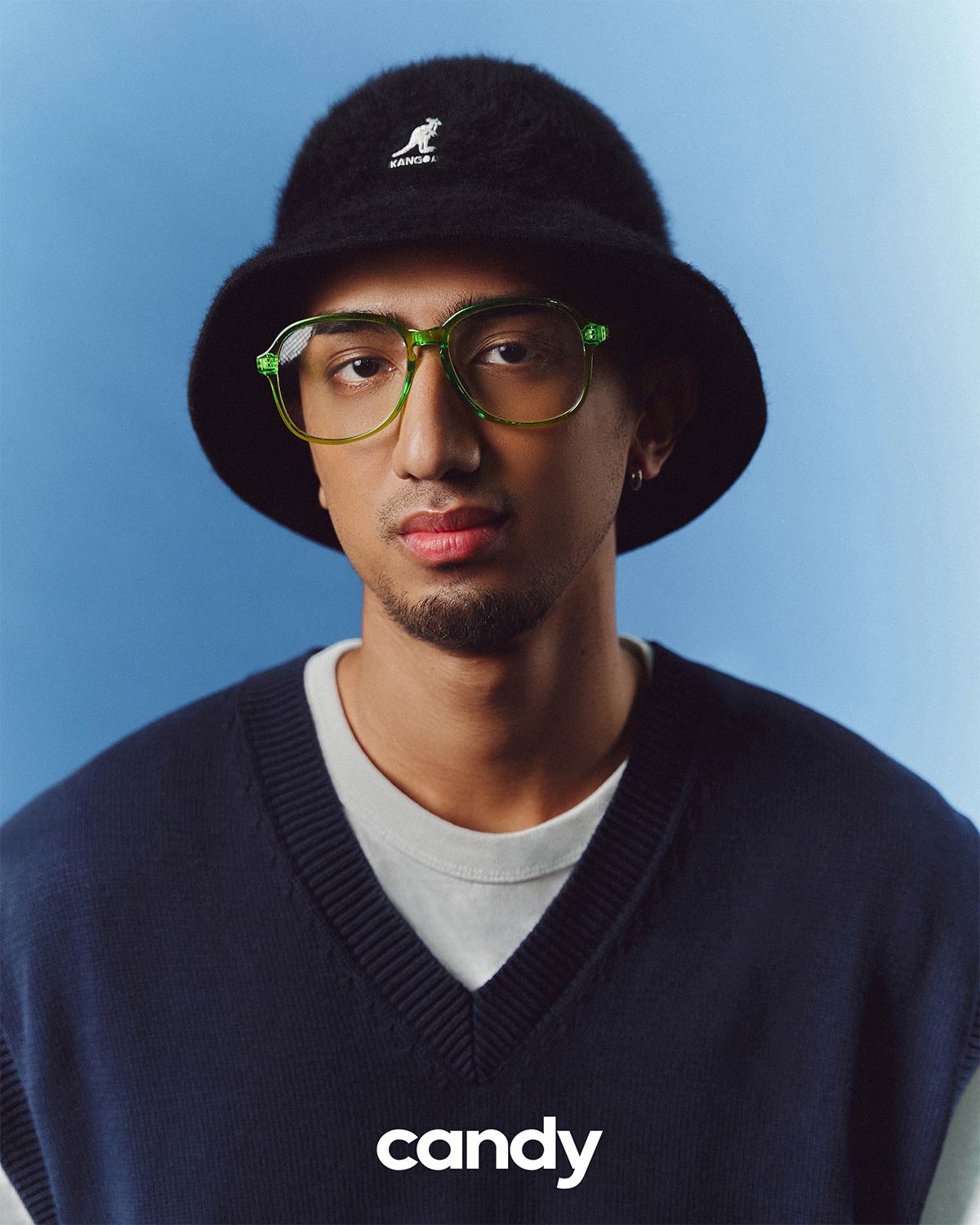 ADVERTISEMENT - CONTINUE READING BELOW
From the moment Evan stepped into the UAAP court, everyone knew he is the guy to watch out for. He was a reliable point guard instrumental in San Beda Red Lions' once-unbeatable roster, lighting up opponents from deep-long with his excellent shooting skills and smart defense. Even when he joined the Green Archers, this reputation remains to be seen despite the course of a heartbreaking season that the player has handled with grace.
Talking about the last three shots he missed in a do-or-die game against the season's winning team in the semi-finals, he admitted, "I'd like to think of myself as I choked that part. Not just that but a few minutes earlier, when we were up 10 points, it was a one-ball game already. Like, if we just took care of the lead and played properly. I think we played not to lose."
He opened up about how hard living inside the bubble was, describing it as an experience that was "mentally breaking down everybody." To survive, he relied on mentors such as Kiefer Ravena for sound advice. "Just having bad games will bring your confidence down. I would talk to Kiefer and he would tell me 'di ka pwede kainin ng sistema. Kakainin ka talaga ng sistema if you just give in to your emotions.' So no matter if you're playing good or you're playing bad, you just gotta have to pick yourself up and look forward to the next day."
Nowadays, Evan is determined to fine-tune their game style to come back for an unfinished business. "Most of us know how to get there. We had a lot of close games this season. We just have to gel a bit."
The basketball star, who loves to play video games and watch Netflix shows in his spare time, wants to stay in La Salle for the long run, dismissing talks of receiving offers abroad, a growing trend among his fellow standout UAAP point guards. "I just wanted to focus on La Salle first. I have to win the championship before I think of anything else."
Joaquin Jaymalin of Adamson Soaring Falcons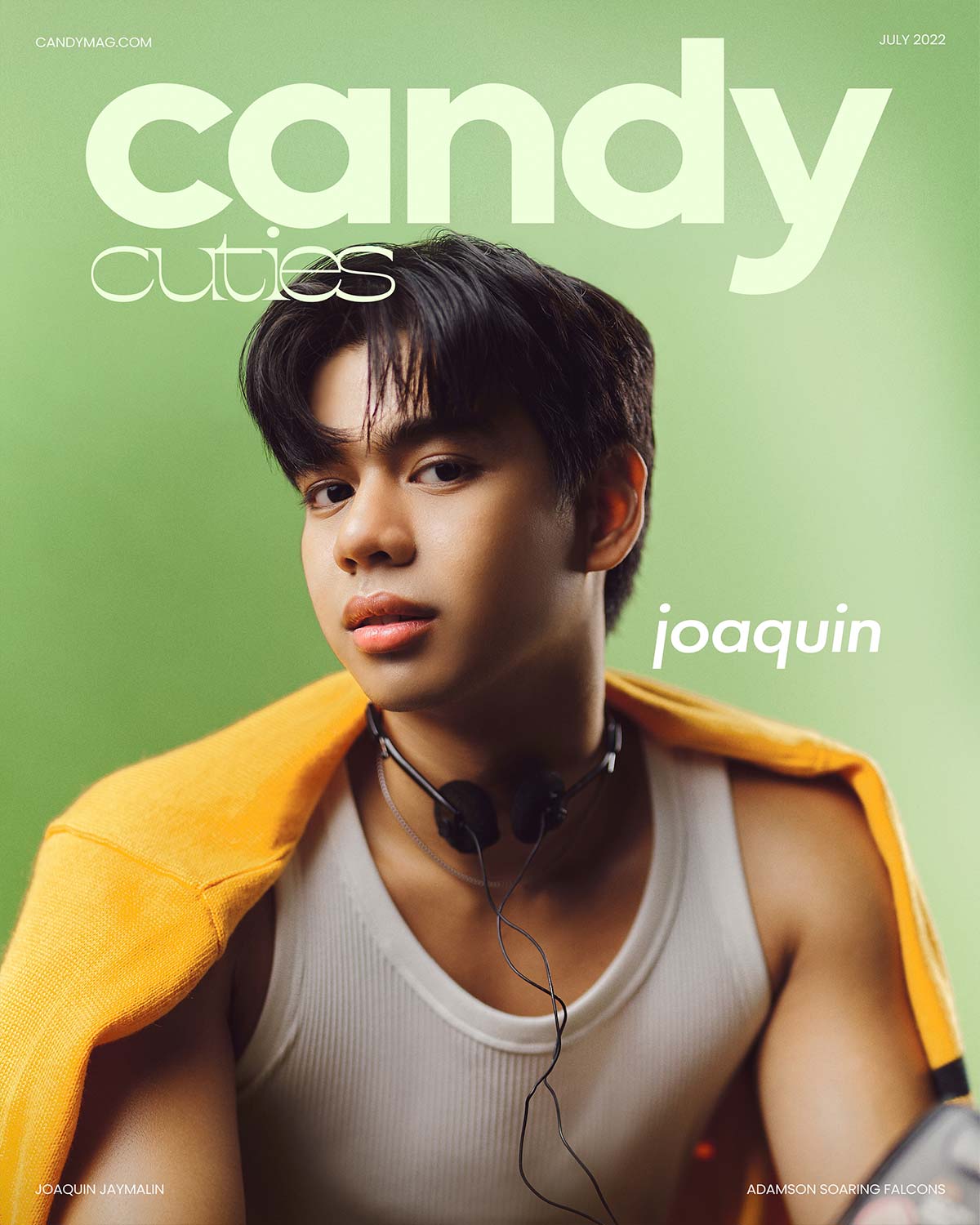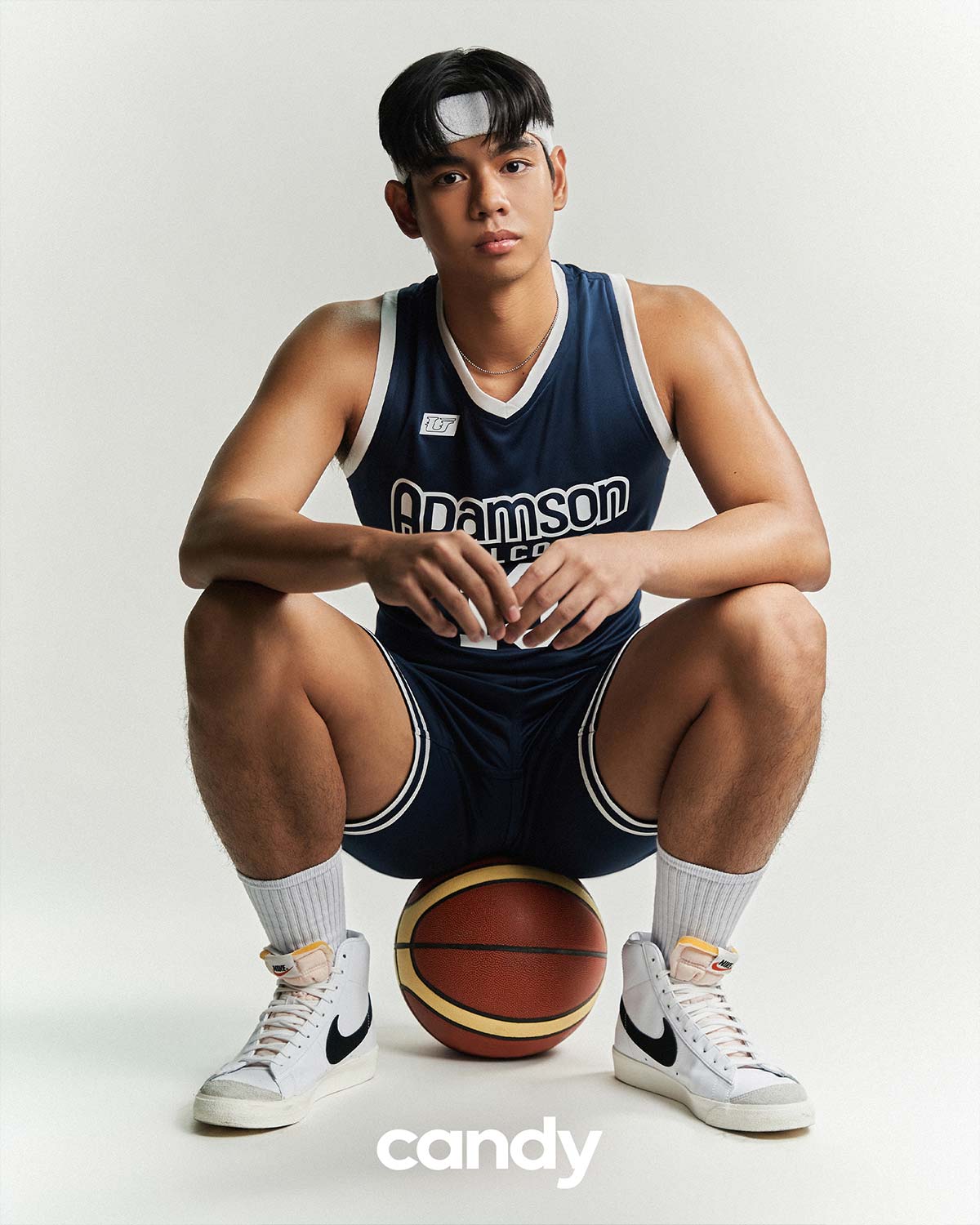 ADVERTISEMENT - CONTINUE READING BELOW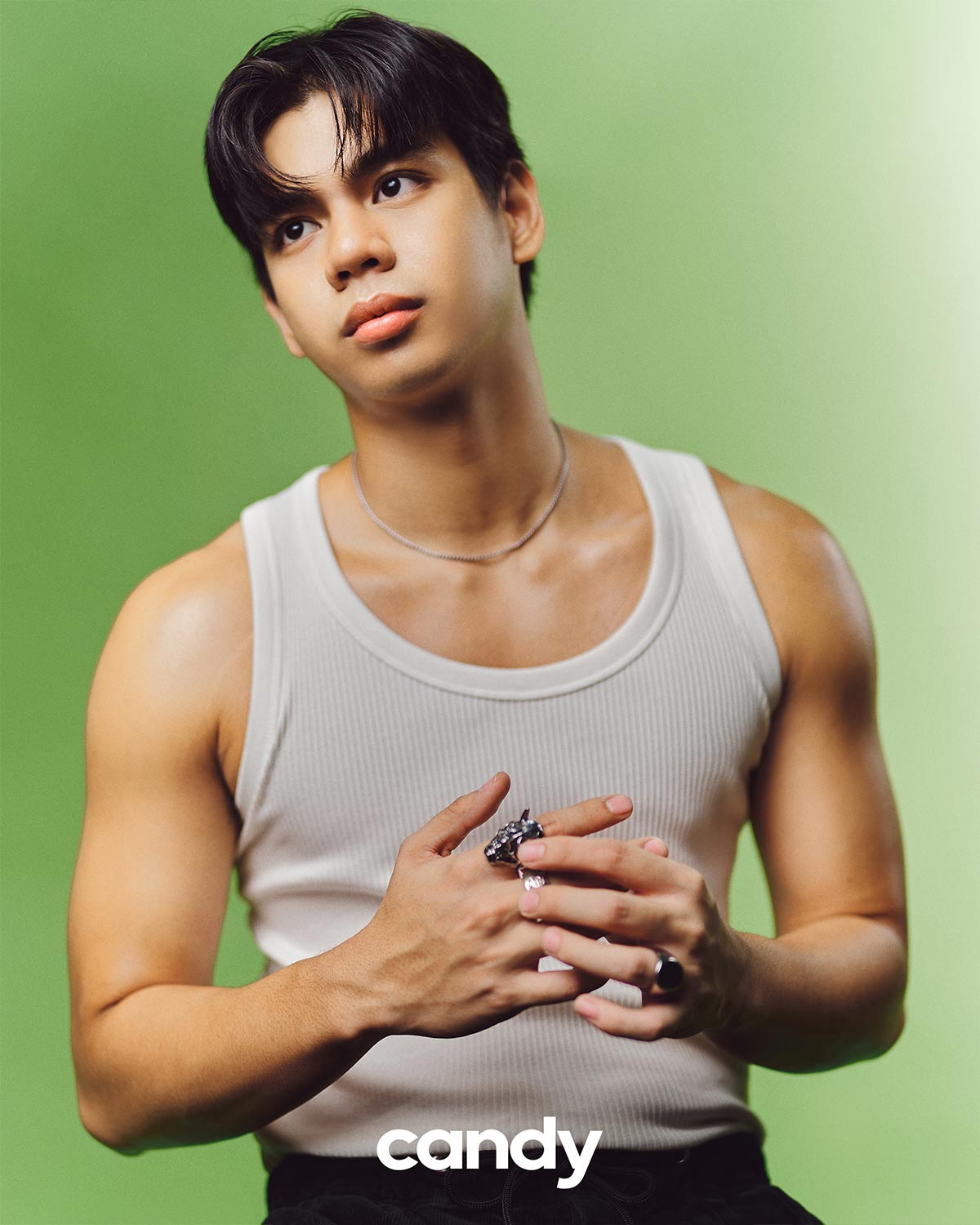 Despite the fact that he played for the juniors' basketball division, Joaquin says the magic of playing in the college arena is a different experience altogether, especially for someone like him who jumped from one university to another. "It's a different experience galing HS. Iba yung level sa college. Different environment yung Adamson. Mas marami ako natutunan na bago. It's a new adventure."
Not one to steer away from things outside his comfort zone, he's nothing if not a risk-taker, and a hard-working one at that. Currently, he's taking up Bachelor in Science major in Accountancy, a rigorous choice of course for someone who also wants to make it to the big leagues. Hoping to be a CPA and a top-notch professional cager at the same time, he's determined to reach his goals.
On his book, discipline is of utmost importance. "Wala ka talaga gagawin kundi basketball and academics. You can't play basketball if you don't do well in your academics. This year, to balance syempre mas disciplined dapat sa sarili at sa mga kailangang gawin. We set our priorities para ma-balance."
While their team had a pretty decent run last season, Joaquin says there's still a lot to improve on, and Season 84 was only a warm-up to the great things they have yet to do. "Yung experience, it's in a bubble. So yung preparation for the tournament, we have a new coach. Late na rin kami nabuo. Coming from this season, we have a longer time to prepare. Mas madami experiences na pwede matutunan sa iba't-ibang tournaments. We're preparing well para mas maging smooth kami."
Shaun Ildefonso of National University Bulldogs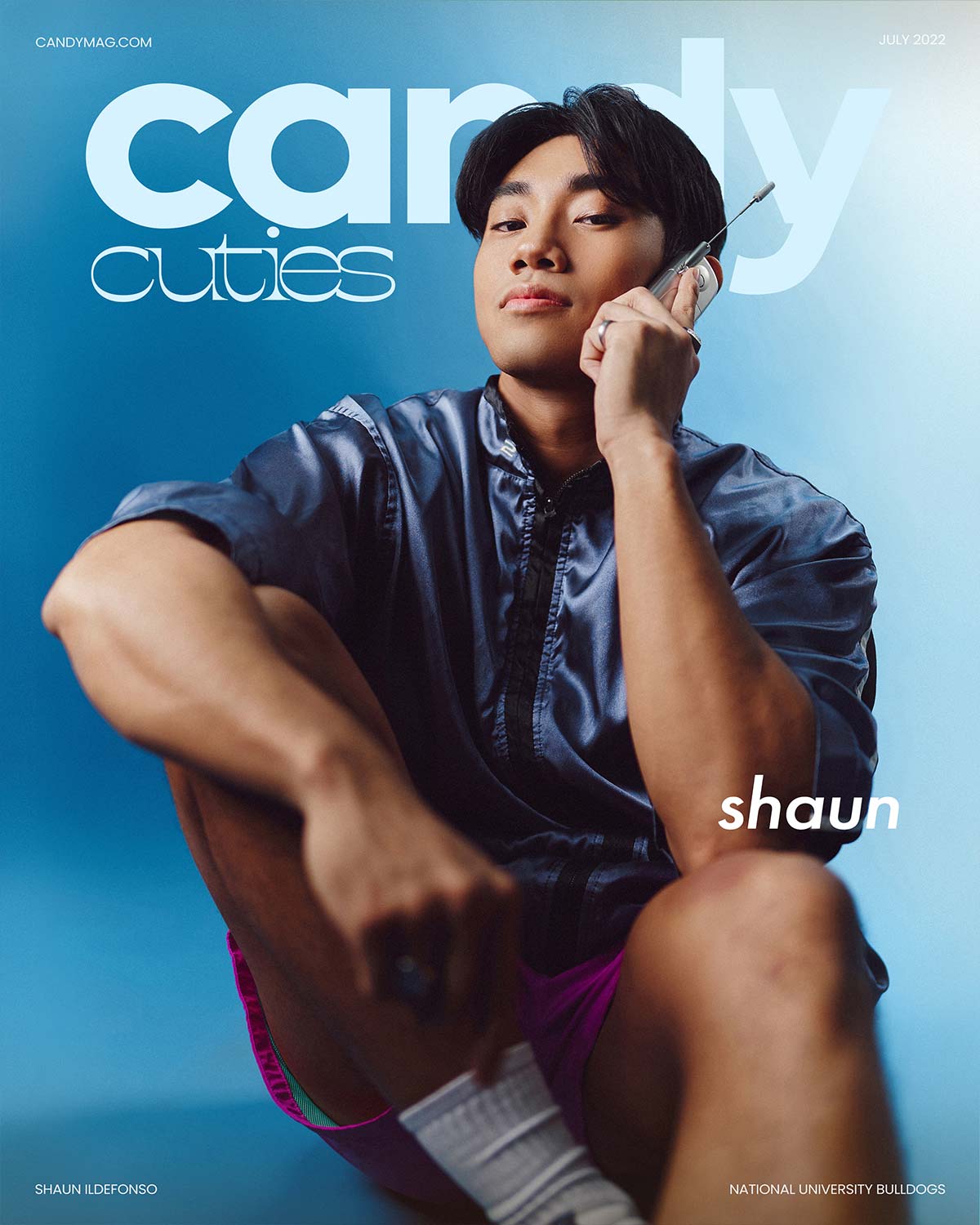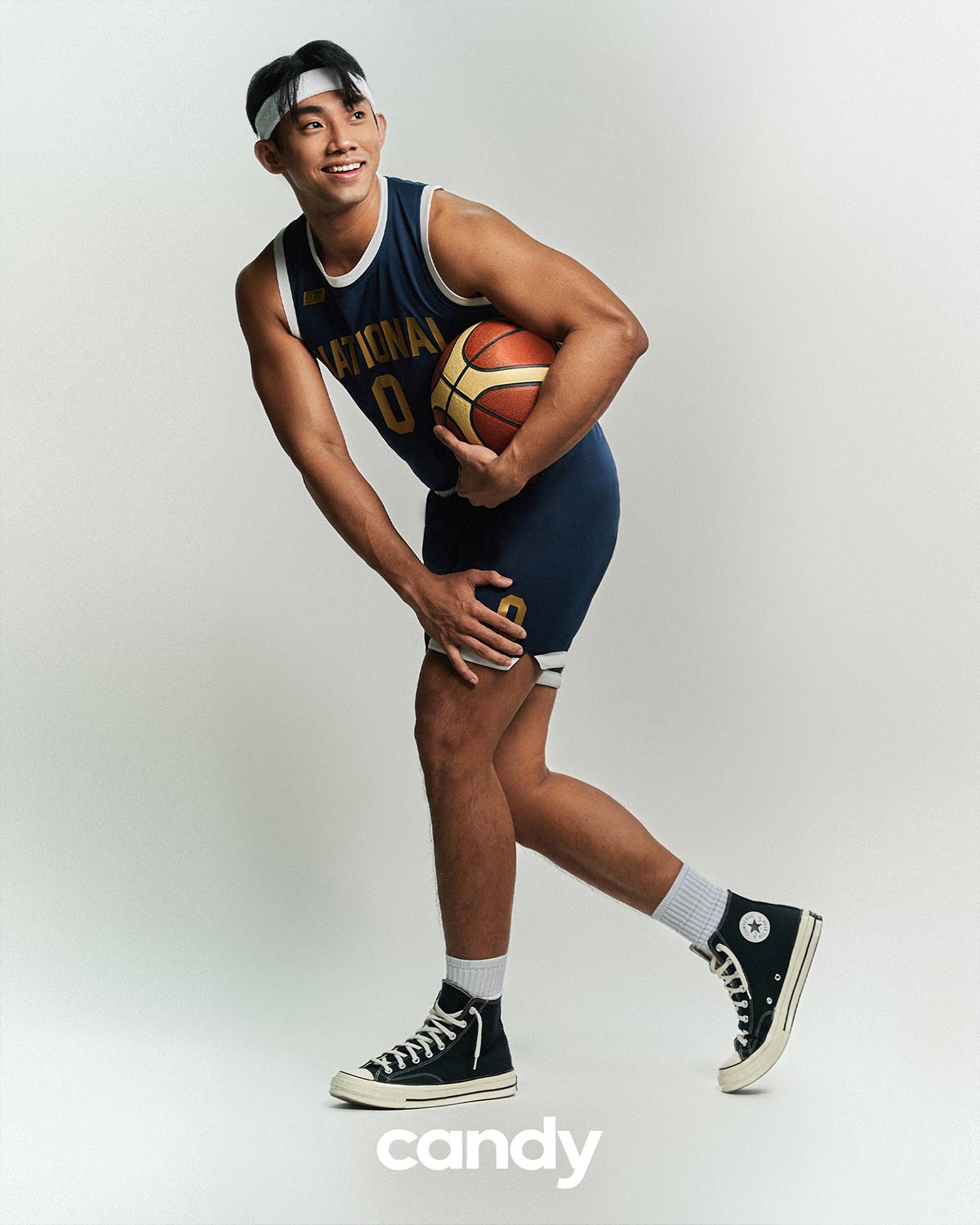 ADVERTISEMENT - CONTINUE READING BELOW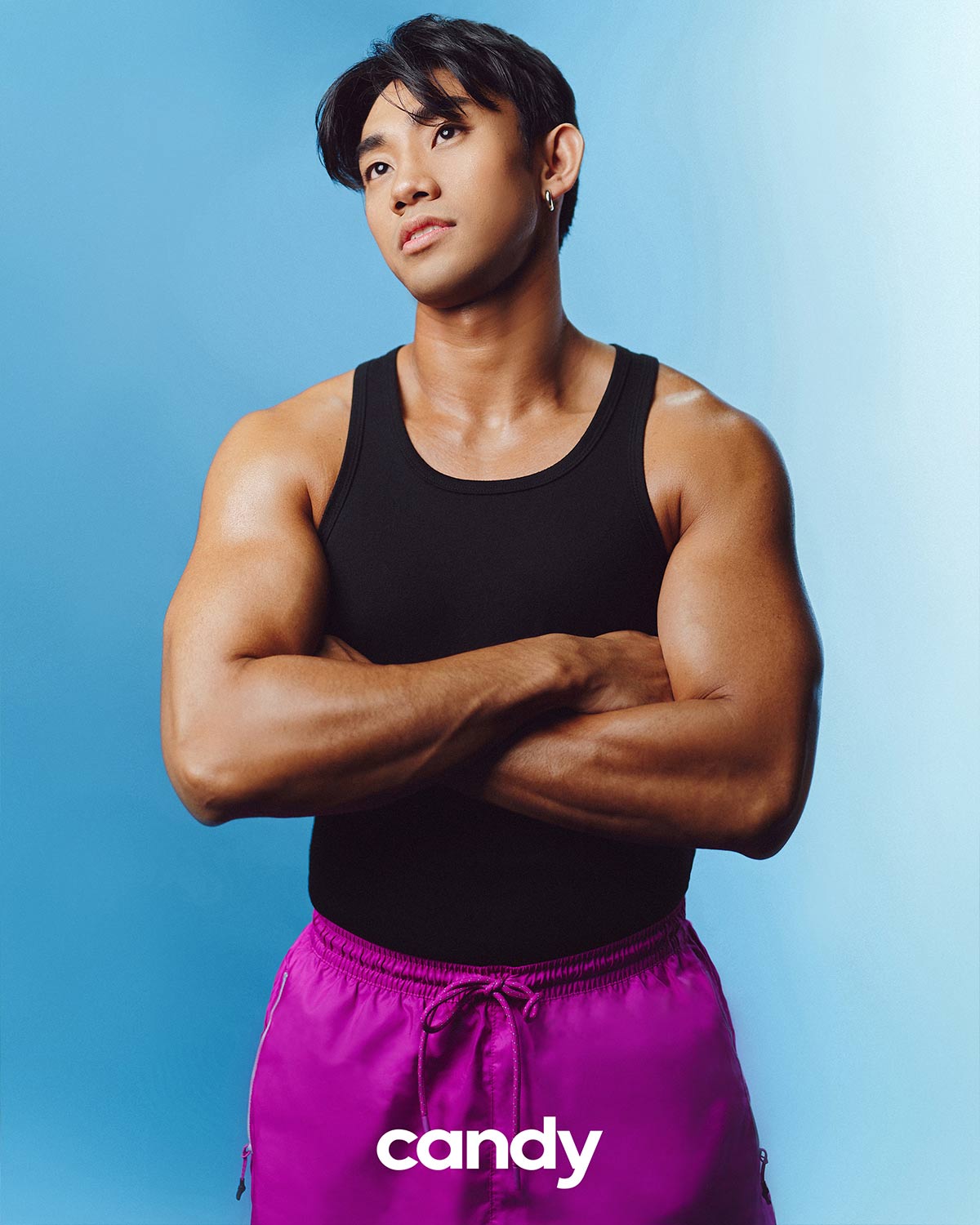 From the moment Shaun entered the room for the required swab testing up to the last leg of the layouts, his energy was contagious. He recently got drafted in the PBA, a lifelong dream of his. He also got his own car (his first big boy purchase.) Anyone can see that he's thriving. 
While he's on his way to being a clear-cut star in the pro league, he admits to missing all the hustle and bustle of college basketball from time to time. "The UAAP is the most intense and most hyped basketball league in the Philippines. Schools are trying to compete, and there's a lot of cheering and energy from the crowd. Yun yung nami-miss ko in playing for NU."
Aside from his standout skills last season, he also gained a lot of traction last season for his rivalry with his former teammate and brother Dave. "I can't really compare playing with him versus playing against him. But it was really fun. I'm happy to see him flourishing in Ateneo, and for sure masaya siya para sakin to be loyal to NU and give them my last year. It was a good run."
Shaun grew up in a family of athletes, so much so that bonding over anything fitness and sports-related is already second nature to him. "We have this competitive spirit. We are a very sporty family. It's also a good thing. Minsan yun topics of convo namin. In whatever sport they're playing, it's just support and love that revolves around this family, and I'm really blessed for that."
Of course, there's also his highly-enviable relationship with fellow basketball star Camille Clarin, whom he credits for his leveled-up pre-game fits. "God, it's amazing! I can honestly say that Camille is just the perfect person. She's the only thing close to perfect that I can describe I have in my life. Lumakas yung relationship namin 'cause of basketball. If someone has a bad game, we try to comfort ourselves."
Now past his college years, he's working hard to earn his rightful place in a brand new league. "Masaya ako sa performance ko sa lahat ng years that I played for NU. It's just being better and trying to be the best version of myself from now on."
Jordi Gomez De Liaño of UST Growling Tigers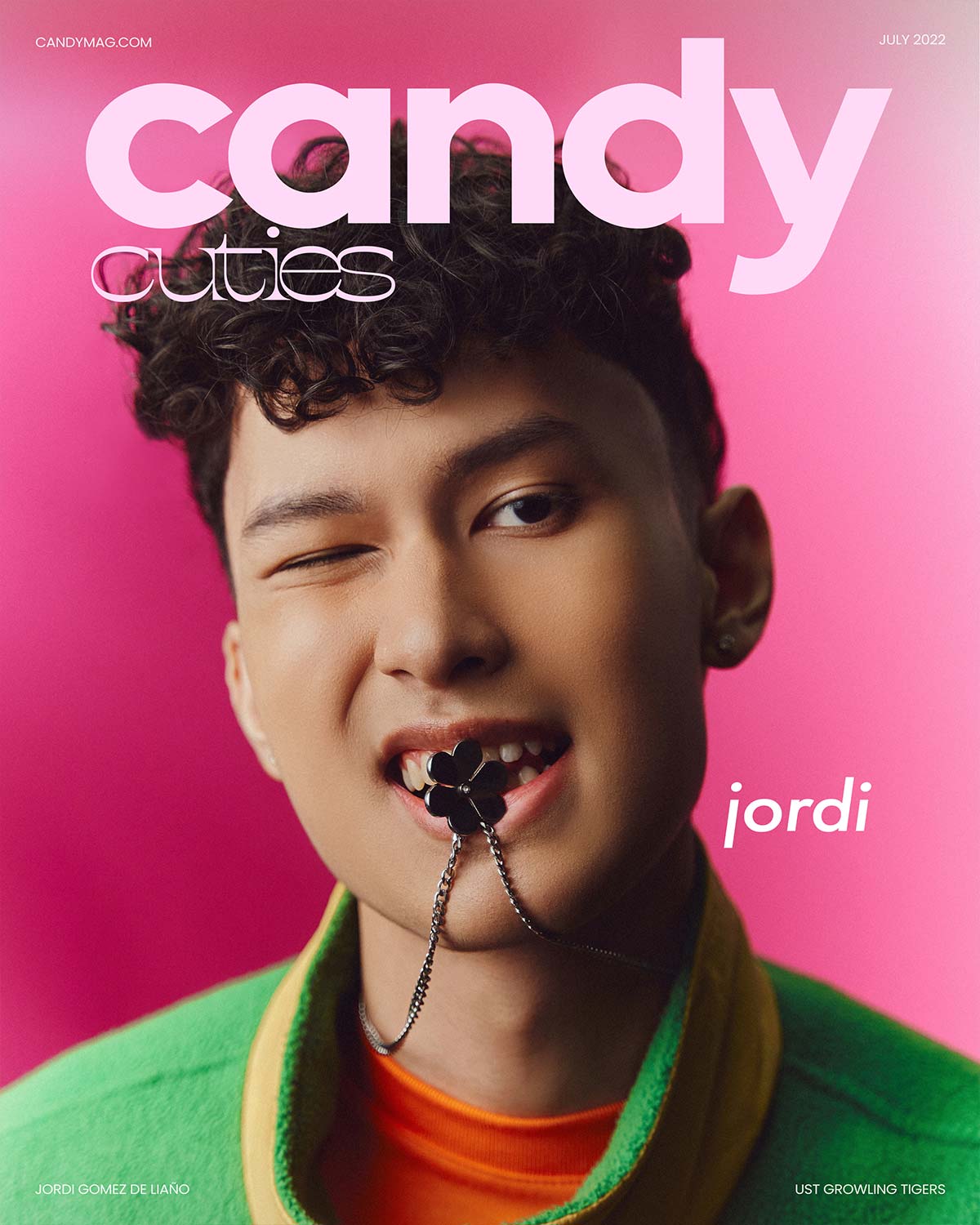 ADVERTISEMENT - CONTINUE READING BELOW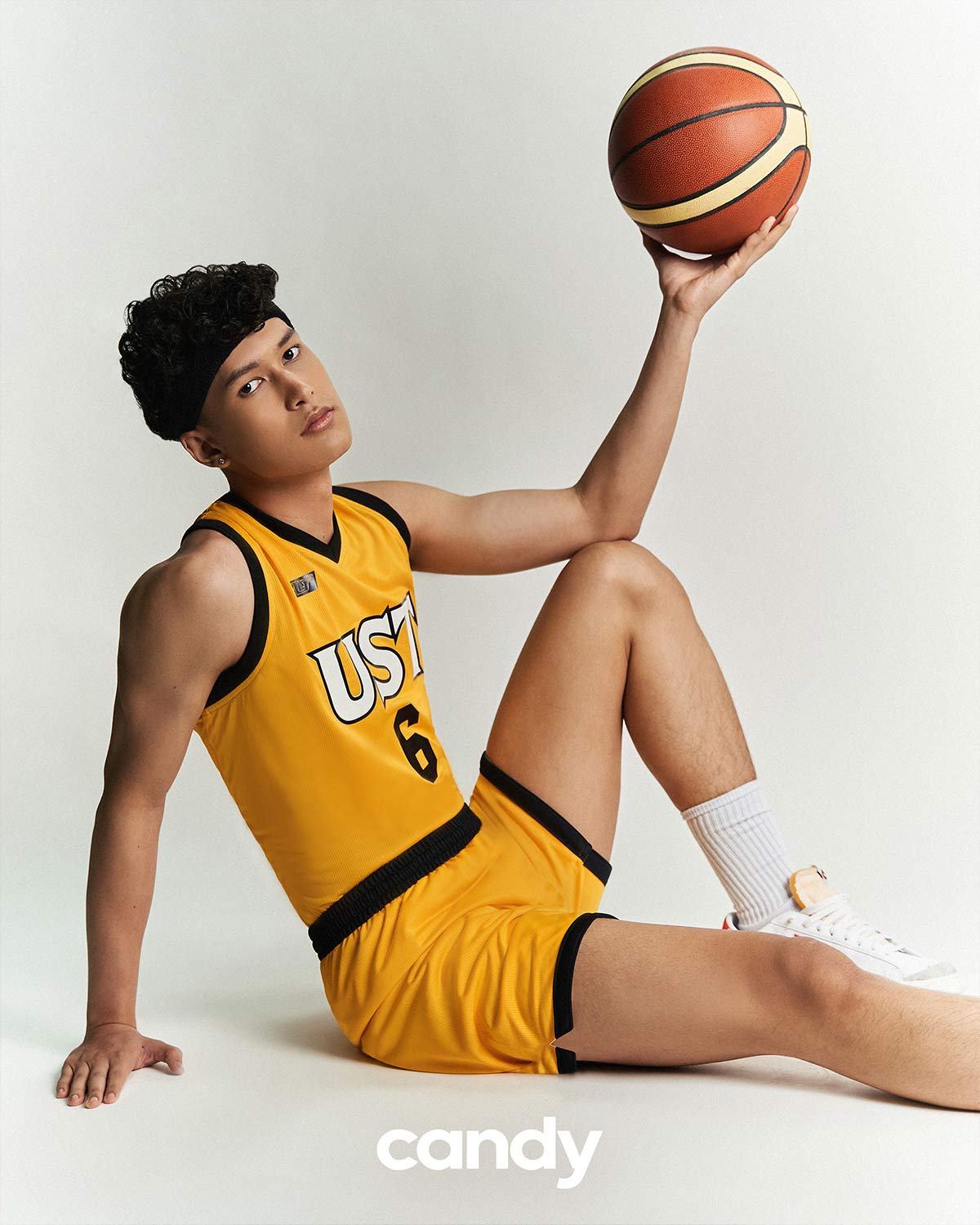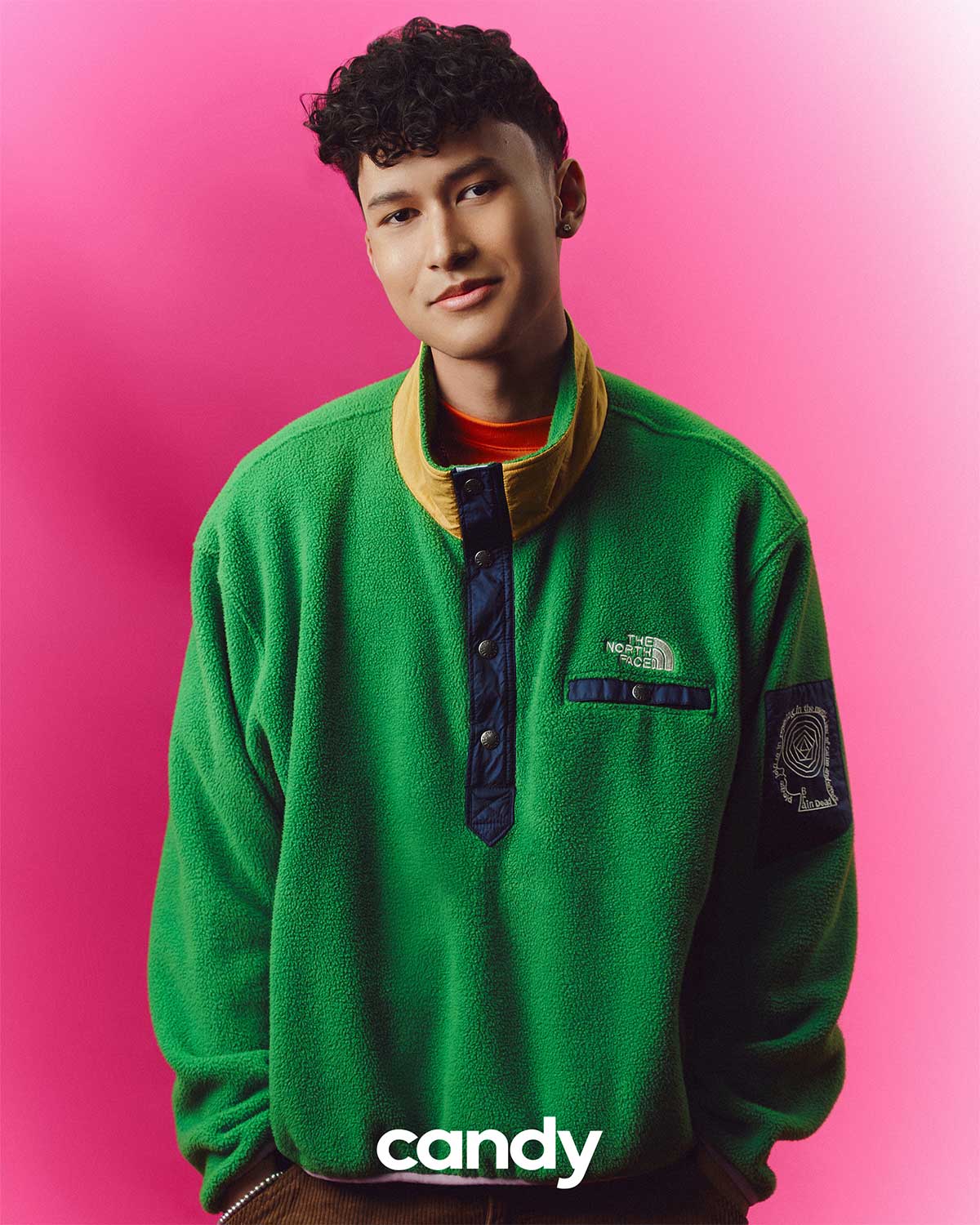 Jordi's surname rings a bell to most UAAP fans—his older brothers Juan and Javi were standouts during their stint in the UP Fighting Maroons, revered for initiating the university's winning culture. And with him following suit as he played in Katipunan's camp during his high school years, jumping to the tigers' den is certainly a move that took everyone by surprise.
"It was a tough decision, yeah. We planned it as a family. It had the best opportunity for me. And it felt like I was destined to be part of UST," he says matter-of-factly, his shy demeanor evident in his calm, introverted vibe IRL.
On top of all that, he's following the footsteps of former King Tigers who made a mark in their respective collegiate careers: CJ Cansino, UP's tough-shot caller despite his injury during last season's championship game; and Rhenz Abando, who has been getting all the rave recently for his impressive performance in the national team.
The 18-year-old rookie, who looks up to NBA superstar Steph Curry for his effortless shooting on the court, is ready to take on the challenge. "Yeah, I only have one goal, of course, to be a champion. We'll bounce back from last season. I wanna be better as a player individually."
When he's not shooting hoops, Jordi is one but a simple guy, a self-confessed wallflower who claims he hasn't dated anyone ever. "Yeah, no girlfriend since birth," he reveals, saying that anyone who wants to be friends with him would have to strike the conversation first since he's too shy to do it.
It's clear that he's not rushing to find romance anytime soon, though, and loves his own company. He likes watching Netflix series, including K-dramas, during his free time (It's Okay To Not Be Okay is his all-time favorite).
ADVERTISEMENT - CONTINUE READING BELOW
Jordi, teased by Shaun as an "Ipad kid," given their not-so-far generational gap, is well aware of the love he's getting from his followers online, especially from his fellow teens. "Appreciate all our supporters sa social media, especially me I check my socmed every day. I love and appreciate."
A Bright Future Ahead
As we wrapped up the shoot and everyone said their pleasantries, off the new Candy Cuties went—back to the grind as they prepare for another season of their lives, on and off the court. Because if there's anything that we all learned over the past two years, it's to not take anything for granted.

It's either heartbreak or glory at the end. But for the love of the game, they're ready for it either way. The future of Philippine basketball is burning brighter than ever, and these guys are ready to hit their best shots.
Produced and Written by: Cass Lazaro
Co-produced by: Cheska Santiago and Leika Golez
Art direction by: Pau Moyano and Bacs Arcebal
Photographed by: Renzo Navarro
Styling by: Florian Trinidad, Assisted by: Gg Latorre and Pis Trinidad
Grooming by: Mycke Arcano and Sophia Esmiller
Filmed by: Jasia Valencia
Vintage jerseys by: Universidad
Special Thanks to: Hype Sports PH, Virtual Playground, UP Men's Basketball Team
Disclaimer: UAAP players representing the University of the East and Far Eastern University were also invited to take part in the Candy Cuties feature but couldn't join the shoot due to unforeseen circumstances.