ETC recently had a Fly to Atlanta promo for The Vampire Diaries. Viewers had to watch the primetime telecast of the show every Tuesday at 8 pm to be able to answer the question posted on their website. Luckily, Candy met up with the grand prize winner, Melissa Yupanco, who got to fly over to Atlanta to visit the set of The Vampire Diaries last April and meet the cast. She gushes about what she loves about the series.
What makes The Vampire Diaries different?
Melissa becomes honest and says that the book doesn't really stand out, but adds that Twilight fans like her will love it! She emphasized that when it came down to the series though, it definitely became such a hit because of the hot cast!
Expectations. Melissa hoped to see Tyler (Michael Trevino) come back in the latest season and shares how she wants Stefan (Paul Wesley) and Elena (Nina Dobrev) to end up together as well as Klaus (Joseph Morgan) and Caroline (Candice Accola). Melissa also wishes for the introduction of new characters and plots that make the show so interesting. She mentions how she favors the series being unpredictable, with a lot of plot twists that she hopes to continue so the series won't end.
ADVERTISEMENT - CONTINUE READING BELOW
Top 3 Fave Elena Moments
Melissa gushes that her top most fave Elena moment was when Stefan was still working for Klaus and walked out of Mystic Realm and called Elena. Elena, almost missing the call, told Stefan how she loved him and to hold on to that, and Stefan was crying!
The second runner-up is handed to the Delena team, when Damon (Ian Somerhalder) told Elena, "I don't want you to forget but you have to" and a tear rolls down his cheek.
Lastly, Melissa's third fave was in the first season of the series when Stefan was going to break up with Elena, the look of worship that Elena gave when she turned Damon around when he was turning into a vampire was Melissa's fave part. We heart it too!
Wait for the next issue of Candy magazine if you want to read more deets about Melissa's experience with meeting the cast! And check out the slideshow below for her photos from the trip.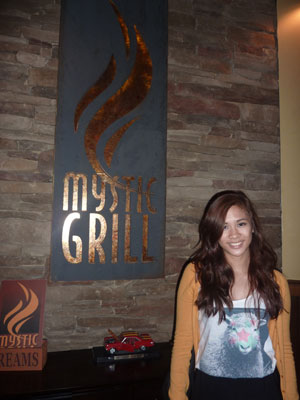 ADVERTISEMENT - CONTINUE READING BELOW