Running a business while in med school sounds like a lot to take on. But for first-year med student Sofie Andin, it's one way for her to stay connected to her love for the arts, and to keep growing as an artist.
Sofie, 22, sculpts miniature polymer clay earrings, keychains, and pins with her own hands; creating tiny bread, breakfast pastries like scones and jam, bridal wreaths, pets, strawberries, and candy (yay!) to sell to her customers. And she started her business with only P1,500.
Starting soonthemoon
After the completion of her thesis in April 2018, Sofie wanted to treat herself and just be creative. "I wanted to make accessories I would want to use," she tells CANDY, "that's how I started learning how to work with clay."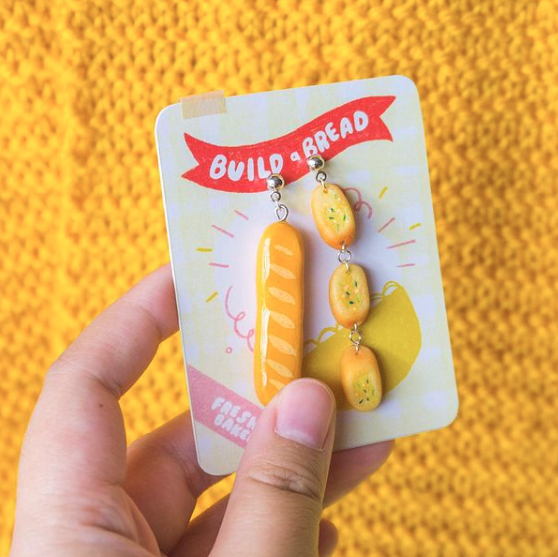 Because school was over, Sofie had no allowance when she decided she wanted to make and sell this kind of art. "I only had P1,500," she says. "'Yun na lang talaga." But with the rise of small businesses on Instagram and Shopee, Sofie was determined to explore the possibilities.
ADVERTISEMENT - CONTINUE READING BELOW
To kickstart her shop, soonthemoon, the 22-year old artist bought the necessary materials with this money: two packs of clay for the first batch and some earring locks, because that was all she could afford. "When I earned from that, I spent it on more materials [because I only had a few to begin with]. My focus was to get what I needed to earn more," Sofie disclosed.
During the first month, her business only earned P5,000. Now, Sofie shares that she's comfortable with what she earns, she's not as worried as much as when she started, and she's able to use half her money on materials, and the other half to invest in herself as an artist.
From Fine Arts to med school: Taking a leap of faith
As a graduate of the University of the Philippines, majoring in Fine Arts, it was a leap to transfer fields and head to medical school. Sofie shared that it sometimes gets to her, but it all boils down to the question of who she wants to be: "I want to be a doctor, but I'm also an artist." With her hard-earned money, Sofie also enrolls in pottery and Riso printing workshops to cultivate her talent and skills, and to continue practicing more art beyond clay.
Sofie handles soonthemoon all by herself—she's the CEO, the marketing director, the advertiser, the social media manager, the operations handler, and the packaging manpower. She even told us that she models her products with her left hand, and takes the picture with her right. From her college course, Sofie feels that she's equipped enough to make the art, the branding and the logo... But running her business, with only her as the head and the staff—art schools don't teach the legal or the corporate side of art and design, and she had to learn all of that on her own.
"So when you support a small business, it's going to the artist's time, their passion, their materials, and doing what they love."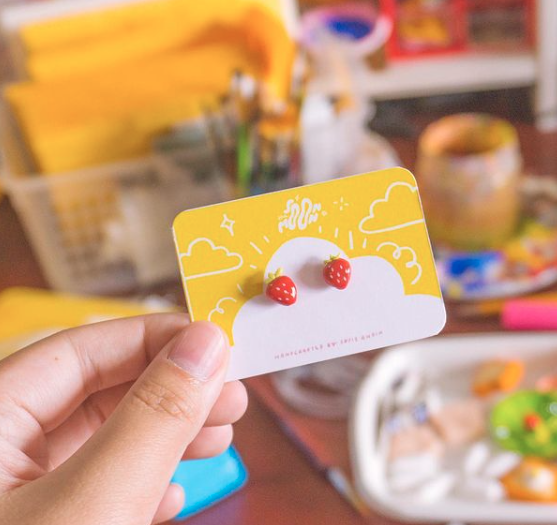 To aspiring creators or artists who want to delve into running their own business, Sofie shares her own piece of advice, based on her experience: "Don't wait until you're 100% prepared, because there's always a reason why you shouldn't start." Even when you don't feel super capable and confident right now, Sofie's tip is to just try it out.
Second: "Be honest with yourself and listen to yourself." Being a first year med student, an artist, and a CEO of her own small business is challenging—people will say, "Why aren't you focusing on your studies?" or, "Why are you wasting your time doing that when you should be studying?" But Sofie is honest with herself, and she says that as long as you're happy, that's good enough.
ADVERTISEMENT - CONTINUE READING BELOW
Lastly, Sofie shares it's also about going with the flow: "Accept your seasons," she said. "You can't be creative 100% of the time. You can just watch a movie, go outside, build up your creative energy—we can't always put out good work out there. So recharge, and take care of yourselves."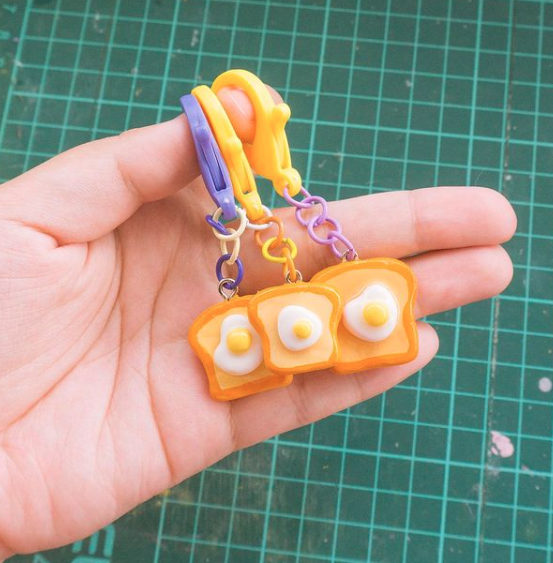 Want some cute pastry accessories? You can DM for commissions, or grab some onhand items via soonthemoon's Shopee, Instagram, and Twitter. 
***
#WATCHCANDY: Subscribe to Candy Magazine on YouTube and follow @candymagdotcom on Tiktok for guides to college life and beyond.