How much did you spend the last time you went out with your friends? P200 for dinner? P200 for movie? P100 for coffee or drinks after? That's P500 gone in 4 hours!
According to Business Insider, teens are spending most of their money on food, clothing, accessories, video games, cars, electronics, shoes, music, movies and events. Do you ever wonder how much money you can save by skipping a few sips and bites here and there?
If you skip 20 eating out sessions with friends, you can take cooking lessons together. Instead of eating out, you can hang out at a friend's place, bring potluck home cooked food and enjoy just the same. Who knows you'll discover that Masterchef in you?!
If you skip 20 cups of designer coffee, you can take coffee barista lessons or craft coffee workshops. Do you know that there are now short courses for coffee appreciation, coffee business, beverage creation, chocolate and truffles? Mmm we can smell that homemade coffee aroma now...
Why not skip 20 shopping trips to the malls (for clothes, shoes and accessories) and take a fashion crash course instead. Learn about creating looks, editorial styling and fashion trends. If you're a fan of online shopping, purchase books instead of clothes. You don't really need to update your wardrobe every week, if you think about it.
And what about gadgets? Of course you have to have one (talk about FOMO)... but not necessarily the latest one. Skip spending on the latest mobile phone (or tablet or laptop). Instead, why not maximize the potential of your existing phone (or tablet or laptop) and actually earn from it. You can be a blogger, a content provider, or an online marketer.
ADVERTISEMENT - CONTINUE READING BELOW
Instead of spending on video games and apps, learn the ropes of animation, basic photography and scriptwriting. Why not make the most out of your SLR or GoPro? Sell your photos and videos. Get credit for your creativity. Be famous (haha!).
While movies and concerts are experiences that create lasting memories, perhaps we can set a limit on them—probably not every week so you can level up your experiences—like theater acting workshops that bring out your creativity or weekend out-of-town trips that bring you closer to nature.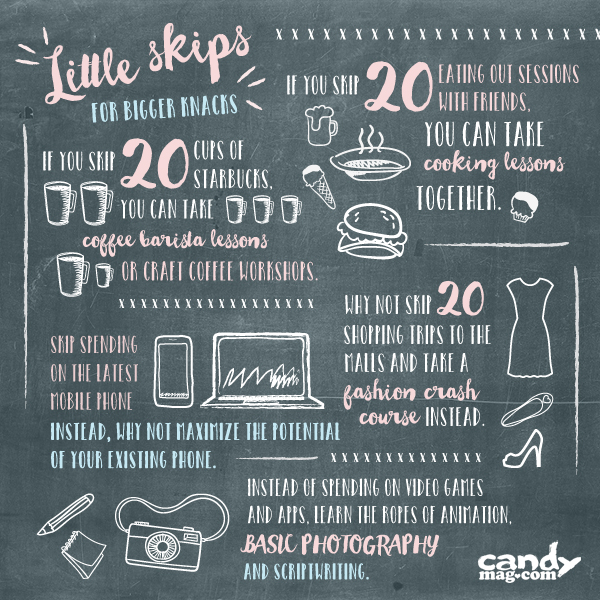 If you're one big dreamer, you can save for the future. Think about those dreams you proudly want to save for and spend on by yourself. Ever heard of investments? If you invest now while you're young, you can ride the magical wave of compound interest. Let's say you save P10,000 at 15 years old, this amount will approximately become 35,000 at an interest rate of 12% by the time you're 25. This amount will become a little over than 100,000 by the time you are 35. Have you ever given this a thought? This is the advantage of saving and investing early. And yes you can invest in mutual funds and the stock market as early as your teenage years. So the next time you hear the mall calling you again, you might want to think about compound interest instead.
What we're saying is what you spend to enjoy a couple of hours can be spent on something you can enjoy for weeks, months, years even. Buy and invest on experiences, not on material things and possessions. And see for yourself how learning experiences, new skills and memories create lasting happiness longer than a cup of your favorite coffee.