Every teen experiences self-doubt and feeling insecure, and it's practically a pre­requisite for growing up. But hopefully, with the help of of Patricia Prieto, Verniece Enciso, Alyssa Valdez, Maris Racal, and Manolo Pedrosa, you'll understand why it's more than okay and learn how to build your self-confidence.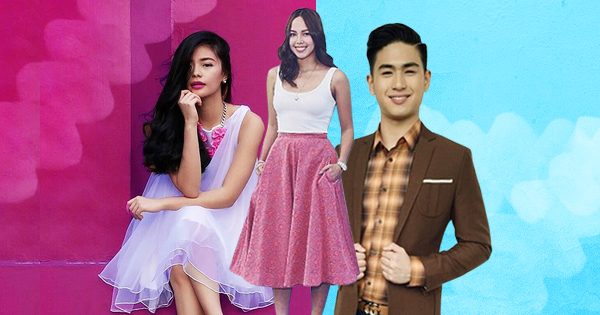 1 Fill in the blank:­­ Confidence is _________ ?
Patricia Prieto: That feeling you get when you're surrounded by people who you love and care for.
Verniece Enciso: Doing what you love.
Alyssa Valdez: Knowing yourself.
Maris Racal: Being yourself in front of other people and not being ashamed of who you are, and showing them what you've got.
Manolo Pedrosa: Sexy.
2 If there's one thing about confidence that I could have told myself when I was still a teen, it would be ?
Patricia Prieto: There's more to life than what you're experiencing now.
Verniece Enciso: Don't mind the bad things your peers say. I think there's always gonna be haters around there, so don't let it affect you. It's part of the journey. Everyone will pull you down because they know you're on top. So just be confident and believe in yourself.
Alyssa Valdez: Trust yourself.
Maris Racal: Don't overthink a lot. Just enjoy the moment. Because one moment just becomes a memory and you should enjoy it and make the most out of it.
Manolo Pedrosa:Life is all about being happy.
ADVERTISEMENT - CONTINUE READING BELOW
3 What makes you feel confident?
Patricia Prieto: Happiness.
Verniece Enciso: Doing what I love, my passion.
AV: My family.
Maris Racal: My smile!
Manolo Pedrosa: God.
4 Advice for girls who feel insecure?
Patricia Prieto: Gaining confidence is a struggle, but if it's something that if you really want, you'll get it. It's something you actually have to work for, and the feeling of becoming confident is amazing, so, in the words of that Journey song, don't stop believing.
Verniece Enciso: I think the first step is really just believe in yourself, don't give up, and just keep going.
Alyssa Valdez: Just be yourself, and naturally people will know you for being yourself, and they will love you
for who you are.
Manolo Pedrosa: No matter how different you feel, or no matter how out of place you feel, or you feel na outsider ka, you shouldn't feel that. Because it's actually a good thing that you're different from other people. And that should be your reason for confident in everything.
5 Advice I'd give to my teen-self about growing up.
Patricia Prieto: I'd like to tell my teen self that there's life after highschool. It does get better than how it is now. When I was in highschool, I felt like if something bad was happenin,g my world was going to crumble, and it's not true.
Alyssa Valdez: Learn to enjoy, learn to accept all the things na nanyayari sa atin, so that we're ready and
confident to face the future.
6 What are your tips to stay fresh and clean all day?
Patricia Prieto: Of course using Ponds, and always make sure to moisturize, cleanse, and protect your face. I
always use the Ponds Acne Clear Scrub, then when I moisturize, I use the Dewey Rose Gel because it's really a primer, that's actually what I'm using now. And I use the Ponds BB Cream because it's light so it's like I'm not wearing any make­up at all. And when you're young, you should enjoy your skin.
Verniece Enciso:For me, with my outfit, it's the hair that makes it complete Shampoo isn't enough, so you should use Creamsilk to have even more beautiful hair and go beyond so you'll be more confident to pursue your dreams.
Alyssa Valdez: Take care of ourselves and not just physically lang. The emotional stability is also really
important. You need a stress reliever, a good support system, and eventually because of that magiging confident ka to face anything that can hinder or challenge you.
Manolo Pedrosa: Always drink a lot of water! And exercise, stop using the cellphone, stop using your computer, and eat your vegetables.