Features
Lauren Conrad Talks About Her Natural High
Former star of MTV's The Hills LC talks about her natural high and staying away from drugs. And what you can do to get your own natural high!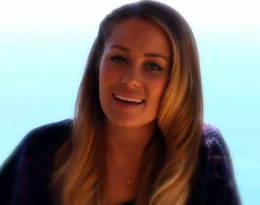 Lauren Conrad speaks out against drugs and shares what her natural high is in this PSA. (via JSYK)
<>A few tips on getting your natural high on:
Be passionate. Take up a sport or a hobby. Focusing your energy on positive activities that will further develop your character and personality is much more worthwhile than spending it wasting away with illegal drugs.
Get your friends involved. Having a group of people who are interested in the same things as you encourages you to get involved yourself. It's better to have friends who are good influences rather than the opposite.
Be open. Learn how to talk about the problem if there is one. Talk to your parents. Talk to your teacher or guidance counselor. Keeping it all inside won't solve the problem.
Don't give in to peer pressure. If your friends force you to do something you're not comfortable with, then they're really not true friends. Surround yourself with people who will only bring out the best in you!
Set a goal and reach it. Lauren knew from the beginning that she wanted to get into the fashion industry. She focused all her energy on making that dream happen. And now, she has her own clothing line and is already set to release her third and fourth book! You can make it happen, too!
<>What's
your
natural high? Spill in the comments below! We'd love to know.
Think of astrology as a language that helps you feel and be seen.
It's like seeing Seo Dan and Seung-joon all over again!
The internet seems to love his lighthearted humor during these troubling times.
Many of our favorite K-drama actors right now actually started out as idols!
Thailand rethinks its elephant strategy.
Who else wants a basket full of mojos?
We're hoping to see more of these in different LGUs!
Sometimes, no matter how hard you try, some people just won't vibe with you, and that's totally fine.
Have you tried the #ComeAroundMeChallenge?
The cheerleading docu-series is a phenomenon.
A lot of them are dirtier than a toilet seat.