What inspired you to hold a bazaar for the victims of Typhoon Haiyan?
My friends and I wanted to sell our stuff separately for cash, really. A lot of relief centers were giving food and not clothes.. We wanted to help in a more meaningful way because people don't have a good venue or enough audience for a bazaar (to help victims of the typhoon). It started small, but grew into this ridiculous amount—people started retweeting and posting things on social media. I thought that only students from Ateneo or other schools near here will be the only ones to donate but it turns out, people from Bataan, Nueva Ecija heard about it and decided to donate.
What will be sold at the bazaar?
Mostly clothing. We made sure that a lot of what we're selling are the stuff that you would actually want to buy. There are things that are too fancy for relief ops and will probably help more if it's in cash. There are pieces here fromTopshop, Zara, H&M, all for the price of P150 – 200 max.
Why Malapascua?
I wanted to pick an organization that I trusted, one that I know will be transparent and accountable for their relief operations. Malapascua, one of their major stakeholders, Save Philippine Seas led by my good friend, Ana Oposa, is more direct than other organizations. With Save Philippine Seas, I'm assured that these donations will go to the specific island. The earnings of the bazaar will help rebuild the school there. I didn't want to generate cash for relief goods. I wanted to pick a beneficiary that was going for a solution that's long-term. You know, when I was reading the news, I saw that people had to rebuild stuff from scratch and I couldn't even imagine having nothing on you. With nothing, it's normal to start looking for leftover structures that were there before. I wanted to help restore normalcy. Her (Ana) advocacy was to rebuild a school and the idea attracted me more than any other.
If other people would want to hold a bazaar such as yours, what advice would you give them?
Don't do it in a week! (laughs). Find a good venue. In any bazaar, the venue is one of the most important things you need to pin down. Also one of the biggest things, I wanted it to be a good community giving experience versus "Oh, it's cheap stuff, it's ukay-ukay." Without the help of my friends, interns and volunteers, it would never be possible.
Do you have any other plans after this bazaar in relation to Yolanda relief?
I'm in talks with Muni PH and Change Clothes PH that if ever that there are a lot of things left over, having a joint bazaar with them would be great. Like I've said, projects with long-term efforts. It's understandable to give relief goods but rebuilding cities is something I'm more moved to do.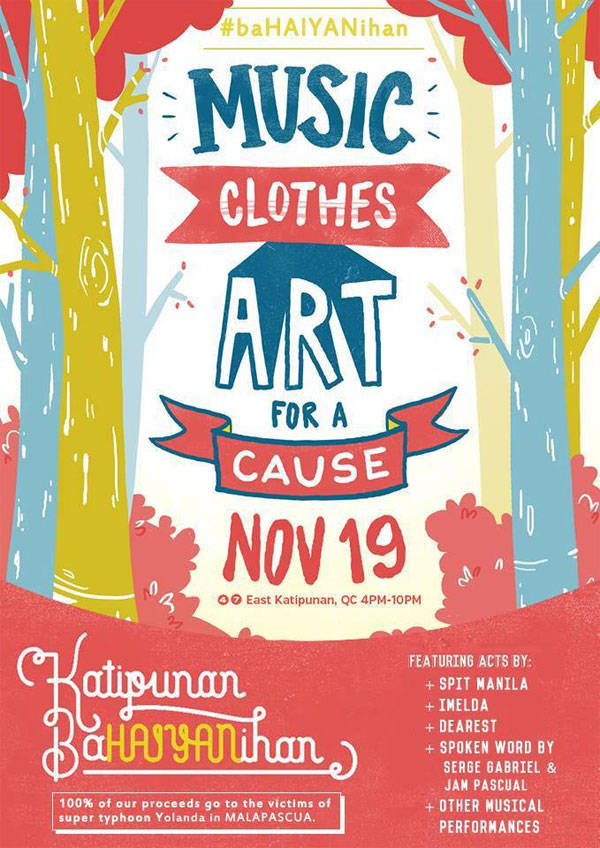 ADVERTISEMENT - CONTINUE READING BELOW
Join Arriane and guests this afternoon at 47 East Katipunan, QC to support Katipunan BaHAIYANihan. Candy EIC Marla Miniano will also be there to read some poems. See you there!