There's a lot of debate on whether art is a talent or skill but one thing is clear: it's something that requires practice. As the adage "Rome wasn't built in a day" suggests, honing one's craft requires commitment—something that beauty content creator Kai Javier must have also known when she applied for the Make-up Designory scholarship, months after obtaining her Multimedia Arts degree from the De La Salle-College of Saint Benilde.
"I got inspired to study in a makeup school since I've always loved to learn more about things I already love. When I was in high school, I loved graphic design so much, so I took up Multimedia Arts in college to become better at it–and I guess that same mindset applies to makeup school, too," the beauty content creator shared.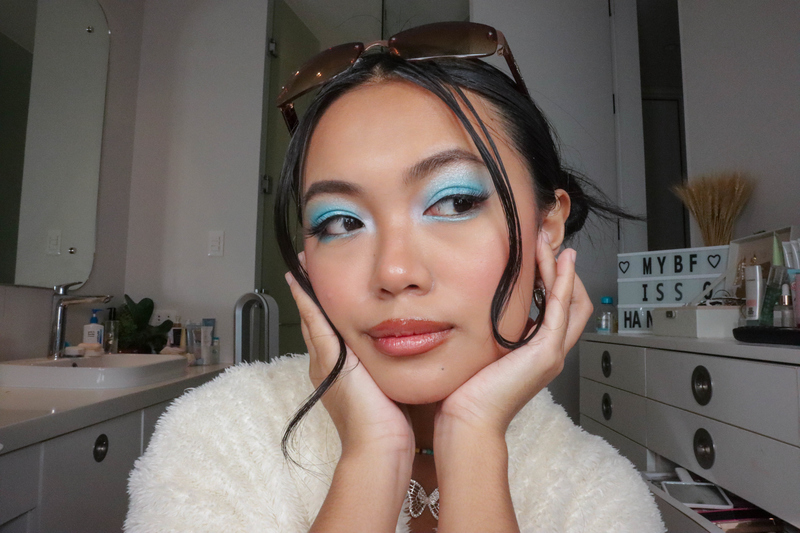 ADVERTISEMENT - CONTINUE READING BELOW
ADVERTISEMENT - CONTINUE READING BELOW
Despite her adeptness at putting makeup on herself, Kai admitted that she refrained from accepting makeup gigs. "I'd get asked a lot about whether or not I offer makeup services, and I would be too shy to accept gigs since everything I knew about makeup [back] then would be based on my personal experience with products. I didn't know how to work with or what worked best on skin types other than my own," Kai said.
As a beauty content creator, a lot of people also turn to her for advice. "I get asked a lot about products every single day, and not gonna lie, sometimes I wouldn't know the answer," she shared.
Kai realized that in order for her to help people be better at makeup, she also has to learn about its technicalities and what works best for others. The stars seemed to have aligned as for the first time, Make-up Designory Manila opened up a scholarship.
ADVERTISEMENT - CONTINUE READING BELOW
"They opened up online applications that required aspirants to post an application video and my friends were telling me to go for it so I did! After being shortlisted, I had an interview with the school and although I didn't get the scholarship, they were kind enough to help me with my enrollment," she recalled.
Ever since Kai started attending the makeup school on weekends, she made it a habit to wake up a few hours earlier considering that she lives in the south and has to travel to Mandaluyong where MUD Manila is located.
"If I have a model that day, I meet up with them and bring them with me to class. We usually just have lectures and practice the whole day," she shared.
Although she was able to manage her time wisely by not attending PR events on weekends and by doing beauty content and business-related things on weekdays instead, Kai admitted that the experience has also been challenging.
ADVERTISEMENT - CONTINUE READING BELOW
"It's been challenging, honestly. And super humbling! Sometimes you think you're super good at makeup then once you apply it on other people, it becomes a whole different experience!" Kai mused.
She also shared some of the aspects aspiring makeup artists have to consider when applying products on other people. "I remember getting so nervous, and sometimes I still do get nervous, during my first few times [of] curling other people's lashes. It's a different experience because you don't feel how the makeup is first-hand, and you just see what's happening to the face you're doing makeup on. So we always have to check in on the model or client to ask what they're allergic to, if they're feeling any discomfort, etcetera," she shared.
According to her, despite how challenging it is, she just loves the overall experience. "It's been challenging but I also love it because everyone's faces are so unique and it never gets boring. It's very fun to take on challenges and now that I'm learning and practicing more and more every day, I'm finally getting the confidence to do other people's makeup!" Kai cheerfully said.
ADVERTISEMENT - CONTINUE READING BELOW
One of the important pieces of advice that Kai shared for aspiring artists is to not be afraid of stepping out of their comfort zone.
"It gets scary at first, but it's always going to be worth it. I used to be so scared of putting myself out there and doing big things, but I'm so happy I stepped out of my comfort zone because whether or not it turns out great or really bad, I learn every single time," she concluded.

Get to know more about Kai Javier in this Candy University feature: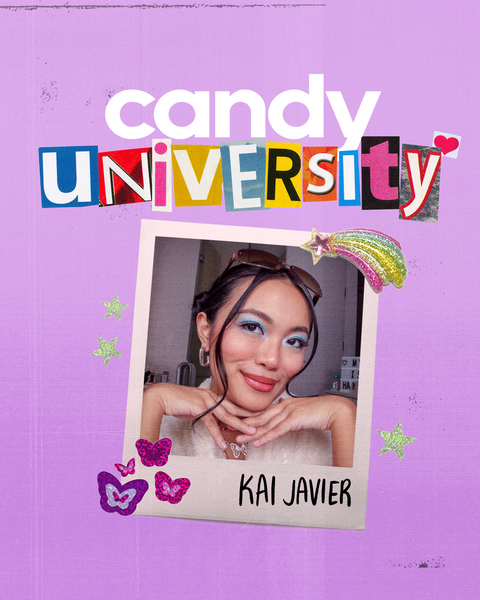 ADVERTISEMENT - CONTINUE READING BELOW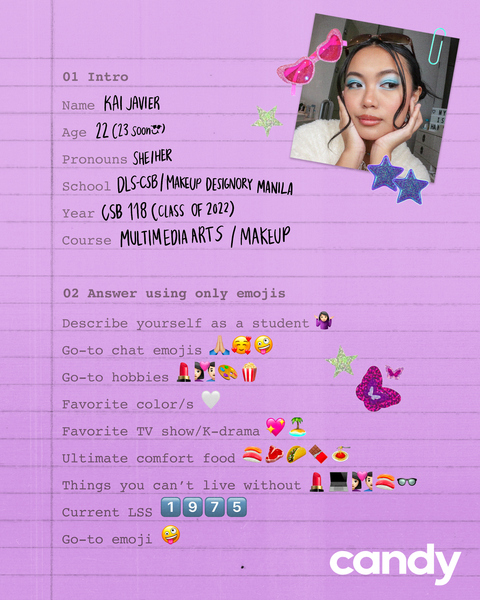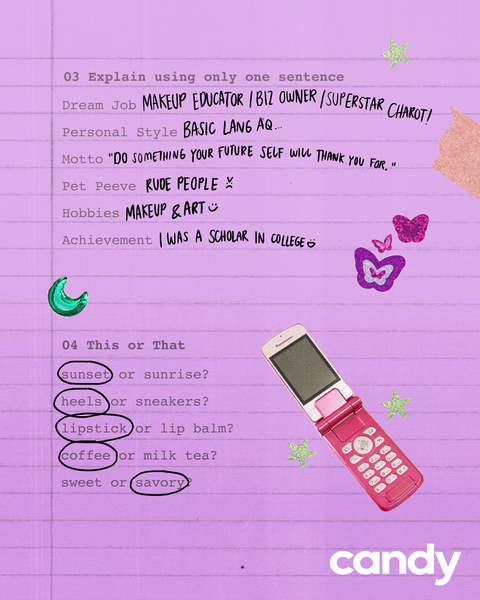 ADVERTISEMENT - CONTINUE READING BELOW