Candy gives you a sneak peek into four schools!

O.B. Montessori: A Perfect Mix
Fast Facts: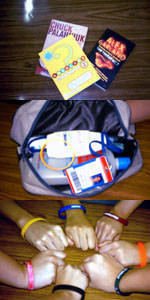 OBMCI is probably the only private co-ed school in the Greenhills area. Since it is a small campus, almost everyone knows everyone else. Located right behind the Greenhills Shopping Center, its lucky students easily have an after-school gimmick spot!
What's Hot:
Who's on a diet? We're all addicted to Go Nuts Donuts! YUM!!
Bookworms. During breaks, we catch up on our reading, especially works by well-loved authors, Chuck Palahniuk and Alex Garland.
Wrist Candy! We love wearing baller bands in the yummiest candy colors!
Oh, Boys! Surprised? Yes, even boys have their own kikay kits!
Accessorize it! Dangling earrings are the latest must-have!
Name that tune. OPM rocks! Sponge Cola and Hale are our top two favorites!
Lunch Break. Bringing baon is cool! We prefer eating along the staircase than in the congested school cafeteria!
ADVERTISEMENT - CONTINUE READING BELOW