Features
I've Been Seen-zoned, Now What?
Zones without closure-welcome to the seen-zone.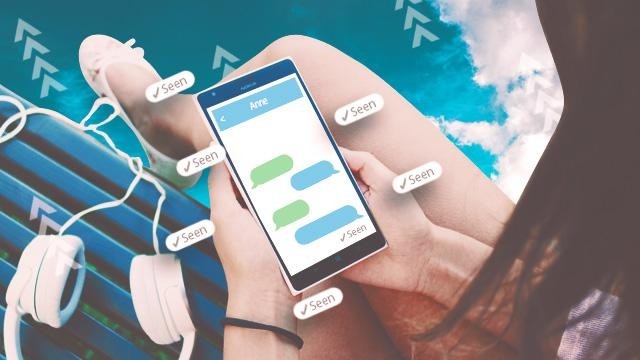 ART Clare Magno
Let's be honest, we've all done our fair share of seen-zoning, but we still end up wounded when we're at the receiving end. When your message is about something particularly important and all you get is "Seen by everyone," you get so frustrated and start to rant about how much you hate group work. What's a Candy Girl got to do then? Well, it's a case-to-case basis. Read more about how to deal with different seen-zone situations, and tell us more about your experiences below!
Group work
One of the most annoying seasons is group project season. That stretch of time before deadline is gruesome, especially when you're stuck with people who just love leaving you hanging. But what if it's really urgent? You just can't take "Seen" for an answer. If it can't wait until the next time you meet up, tell them just that. Don't come off too strong or they'll just continue ignoring you. Go for a gentler approach so they'll actually feel bad about it. A little dose of guilty won't kill them, but it usually does the trick.
ADVERTISEMENT - CONTINUE READING BELOW
Before you even conclude your first meeting with your groupmates, jokingly tell them that one of your greatest pet peeves is when groupmates don't reply to messages online, and hopefully, they're not one of those people. Remember to keep it light and humorous, you don't want to scare them off or intimidate them with a threat, but you do want them to know you're serious.
CONTINUE READING BELOW
Recommended Videos
Surveys, etc.
There are times when you just have to step out of your comfort zone and do what must be done. That's exactly how we feel when we send messages to people we're not even a tad bit close to, or to a complete stranger even. When it comes to giving out surveys online, we just want to get as much respondents as we can, surely, not everyone will reply to your message. That's a given. Don't hold it against them. Just keep sending out those messages. Try making every message as personal as possible and target their individual self-interests. What matters is that you get tons of respondents for your survey, not for your message.
ADVERTISEMENT - CONTINUE READING BELOW
Outing/Lakwacha plans
You have this sudden burst of inspiration for your next barkadatrip, and you just can't wait to tell your friends about it. You immediately go online and message them about it, but all you get is another "Seen by everyone." Uh, I thought we were friends. Friends don't just seen-zone their friends. Chances are, they might just be waiting out on each other. They're checking to see the first person who's going to say yes or no to your plan, before they step up as well. Instead of risking this kind of situation, try messaging them individually. Propose your awesome idea to them one by one, and the chances of them replying to you will definitely increase.
Random Kwento/Questions
Just like those lakwacha plans, you might have this super eventful thing that happened to you today, but after you eagerly wait for their reactions, no one bothers to even acknowledge your wonderful experience. Think about it this way: When you share stories with your friends, sometimes, they just listen. Your only affirmation to knowing that they're actually paying attention is their facial expressions. Virtual conversation doesn't give you that, so before feeling bad about their seemingly apathetic "Seen 7PM," maybe they just don't really have anything to say. But that doesn't really mean they don't care.
ADVERTISEMENT - CONTINUE READING BELOW
Similar to the group projects, if the matter is really urgent, press them one more time for answers. If it's just a random line you're throwing, don't be so offended. They might either just not really know the answer to your question or honestly have nothing to say. Period.
Initiating a conversation
Oops. If you're not close with the person you're trying to initiate a conversation with, they're most probably just a little bit skeptic about you. Once they leave you seen-zoned for a long time, it's most likely that they don't know you that well to feel comfortable talking to you. It's always better to initiate a conversation personally, that way, you can continue your conversation online (if it actually goes pretty well). If it's more urgent than a casual getting-to-know-you, don't start it with just a single word like "Hi," say a little something about yourself to make him/her more comfortable replying to you.
ADVERTISEMENT - CONTINUE READING BELOW
Here's a little throwback that will make your day!
The security issues detected "may have been actively exploited" by hackers.
"No matter how hard we tried to make it work, it wasn't meant to be."
Take your pick from this list of self-care apps and mood trackers.
It's happening in stores and online!
It isn't an easy feat even for the regular students like us.
In case you're curious about what kind of jobs are currently available in the market.
For when you're feeling adventurous.
You can spend Happy Hour watching the sunset!
He majored in Civil Engineering and wants to build a big home for his family.
As well as students of state colleges and vocational schools.
From The Candy Bulletin Community