Features
I Met My Dad After 15 Years!
Grizelle Valenzuela shares her story of not knowing—then suddenly meeting—one of the most important men in her life.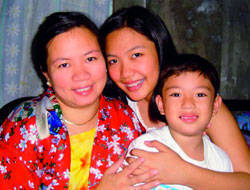 as told to Ines Bautista-Yao
Never knew my biological father. When I was young, my mom told me that he was dead. She said he was buried in La Loma Cemetery, so every time we passed it, I would ask her if we could see his tombstone. She always said no. After a few years, she told me that my dad was working abroad. I don't know why this didn't confuse me, but every time I saw an airplane after that, I would think of him and wish he would come back home. As I grew older, I stopped thinking about him. 
My mom got a boyfriend and I accepted him as my father figure. Then she became pregnant and gave birth to my brother. But since she and my stepfather weren't married, in the eyes of law, we were considered "illegitimate children." I was hurt by this, but since there was nothing I could do, I ended up accepting it. Eventually, my mom and stepdad split up and we were alone again.  
ADVERTISEMENT - CONTINUE READING BELOW
Every time there was a problem in my family, I blamed my biological father. I blamed him for not being there and for being the reason for all my troubles. I told myself that if he didn't leave us, none of the bad things would have happened.  
CONTINUE READING BELOW
Recommended Videos
Then one day, he just appeared out of nowhere. I was in school practicing for a play when someone told me I was being called into the guidance office. I was worried because I didn't know what I did wrong. You're usually called out of something important only when you've messed up big time. When I got to the guidance office, the counselor told me that my dad was outside and that he wanted to see me. I thought she was talking about my stepfather. Wondering what was up,  I texted my mom and asked her what he was doing in my school. She replied that it wasn't my stepdad who was there but my real dad.  
ADVERTISEMENT - CONTINUE READING BELOW
All of a sudden, I felt the blood drain from my face and my hands turn cold. I didn't want to see him. I didn't want to see the man I thought I would never meet for as long as I lived. Then he entered the guidance office and was standing in front of me. I felt tears starting to stream down my face. He walked over to me and hugged me, but I didn't hug him back. I couldn't bring myself to say anything either. He finally broke the silence and told me that he was my father. 
He started explaining why he left me and my mom, then told me that he came back because he had become a pastor. Since he now takes care of the youth ministry in his church, he realized that he should also care for his own daughter who was the same age as the teenagers he worked with. As he talked, I didn't say anything. He said he wanted to spend time with me and have a real father-daughter relationship but I couldn't bring myself to agree. To make matters even worse, he told me I had an older sister and a brother who was my age.
ADVERTISEMENT - CONTINUE READING BELOW
I told him I was not yet ready to talk to him and I left.
I still haven't reconciled with my dad—I don't know where to start. People keep telling me to open up my heart to him, but I can't bring myself to do it.  
Maybe it isn't the right time to accept him into my life, but I know that God will guide me to make the right decisions in His time. I don't know when it will be, but I do know that I can always depend on Him to help me choose the path that's right for me. 
"Every time there was a problem in my family, I blamed my biological father. I blamed him for not being there..."
A combination of Snakes and Ladders and Exploding Kittens.
The internet thinks the two are dating.
Plus other things to know about the young actress.
Guess who has a seven-ton rock in their house!
Kris Aquino kind of confirmed that she will be reprising her role as Princess Intan!
It even has a matching vintage-inspired MV!
Now, he's one of the most sought-after photographers in the local creative scene.
No need to step out for your caffeine fix!
Remember when she impersonated Frankie and 'the chicken McDo?'
"I just lost the job that I dearly love."
From The Candy Bulletin Community