Features
How to Make the Right Decisions
Left, right, or center? Be the driver of your own life with this guide!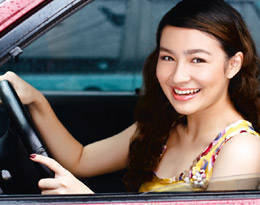 photo by Patrick Martires
Imagine yourself going down a long highway. You've been driving for a long time, when suddenly, you hit a fork in the road. With no map and no signs, you're at a complete loss as to which way to go. Making a big decisions—like which college to attend, what course to take, or even who to bring to your prom—can leave you feeling lost as well.
Without the right tools to help you decide on the right path for yourself, somebody else might end up deciding for you! Don't let that happen. Get in the driver's seat, grab the wheel, and take charge!
Start your engine!
Step 1: Ask the question.
Before your car can move forward, you first have to start you engine. In the same way, before you can make a decision about something, you first have to know what you're deciding on. As much as possible, your decision question should be objective and answerable by yes or no. For example, your question could be, "Should I agree to be this guy's girlfriend?" or "Should I study nursing in college?"
ADVERTISEMENT - CONTINUE READING BELOW
Gathering speed—drive at 30 to 40 kph.
Step 2: Do your research.
Once you know what you're deciding on, it's time to gather data. First, look at yourself. What are your talents and abilities? What are your weaknesses and strengths? Given these traits, will you fit in with that particular guy or with that particular school?
If you're not exactly a math whiz, for instance, do you think you'll be able to cope with a math-intensive course in college? Think about your motivations. Why are you drawn to this choice in the first place? How can it change your life for the better? Be honest.
Once you've looked at yourself, ask other people for advice, too. They might know something you don't, and they can probably see your situation more objectively. Perhaps your guidance counselor can tell you more about the school you are applying for. Do you have older relatives or friends who have taken the course you're interested in? Ask them to tell you about their experiences.
ADVERTISEMENT - CONTINUE READING BELOW
Here's a little guide to get you ready for post-college life.
It's honestly a pretty decent amount for extra income!
More Hyun Bin content coming our way!
Makati has plenty of heritage and culture.
These are the styling mistakes you're probably making.
It's the new takeover trend in food.
You might be rekindling an old relationship, but you also wouldn't want to cut ties with other people in the process.
Craving that crispy CLOY goodness?
One college student shares her experience of being a former working student.
The network's franchise is set to expire in March 2020.
It's okay if you don't have life figured out yet.
Stress is short-lived, but your friendship is forever.