The #RoadtoMD takes years of dedication, discipline, hard work, and sleepless nights. But just what exactly do aspiring doctors do in those years? Here's a basic rundown of what you'll need to do to officially become a doctor in the Philippines:
Pursuing a pre-med course
Your journey to becoming a doctor starts as early as senior high school when you choose your strand. While you're not required to take the STEM strand in order to apply for med school, its subjects are more closely related to what you'll take up in a pre-med course, such as biology, chemistry, and physics.
There are many med schools that also require a certain number of units for select subjects such as biology, chemistry, physics, and sometimes even mathematics and social sciences. Although anyone who is a holder of any bachelor's degree is eligible to apply for med school, aspiring students begin by taking a pre-med course so that the curriculum is already aligned with the requirements for med school.
There are numerous options for pre-med courses, and while there isn't a single "best" pre-med course, some programs help with a specific aspect of medicine. For instance, Nursing students are more in touch with hands-on medical training, while Biology as a major can help boost your training for NMAT.
Taking the NMAT
NMAT, or the National Medical Admission Test, is a standardized test that is meant to screen qualified candidates vying for a medical degree. NMAT is administered twice a year, one around September or October and another around March or April. Your percentile rank in the NMAT is crucial in your med school application. Most med schools in the Philippines require aspiring med students to reach a certain cut-off for their percentile ranking in order to be eligible for admission.
ADVERTISEMENT - CONTINUE READING BELOW
NMAT is usually taken by graduating pre-med students. But college graduates are still eligible to take it. During the pandemic, NMAT has been administered online. Here's what you need to know about online NMAT.
Applying to med schools
Once you receive your NMAT percentile scores (usually released 20 business days after date of examination), you may start processing your applications to med schools. There are several requirements you'd need to prepare, though it varies depending on which school you're applying for. The most common requirements are: birth certificate, your official transcript of records, certificate of candidacy for graduation or your college diploma, NMAT score, certificate of good moral character, and recommendation letters from professors.
Aside from the actual cost of medical education, med school application also requires fees to process your application. It could range from P150-P3,000 depending on which school you're applying for.
Med school proper
Med school entails a comprehensive study of the medical field, so it will require you to learn both in the classroom and at the front lines. The first two to three years of med school are dedicated to learning in the classroom for both laboratory and lecture lessons. The fourth year is dedicated to clerkship, where you become a junior intern and get to experience hospital duty by rotating through the different departments and medical specialties. After fourth year, you officially obtain the Doctor of Medidine degree, but this does not necessarily mean you are permitted to practice medicine. 
Taking the physician licensure examinations
In order to become a practicing physician, you must take and pass the physician licensure examinations, administered by the Professional Regulation Commission. While your school has no official bearing on your exam results, there are institutions that employ specialized programs and curricula to help their students pass the exams. Below are some of the top performing med schools in the Philippines, based on results in the last five years: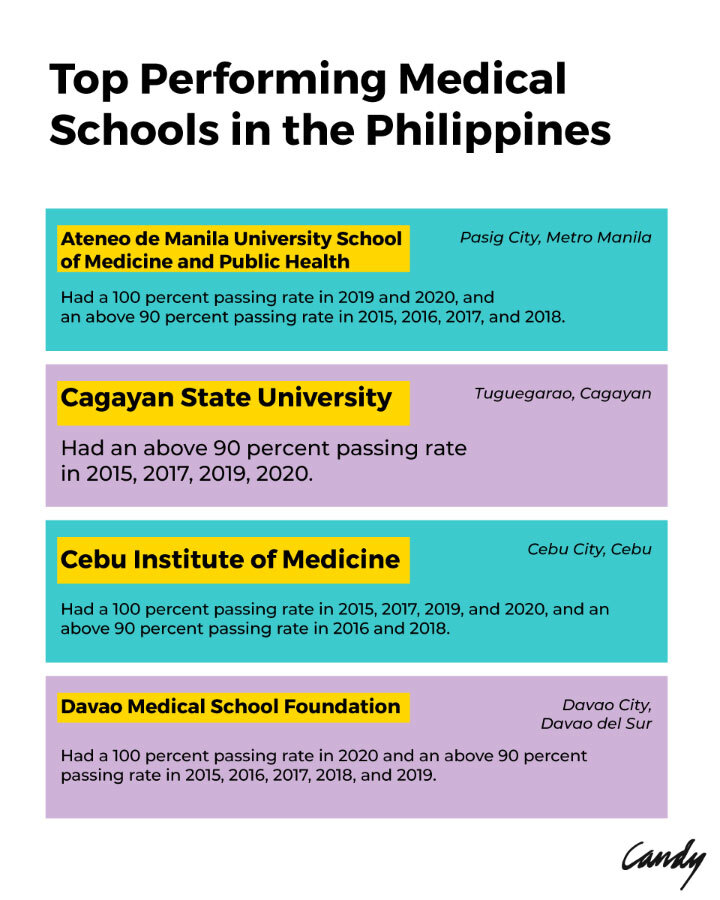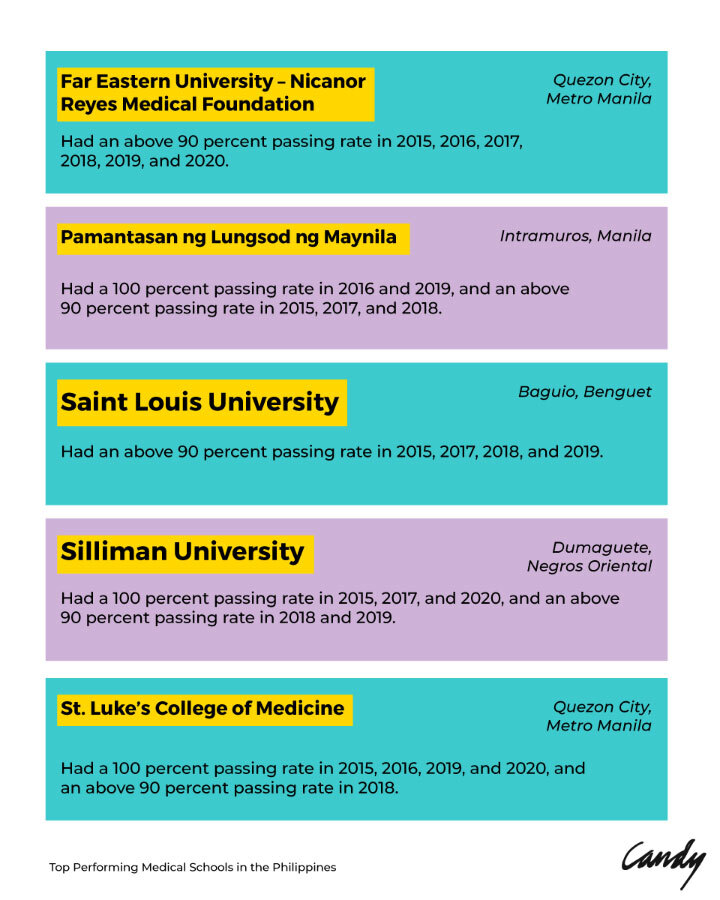 ADVERTISEMENT - CONTINUE READING BELOW
Once you've passed the PLE, you can now officially and legally practice medicine in the Philippines as a general practicioner. But if you want to go for a certain specialization, you may opt to pursue residency training.
Medical residency
Residency training is when doctors decide to focus on a certain specialization. Examples are pediatricians, cardiologists, oncologists, neurologists, psychiatrists, dermatologists, and anesthesiologists. Becoming a resident is like a full-time job. You get your training by spending time in the hospital to as a practicing physician while learning more about your chosen specialty. You also get a salary. To officially specialize in your chosen field, you must take their respective board exams and pass it. For instance, you must pass the Pediatrics Board Exams if that is your chosen specialization.
***
CanB is finally here! If you're an aspiring writer, vlogger, artist, or kahit marami ka lang talagang time, submit your entries here and make your mark in the Candy community! Share your feels, show your skills. Don't worry—we won't judge. ;)