Features
How Social Media Will Never Let You Move On
We keep on running away from something that will forever has the power to make us ache a little with nostalgia.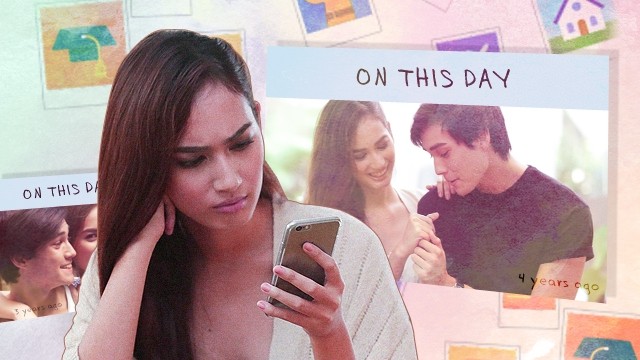 ART Trixie Ison
We are the millenials. We are the ones coated in modern technology and every little thing that comes with it. 
We are the ones who can't end the day without logging in to our social media accounts since being active online has already become an essential routine.
I don't know how to feel about these things. Of course, a lot of improvements have given us more hassle-free days and efficiency, but I also feel like we are losing our sense of being traditional. We are gradually losing the sentimental values of how these old-fashioned ways have molded us before. It's both a great thing, and an awful one, too.
But the most complex part is the fact that whatever we feed the Internet with will always be alive. Hey, I'm talking about the thoughts that we once shared, the captured moments in photographs that we couldn't wait to upload before, the past lovers that we had and every conversation past 3 in the morning.
ADVERTISEMENT - CONTINUE READING BELOW
All of these, all of these might be deleted temporariy, but still have their ways to haunt us in our present lives.
Let me show you how.
Facebook Memories : Remember 1 year ago when you had what you once called "butterflies in the stomach" he used to give you? And you couldn't wait to post a metaphor about it. That's going to make you feel nostalgic in your present life, and all you could ever do is ache a little because you know you'll never feel that way again, or perhaps have that kind of impact if you would feel it again. Let Facebook remind you how it feels.
CONTINUE READING BELOW
Recommended Videos
Skype: You two were once in a long distance relationship. It was tough, but you both managed because both of you were persistent enough to keep the relationship going despite being apart. You waited for the other to finish everything that he had to do just to see his face on your screen. You were both in love, virtually. But, things got out of your control, and somehow broke what you once considered something unbreakable. You decided to block his contact on your account while grieving for a loss that you never expected. You thought you've finally moved on, you were a little happy. You decided to log in to your account, and then something happened. Skype still has your conversations from a year ago. And hey, not just that! It even said something like "Say Hi to ____" and then the past thoughts start to haunt you again. All the efforts, all the sleepless nights you spent just to get rid of someone... turn into nothing but wasted moves. Thank you, Skype! For being so cooperative.
ADVERTISEMENT - CONTINUE READING BELOW
Instagram: "Wow. I kind of look good in this photo, I should upload it with the hashtag NoFilter." And then, a comment suddenly popped out of nowhere. It was Bae. He left an emoji type of comment—the one that didn't require any word because you were so pretty in the photo and he was sort of in a loss for words. Well, that's a year ago. But as you keep on scrolling through your feed, you can still see it. You can still see it because he never deleted it, and you never bothered too. That emoji comment starts to make you feel nostalgic again, despite being more than 30 weeks deep. And that's how Instagram haunts you. 
Twitter: He was an active user on Twitter because he treated it like it was his batcave. Sort of. He tweeted every thought, and have always mentioned you when he saw something like #relationshipgoals. It's different now. He doesn't even follow you anymore. I'm sure he still lowkey checks on you when it's late and he kind of misses you. But, it's never the same. All the tweets he used to tweet a year ago with the word Bae on them? They're the ones that will always haunt you because they still exist. Nobody bothered to delete them. And just like your memories, they're still there. But they will never be the same. 
ADVERTISEMENT - CONTINUE READING BELOW
So now, do you get the point? We keep on running away from something that will forever has the power to make us ache a little with nostalgia. But the thing here is, no matter how many social media accounts you have that will remind you of him, if you have just completely moved on, you can go on with your life no matter what happens. You're in control.
Sent in by Katrina Angelica Nillas. Send in your feels, too!
Have you ever heard of the *Off-Facebook Activity* tool?
At The British School Manila, students use social media to foster a sense of belonging.
Here's a little throwback that will make your day!
The security issues detected "may have been actively exploited" by hackers.
"No matter how hard we tried to make it work, it wasn't meant to be."
Take your pick from this list of self-care apps and mood trackers.
It's happening in stores and online!
It isn't an easy feat even for the regular students like us.
In case you're curious about what kind of jobs are currently available in the market.
For when you're feeling adventurous.
You can spend Happy Hour watching the sunset!
From The Candy Bulletin Community