Features
How Inside Out Can Help You Save a Sinking (Friend)Ship
All you have to remember is four words.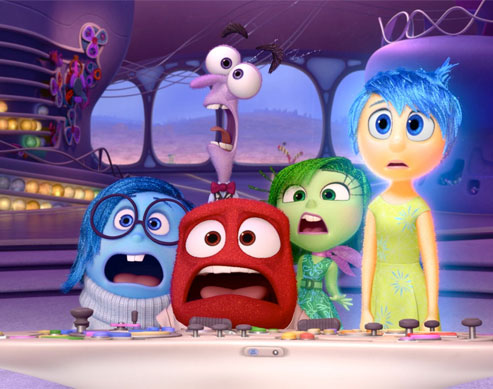 PHOTO Disney's PIXAR
SPOILER ALERT: One of the most poignant scenes in Inside Out is when Riley returns to her parents after attempting to run away from home. "Please don't be mad," she says, before helplessly breaking down and telling her mom and dad that she misses Minnesota, where she grew up, and resents moving to San Francisco. This admission comes as a surprise to her parents, who had been struggling to understand their daughter's mood swings and uncharacteristic outbursts since they made the interstate move.

"Please don't be mad," she says, feeling guilty and apologetic about her sadness. And if you've ever struggled with a sinking friendship (or relationship), those four words can be pretty powerful. Often, we get annoyed or yes, mad, at our friends for being sad—whether because of a heartbreak, family issues, academic trouble, or even just a plain ol' case of the blues. We blame them for it. We choose to stop hanging out with them "because they're so BV." We find happier, easier, more fun friends. We say things like:
"Ugh, you're so nega."
"Stop being such a party pooper."
"Can't you just snap out of it?"
ADVERTISEMENT - CONTINUE READING BELOW
But as the movie's central message tells us, all of our emotions are important. Sadness is valid and 100% real, and it needs to be acknowledged as part of the bigger picture. Sadness doesn't make anyone a bad person. Or a bad friend. It just makes us human.
CONTINUE READING BELOW
Recommended Videos
So if you ever find yourself feeling irritated that your friend is being extra glum these days, remember Riley sobbing through those four words: "Please don't be mad." Remember to give your friend (or your boyfriend, sibling, etc.) a chance to be sad, without you dishing out judgment or shame or anger. Allow her to share her sadness with you.

Because when Joy finally takes over again—well, you can share that, too.
Inside Out is now showing in cinemas nationwide.
March isn't off to a great start for K-pop fans.
This meaningful and now-viral song has quite the story!
Here's how you can apply.
Yup, a million girls would really kill for this job.
They have unique beverages you won't see in most coffee shops.
These organizations strive to raise awareness and initiate change in their various advocacies.
We love the cartoony details!
Here's the story behind FASH.
Time to unwind with 1/2 of the Gaya sa Pelikula love team.
Everyone has gone digital.
From The Candy Bulletin Community