When I was 17, I was crying over an 85 on my report card. I wasn't busy transforming my vision and passion to a women-empowering business.
Cleorine Loque is, though. Last July 2019, when she was just starting Grade 11 of her senior high school years at San Beda University - Rizal, Cleo founded Hiraya Pilipina and released its first catalogue. Through inspiring and empowering statement tees, Hiraya Pilipina's mission is to be a brand that reminds, motivates, and inspires women to embrace their identity and speak their minds.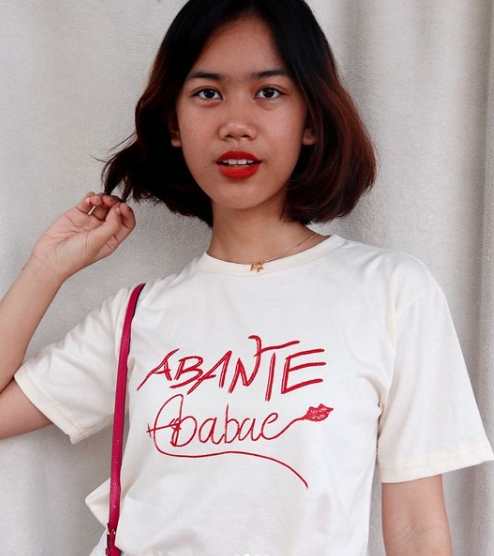 ADVERTISEMENT - CONTINUE READING BELOW
"Ever since I was young, I already see words as impactful and valuable," Cleo shared with CANDY. "I see words as something that can empower people if they are used rightly, and I want to share these to the world."

ADVERTISEMENT - CONTINUE READING BELOW
And Hiraya Pilipina is doing an inspiring job of doing just that. With only two years under its belt, its Instragram has gained a following of already 7,000, it already has its own website, and it continues to be a passionate space for Cleo, and the rest of her team, to practice their advocacy of inspiring and empowering women all around the country. As their tagline says, Hiraya Pilipina is made by the Filipina, for the Filipina.
Wearing Hiraya Pilipina's shirts does magic to your confidence. Their 'Not Maria Clara' statement shirt pushes the message that Filipinas are multidimensional and stunningly unique in their own way. Their 'My Body, My Rules' tee speaks that we, women, own our own bodies, and we decide what we do with it—no one else. According to Cleo, she wants to make Hiraya Pilipina's customers feel empowered through words, art, and clothing. "More importantly," she added, "Hiraya Pilipina is all about community. It is our vision to build a community of Filipino women across the globe who can see our brand as a safe space for them to listen and be heard."
ADVERTISEMENT - CONTINUE READING BELOW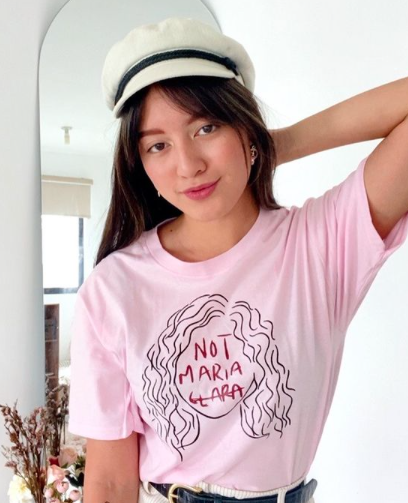 When asked where she gets the inspiration for the statements on Hiraya Pilipina's shirts, Cleo said that she takes into account her own experiences as a Filipina woman—but that's only a fraction of why other people resonate with them so much. It's the stories that come with these messages that never become unimportant. Cleo also shared with CANDY that Hiraya Pilipina will be launching their new 'Beautiful Affirmations' collection this April as a response to what she thinks her customers need—empathy, especially in this time. "We want to affirm these resilient women that they can turn pain into something beautiful," Cleo said.

ADVERTISEMENT - CONTINUE READING BELOW
If you missed it, Cleo is only 17 years old. In an interview with her, I asked, "Did you ever think that starting a business this young would be a challenge? Is it a challenge?"
Of course, like many other young people saddled with fear and doubt especially when venturing into uncharted waters, Cleo found starting Hiraya Pilipina just as daunting, but she did not let fear stop her from breathing life into her vision and advocacy. She said she has her parents to thank, who served as her mentors, and empowered her to face the challenges and difficulties that came with building something from the ground up. I admire her for her bravery, because as a 21-year-old, that's something I never could've done at her age. Cleo also told CANDY that she was the kind of person who went for action: "You can never achieve your goals if you can't take the first step—which is to start."
ADVERTISEMENT - CONTINUE READING BELOW
Currently, Cleo is a grade 12 student juggling both her academics and Hiraya Pilipina, and she takes her wellbeing very seriously—she's not only doing this for herself, but also for her businesses, and she told CANDY that self-care is indeed a very important investment.
As a female CEO, Cleo shared that the leadership that comes with being the woman in charge is empowering to her—which is why the role, and the responsibilities and challenges that come with it, comes off as exciting rather than intimidating. "To spearhead my own growing business makes me feel like a proud mother who sees her baby grow, blossom, and make an impact on the community," she shared with us.
That's an amazing mindset by a young leader. Hiraya Pilipina is also currently an all-woman team, with Cleo's mother leading the business's operations. However, even with its namesake, Cleo clarifies that their empowering tees were for everyone—regardless of gender. "If the message speaks for you, it is made for you," Cleo said.
ADVERTISEMENT - CONTINUE READING BELOW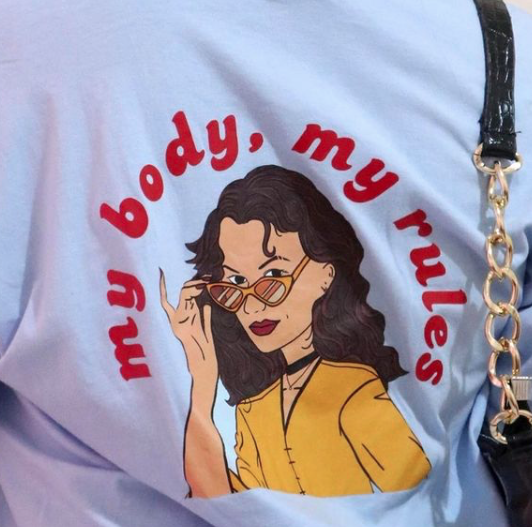 Aside from their statement tees, Hiraya Pilipina also creates abaca face masks that support abaca farmers and sewers in the country. These are washable and eco-friendly necessities when you go outside in this pandemic.
Every Monday through Spotify and YouTube, the brand converses with different Filipina women and share their stories in their podcast titled Kuwentuhang Pilipina, hosted by Cleo herself. According to her, they began this podcast with the hope for it to become a safe space for their community.
ADVERTISEMENT - CONTINUE READING BELOW
Today, Hiraya Pilipina is in collaboration with local jewelry line, Tala by Kyla. Their #TakeBackYourPower initiative is a tribute to Women's Month—aiming to remind the young women in the country that they can be whatever they set their minds to. They are also in a three-way collaboration with The Naked Babe PH and Nala Woman, releasing a bundle that combines their products together, to celebrate women-owned brands this March.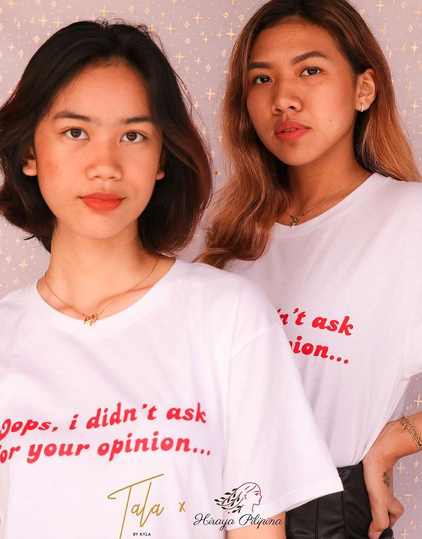 ADVERTISEMENT - CONTINUE READING BELOW
Long-term, Cleo sees Hiraya Pilipina as a brand that women think of when they need a boost of motivation. Her goal? For her business to become a lifestyle, a "home to women-empowering products."
With the pace and standard Hiraya Pilipina is setting, it's not impossible. In the next coming months, the brand will be very active with releasing more collections and collaborations with other businesses and people who share the same advocacy as them.
I asked Cleo the question she's asking to her customers: as a woman, how do you take back your power?
Here's Cleo's answer for food for thought: "As women, we take back our power the moment we start setting boundaries. By letting people know what we will only tolerate from them, we are indirectly saying, 'you do not have full power over me.' We are the only ones who should have total power over our choices, actions, and selves."
ADVERTISEMENT - CONTINUE READING BELOW
More power to Cleo and Hiraya Pilipina! Get your statement tees and/or abaca facemasks on their website and Shopee account.
***

#WATCHCANDY: Subscribe to Candy Magazine on YouTube and follow @candymagdotcom on Tiktok for guides to college life and beyond.