1 Create a playlist fit for a queen.
A song played at the exact right moment can change everything—so imagine what a whole playlist can do. Gather Ariana, Taylor, and the rest of your girls (or boys!) into a feel-good playlist that you can bust out whenever your day is seriously lacking unicorns and rainbows.
2 Wear that cute dress just because.
You know what we mean, those clothes and shoes you save for special occasions. Well who's to say today won't be special? Feeling pretty and not having to worry about your outfit makes a big impact on how positive you are throughout the day. It also lets you focus better on what you really need to do. Like rule as a teen queen.

3 Stalk yourself.
Give your crush's feed a break, and go through your own Instagram. Oh, who's that girl with all those double-tap-worthy #OOTDs and #SquadGoals posts? Who's that girl who looks like she's having the time of her life? Yep, you. Sometimes, you just need a reminder of the good to combat the bad, feel better, and focus on what's more important.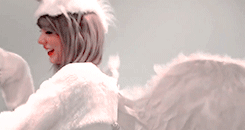 4 Squash those oops moments.
Remembering all the things that totally ruined your life—like that time you got an angry red pimple on the tip of your nose on the morning of your History report—isn't going to do you any good. You've already learned your lesson (don't sleep with makeup on!), and people most likely didn't notice or have already forgotten about it. (If they haven't, that's their issue, and it makes them horrible humans. JK!) Bury the thoughts that make you uncomfortable under a pile of Dylan or Ansel GIFs, and we promise you'll feel lighter and more confident in no time.

5

Anticipate the need.
Going through puberty is like going to war with your own body, but you know what they say: Preparation is half the battle. So if you're feeling a tad squishy and wet down there—insert collective eww right here—make sure you pack some pantyliners in your bag and keep a stash in your locker for emergencies. Mother Nature has decreed that daily discharges are a thing for us girls, but she didn't say anything about how to keep it in check!
Luckily, Carefree pantyliners save you in those icky times by absorbing everyday wetness down there. And because you have one less thing to worry about, you can go and enjoy all the fun experiences you've planned for you and your friends. Get more tips on how to stay fresh every day through Carefree's Facebook page!