Features
Here's Why UPLB Trended: Online Enlistment Turns to Chaos
On July 30, UPLB placed on Twitter's local top trending topics and photos of UPLB students setting camp on campus became viral. Here's why.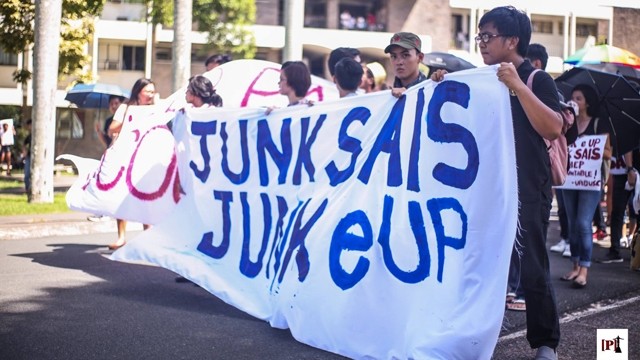 IMAGE UPLB Perspective via Facebook
For school year 2016-2017, the University of the Philippines administration implemented a new online enlistment system to the University of the Philippines Los Baños—The Student Academic Information System (SAIS).
SAIS is a part of the e-UP project, the legacy project of UP President Alfredo E. Pascual (PAEP). The e-UP project aims to centralize the data of the entire UP system for a "simplified and harmonized operations." The project is a public-private partnership with Oracle and e-PLDT. Overall, it amounted to approximately P750 million in which 22 millionwent to SAIS alone.
SR Pangalangan discusses the E-UP: ONE UP project #SR2016 pic.twitter.com/CIE3Au45ju

— UPLB Perspective (@uplbperspective) July 16, 2016
SAIS has been the online enrollment platform of several UP campuses—Manila, Cebu, Open University, and Baguio. For this school year, it replaced UPLB's independent, cheap and efficient SystemOne.
What the e-UP team promised
Real-time online enrollment. Students can immediately see the classes they are enrolled in.
Faster enrollment and less need to wait in long lines due to use of waiting lists, streamlined processes, online processes, etc.
Students are able to see their financial accounts at any time.
Support for planning (during enrollment and long-term), including evaluation of scenarios for shifting and evaluation of requirements for graduation.
Easier process for cross-registration, shifting and transfer of CU.
Easier application process (non-UPCAT, graduate studies, non-degree, etc.).
Timely receipt of notifications and alerts – deadlines, payments due, refunds, general announcements, etc.
Online processes such as dropping a course, application for leave of absence, application for graduation, etc.
Communications tools available for use by student groups such as Student Councils, organizations, etc.
What actually happened

ADVERTISEMENT - CONTINUE READING BELOW

CONTINUE READING BELOW

Recommended Videos
Far from the promised "faster enrollment" process, the second day of enlistment (July 29) had students stay up late into the night just waiting for SAIS to load. The enlistment was scheduled to begin at 12 midnight, yet even hours before it the site was already inaccessible. It was only two hours later at 2:03AM when a staff from e-UP, Chris Salviaterra, posted an announcement of Facebook saying that the system will be back up by 9AM.
After the announcement, some students decided to rest and resume enlisting in the morning. However, to everyone's confusion, the website went up around 3-4AM. This gave some students the fortunate luck to secure slots and rid others of their well-deserved units. With the students stressed and sleepless, social media was heated with various rants and complaints on the enrollment fiasco. Above all, #JunkSAIS became the call of majority of the student body, making it place first on Twitter's trending topics in the Philippines.
ADVERTISEMENT - CONTINUE READING BELOW
Despite the many students with barely any units secured and the continuously crashing website, the SAIS team insisted on continuing the enlistment. However, enlistment was disrupted with an announcement from the SAIS which stated another system downtime and the continuation of enlistment on the morning of July 30.
As if things weren't bad enough already, the enlistment experience on July 30 was way worst. Throughout the entire day, SAIS remained inaccessible. By night time, it was discovered that the website was only accessible using UPLB's WiFi.By 2 AM, around 500 students gathered inside the campus and flocked into buildings with strong internet connection, compromising their safety for the sake of securing slots.
Only at 7PM of July 31 did the website become accessible outside UPLB. However, enlistment was cut-short to 8PM and resumed the next day at 8AM. By August 1, the e-UP team posted an announcement saying that the problems of SAIS were allegedly caused by an external DOS-attack.
ADVERTISEMENT - CONTINUE READING BELOW
Despite the mess that was the online enlistment period, the many calls to #JunkSAIS, and students lacking in units (some with even none at all), classes opened on August 3.
Why this matters
Beyond the stress and technical difficulties—from the horrible user interface and glitches to a mixup of data, and chaotic dissemination of important announcements—SAIS, and e-UP as a whole, is damaging to the student body. Despite being a state university with students coming from various class and sectors, SAIS froze the accounts of students with unsettled fees. Its partnership with private corporations is driven by the motivation of the businesses instead of the students. It puts a price tag on the social service and basic right that is education.
Moreover, SAIS replaced the efficient, independent, and cheap enrollment platform of UPLB as if that fixes the main problem—lack of slots. The P750-million allotted to e-UP (which, with the recent repairs and maintenance, has already hit a billion pesos) could have been used to construct more classrooms and hire more faculty for an increased number of slots, yet that much money went to a system that caused nothing but chaos and the rage of many students.
ADVERTISEMENT - CONTINUE READING BELOW
What the students want
The call of the majority is to junk SAIS and even e-UP as a whole. On August 3, the opening of classes, some students chose to boycott their classes a symbolic act of protest against the unfair system and a support to those struggling with their units. The students gathered at the student council organized #UPLBUnite Org Fair 2016 and byPM, approximately 800 students marched to the main library where the Office of the Chancellor is located to demand a dialogue with the administration.
IN VIDEO: Students successfully gain access to main library after being held at entrance for hours. #JunkSAIS pic.twitter.com/Kc9z5Xp1zN

— UPLB Perspective (@uplbperspective) August 4, 2016
The students wanted to talk to Dr. Jaime D.L. Caro, the UP Assistant Vice President for Development and Director and one of the people behind the implementation e-UP. However, the administration denied them access and locked them out of the library. Only at aroundPM were the students able to break in. As they went in, Dr. Caro was reported to have evacuated the building. Instead, the students were passed on to different members of the administration. Through a phone call, University Student Council Chairperson Merwin Alinea negotiated a dialogue with University Registrar Myrna Carandang.
ADVERTISEMENT - CONTINUE READING BELOW
Statement from eUP Project: SAIS Network Activity Report Confirms DoS Attack https://t.co/2DgkzI8A1q

— UP Los Baños (@UPLBOfficial) August 3, 2016
During the dialogue which ended at 8:30PM, the issues being faced by the students concerning the recent registration fiasco were raised directly to the administration. As a result, Dr. Carandang assured that the registration will be extended and that the student body's calls and requests will be duly forwarded to the Office of the Chancellor.
However, not until SAIS and e-UP is junked, and not until students stop being pitted against each other for slots that everyone deserves, the student body will not back down. With SAIS and e-UP failing to live up to the billions of pesos spent on it, the student body's first day rage is only the beginning of a continuing fight to #JunkSAIS.
For more information, follow the official campus publication, UPLB Perspective, on Twitter or see the hashtag #JunkSAIS.
ADVERTISEMENT - CONTINUE READING BELOW
The four universities have released a joint statement.
Yes, a mainstream romance about two Filipinas falling in love. And it's really good.
Find out what the universe has to say about you.
Some started with zero entrepreneurial experience and knowledge!
Red wine in a scented candle? *Adds to cart*
Is Pepe Herrera Toni Gonzaga's leading man?
In this episode of Made It, Nina talks about starting a business as a college student and eventually growing her brand into what it is now.
This book will bring out the romantic K-Pop fan in you.
They've also dreamed of being doctors.
They're flexible to accommodate working students' schedules.
The COVID-19 pandemic completely changed the employment landscape.
From The Candy Bulletin Community