It sure is fun to be in a barkada. The bond that we share with our group of friends is something that adds unexplainable happiness to our lives. Although sometimes, we get so sidetracked by other matters such as school, family, relationships or extra-curricular activities that we fail to spend time with them. It's an unfortunate path, but this is where we usually start feeling left out. When we get unintentionally uninvited to hangouts and such because we're busy doing something else. The rejection leaves us getting hurt and offended but we can't help it if certain circumstances come up that needs prioritizing. But you don't have to live with the rejection for a long time; there are ways to fix the friendship rut that you're in. Here's what you should do when you're feeling left out.
Find out why you're being left out in the first place.
If you're dead-serious about getting rid of feeling left out, you should get to the bottom of what's keeping your friends from including you in their hangouts. Could it be that you've rejected them so many times because you chose them over something or someone? You ask yourself this whenever you feel they shut you out. The best thing to do is to confront your friends about feeling left out, because from there, you would know what to do.
ADVERTISEMENT - CONTINUE READING BELOW
Manage your time properly.
One of the most common reasons we feel left out is because lose time for our friends. They're basically our second family and if you really want to show that you value them, it's important that we make time for them. You may consider yourself an extremely busy person but you have to challenge your productivity and manage your time properly. It helps to be extra hard-working and organized to fit your barkada into your schedule. Doesn't hurt to give them at least 2-hour chatty dinner, right?
Take advantage of social media.
Group chats are one of the best things to have when you have FOMO or fear of missing out. It's made for friends who want to keep in touch no matter what. It's a great way to avoid feeling left out because through social media, you're constantly updated about your friends' lives without having to plan out a barkada date!
ADVERTISEMENT - CONTINUE READING BELOW
Be open to your friends about feeling left out.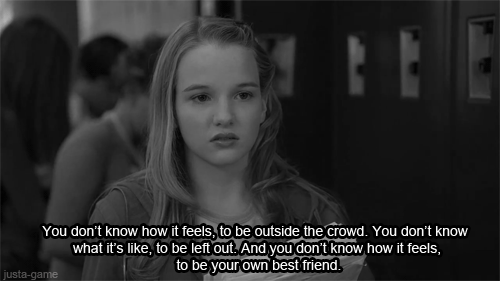 Don't sit around and assume things as they are, talk to your friends about it. As mentioned before, confrontation will be really helpful. It gives everyone in the group an opportunity to air out emotions and personal thoughts. Work out the issue to find out how to address it properly. Who knows? It might only take a long-forgotten bonding session over shopping or a little catch-up session over coffee. If not, continue working it out until you've regained your friendship with your besties.
ADVERTISEMENT - CONTINUE READING BELOW
Assess if the friendship is worth saving.
Unfortunately, there are times wherein we're actually being left out by our friends and this is the perfect time to take a closer look at the situation. If your friends have been intentionally leaving you out, then you might want to think twice about staying friends with them. True friends don't exclude one another. You're in a barkada to belong to a group of people you share a special bond with, not to feel neglected or forgotten.
Cut ties with people who deliberately leave you out.
If your assessment didn't go very well, it may be time to break up with your barkada who left you out on purpose. It's not a bad thing to cut ties with people; sometimes, it's good for us. Staying friends with people who makes us feel repressed is toxic. You shouldn't end up blaming yourself all the time as to why you''re being left out. It could be that your friends have simply decided to cut you out, and if that's the case, you could also do the same.
ADVERTISEMENT - CONTINUE READING BELOW