Features
#GrowingUpTheYoungest: 10 Things Only The Family's Bunso Will Understand
Life is hard for the bunso, too.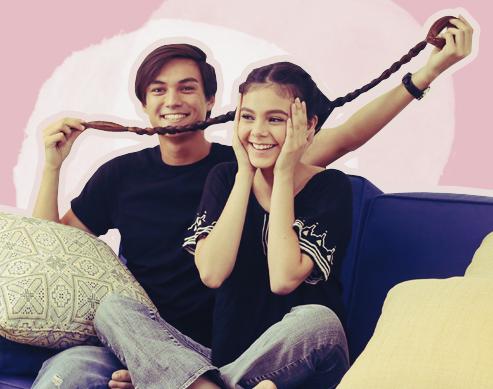 ART Trixie Ison PHOTO Majoy Siason
So you think being the youngest in the family is all about having an easy life? Hahaha, actually no. What most people don't know is that being the family's bunso has also its fair share of struggles and problems. The sad thing? You can't even talk to someone about it in the family because, well, you're the youngest. But it's not always a bad thing to be a bunso, there are just some things that only you will understand.
1 Being told to do things just because you're the bunso.
#GrowingUpTheYoungest Always hearing "You're the youngest, so you have to do it."

— Jimin Jung (@jiminjung1511) September 12, 2015
2 Not being able to choose where to sit in the car when you honestly want to sit by the car window.
#growinguptheyoungest having to sit in the middle in car rides cause u were always the smallest😑

— Jessica Hinton (@Jessica_hinton4) August 26, 2015
3 Feeling major #FOMO when you go through your family's photos and you're not yet in them.
#GrowingUpTheYoungest Never looking in photo albums and seeing yourself , because you weren't born yet. 😭😭😭😩😩

— Warriyah (@warriyahboddie) August 15, 2015
READ: #GrowingUpFilipino: 10 Things Only Filipinos Understand
4 Not knowing where you got your looks, so it was really easy for your siblings to fool you and tell you that you're adopted. Way harsh, guys.
ADVERTISEMENT - CONTINUE READING BELOW
#growinguptheyoungest and not looking anything like your siblings https://t.co/kLT964FuPr

— Claire Kumrow (@claire_mariek) July 30, 2015
5 Getting all of the hand-me-downs even if they're not really your size or your color.
#GrowingUpTheYoungest getting all your siblings clothes even when they arent the same gender

— mac (@Mac_Clark_) August 16, 2015
6 Your family still see you as a baby even if you're already in your teen years, so they tend to be overprotective.
#growinguptheyoungest not allowed to text any boys without your family thinking it's your boyfriend

— maricela (@AmbrizMaricela) August 5, 2015
READ: #GrowingUpShy: 10 Things Only Shy Girls Will Understand
7 Your family says you can only do things once you turn a certain age because your siblings set the standards. WHY.
#growinguptheyoungest having to wait a specific age to do something because your oldest did it that age

— Diamante (@DiaCuartas) August 2, 2015
8 You get the blame for anything and everything because you can't object or reason out.
#growinguptheyoungest getting blamed for everything

— G bib (@gjbiblekaj) August 2, 2015
9 You also have to stick by the choices of your older siblings most of the time.
#growingupwithsiblings #growinguptheyoungest surrendering to dictatorship at very young age pic.twitter.com/lWxltaZFvC

— 6'8 #RememberMe (@intpete2182) July 31, 2015
10 But at the end of the day, you always know they do these things out of love and will for you when someone messes with you.
#growinguptheyoungest being picked on by all your siblings but defended by them all too

— Jorge (@JorgeOchoa524) July 31, 2015
READ: 10 Things Only Those Who Grew Up With Chill Parents Will Understand
Know more funny hashtags we should feature on the site? Let us know in the comments!
We can't handle this breakup!
For days when you need an instant outfit inspo that's still campus-appropriate.
It could very well be one of the world's largest volcanoes.
From consistently badmouthing another friend behind their backs to making snide comments sneakily disguised as compliments, here's how to deal with a tricky friendship.
From sisig to bulalo, the North has a lot to offer.
Even college students like us can apply for freelance creative jobs while we're still going for that diploma!
These simple practices, when done consistently, end up being worth a lot.
It can actually *shatter* your cartilage.
Bordeos becomes meat of online talk while helping out in family's meat business.
From her gowns down to the décor and food!
Trish is part of Candy Rookies 2020, a group of influential and aspirational college students handpicked to represent #GenerationCandy in the year to come.
The more ~chill~ spots around UST might be more of your scene.