SAM
Dear Diary,
Okay. Let's try this diary thing. Journaling. Whatever it is people call it. So... am I basically writing to myself? Like talking to myself? Okay. This is weird. Whatever, Lissa recommended I try keeping track of my thoughts so here I go.
A month since Ben and I broke up and we have not spoken to nor seen each other. It's so weird. How does someone that used to be a part of your life every day just disappear? I'm still upset that he thinks this is all my fault. It's so typical of him. I can't really figure out my feelings these days. Do I miss him? Maybe I miss being somebody's girlfriend more than I actually miss him. Having someone who knows everything about me. Like how I cry whenever the animals die in movies so he fast-forwards those parts… or that a good cheeseburger is all I need to turn a bad day around. It's scary thinking about meeting someone new and waiting for them to learn all these things about me. Ben was so… familiar. He was home. I get it, though. I'm only 22 years old. I have my whole life ahead of me, as mom always says. I wonder how many times I'm going to have to do this whole dating thing before I find "the one." God, that's so cheesy… but it's gotta be true, right? I mean, there must be someone out there who I'm going to end up with. Someone who can put up with my Snapchat addiction and shopping obsession and doesn't think I'm shallow. Mom said that I should find someone who pays attention to my details. That sounds exhausting. I think I need to be single for a while. Focus on myself. Focus on work. Focus on friends and family. I talked to Rae yesterday. Well, we did this note thing that we used to do when we were younger. It was cute. I was supposed to watch The Notebook and ugly-cry with her. I should go see what she's up to now.
ADVERTISEMENT - CONTINUE READING BELOW
Hey, this diary thing is helping.
XOXO
Sam
RAE
Flipping through the pages of an issue of Candy, I waited for my pedicure to dry. I know, I know. Rae getting a pedicure? I 'usually allow anyone near my feet (it's a weird thing I have), let alone touch and alter them with sharp, metal things. But grad ball was nearing, and my mom insisted on getting my nails done. She literally dangled my camera in the air until I said yes. Ugh. Mom.
As I'm reading about The Vamps, I see a guy in a blue varsity jacket near me. It's Diego, James's teammate.
"Hey, Rae," he says as he hands me a pack of Polaroid films.
"Wha—?"
Diego just shrugs, laughs, and leaves.Confused, I read the note on the box: Now that your pedi's done, go to the playground to have some fun! X
The manicurists at the salon giggle and push each other. Are they in on this, too?
I put my sandals on and am about to pay until I''m told that "it's already been taken care of." By whom?! I fast-walk to the playground down the street, and I see another teammate, Seth. He dribbles a ball and chest passes it to me. I fumble and am about to bend down to pick up the ball when I feel Seth's hand grasp my shoulders from behind. Then he blindfolds me. Ohmygod am I getting kidnapped?! I'm about to kick and scream for my life until I hear a familiar voice say, "Relax. It's just me. Follow my lead!"
Mom?!
I'm too stunned to speak, so I just follow. Seth guides me inside a car I assume is Mom's by the familiar bubblegum air freshener scent. Seth is beside me, so Mom must be driving. Oh God we're gonna die. I hear Mom start the engine and say, "Buckle up, honey! We're going to the beach."
CHARLIE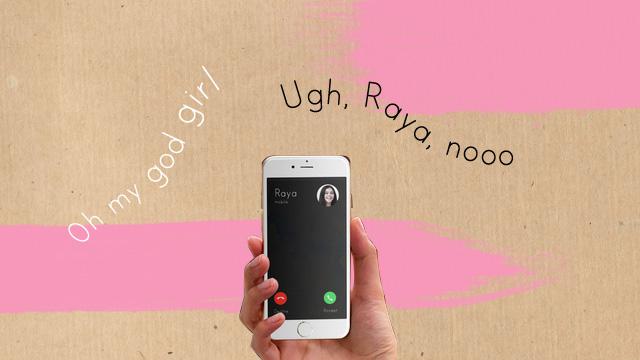 Charlie: Oh my god, giiiirrrrllll, I see them!!
Raya: Huh? Who? Please tell me you're looking at the Azkals right now.
Raya: Please ask Neil Etheridge for his autograph!!!!For me. Please.
Charlie: Ugh, Raya, nooo!
Charlie: I see Rae and James!! They're together right now! In the court!!!!
Raya: Ah... you got me all excited, girl!
Raya: hahahha they're at your home. Jk don't kill me.
Charlie: Nah, dude... ahh well kinda true. Was tryna practice this lay-up trick I saw on TV, but I'm failing horribly.
Raya: Or are you failing horribly, because you see them?
ADVERTISEMENT - CONTINUE READING BELOW
Charlie: ...maybe.
Charlie: Aghh, I'm still at the court. They're still here.
Charlie: I mean there are a ton of people here right now, so I don't think they noticed me.
Charlie: Never mind, James just waved at me.
Charlie: Rae waved at me too.
Charlie: RAYAAAAAAAA!!!!!!
Raya: What?? Hey, that means they're nice!
Charlie: Do you think they're together again?
Raya: Well, in my opinion, I highly doubt it. They could just be casually hanging out.
Raya: I mean, you just randomly hang out with guys too, you know.
Charlie: But... 
Charlie: I'm just really sad right now. I feel like my heart is at the bottom of my stomach right now.
Raya: Look, Charlie. I know you've been crushing on this guy for ages. I know it's difficult to not like him. Your heart doesn't choose who to like, or who to love. You just do. It's difficult, but you have to move on from him. But just because you've moved on doesn't mean you love him any less. You moving on will mean that he won't distract you and hopefully, it will make you love yourself more. Charlie, what's not to love about you? You're beautiful and amazing. The heart wants what it wants sometimes, but sometimes, you can't always get what you want.
Charlie: I love you, Raya. I think I'll change first. I need a long nap. Bye, see you soon, please.
Raya: See you soon too, best.
LISSA
12:14 AM. I'm done feeling like I'm living half a life.
5:30 AM. Bus left on time. Thank God. Where am I going? I don't know. When am I coming back? I don't know. All I know is I need to do this. I want to do this.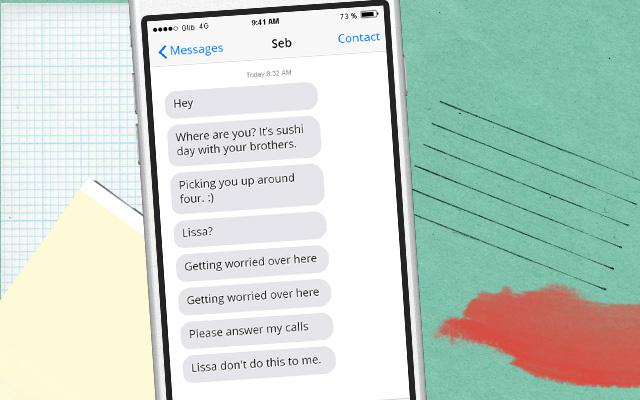 ADVERTISEMENT - CONTINUE READING BELOW