SAM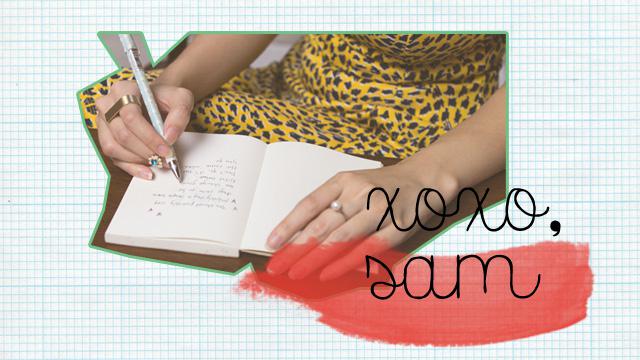 Dear Diary,
I saw Ben today! It was great. He showed up late and was a bit aloof about everything, but he sort of warmed up after he saw that I wasn't there to brag about how good my life has been without him. We just caught up over coffee and talked about what our lives have beenlike the past few weeks. It was actually really nice. I miss having a boyfriend but I feel so much better knowing that Ben and I are okay, and that we actually can probably be friends—contrary to popular belief.
ADVERTISEMENT - CONTINUE READING BELOW
It's been a while since we broke up but I guess it's true what they say about time healing all wounds. I wasn't devastated when we ended things, but it just feels like a weight was lifted off my shoulders now that I know we're okay. I do feel a bit drawn to him again... I guess I will always have a soft spot for us. I wanted to text him when I got home, but I can't ruin all my progress and break my "single promise" to myself. Mom told me that she's only had two boyfriends her entire life, and that dad was her second, and that if she could redo anything, she would've taken more time to be single and enjoy her youth.
Ben told me that he doesn't actually think our break up was my fault. I guess those were the words I was looking for the past few weeks. I always knew it wasn't my fault but my pride hoped that he thought so, too. I didn't want to be the reason our three-year relationship went down the drain, but I kind of realize now that of course I was part of the reason. We both were. Sometimes a relationship just runs dry if you don't nurture it.
No regrets though. I will always have Ben to thank for the past three years.
Time to focus on myself. Step 1? Hit the gym. LOL.
XOXO,
Sam
RAE & CHARLIE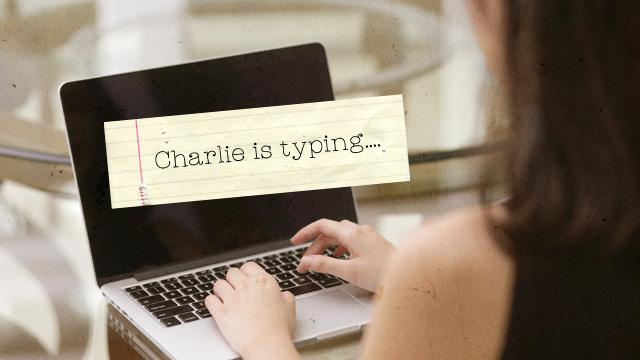 Charlie: Hi Rae! Sorry, this message is just so out of the blue, but could I bother you for a minute?
ADVERTISEMENT - CONTINUE READING BELOW
Rae: Charlie? Yeah, sure. What's up?
Charlie: Ahhh, thanks! Okay, so as you probably know, the Grad Ball is coming up... Well, I was wondering if I could ask James. Just as a friend. Awkward, I know, but you guys dated, so yeah, I just want to be polite.
Rae: Oh shoot... I'm sorry, Charlie. I thought James told you.
Charlie: Told me what?
Rae: This is awkward, but James already asked me, and I kinda already said yes.
Charlie: Ah, I wasn't aware of that. Recently?
Rae: Just a few days ago. I'm sorry. :(
Charlie: Oh, that's cool.
Charlie: But hey, CONGRATS! :) I'm happy for you guys, really!
Rae: I don't know what to say... Are you okay?
Charlie: Well, I just expected him to tell me something as grand as that. At least ask for my help or something, I don't know.
Charlie: I thought he trusted me
ADVERTISEMENT - CONTINUE READING BELOW
Charlie: Hahaha, wait, sorry for suddenly being so emo
Rae: No, no, it's fine. I can imagine how weird this must be for you. I'm up to listen if you wanna talk about it. But if you don't, that's fine, too.
Charlie: I'm seriously seriously happy for you two though. :) He makes you happy, right? Well, you make him the happiest guy in the world, and he deserves nothing less than that—especially at his Grad Ball. It's a win-win situation! :)
Rae: He does. As much as I hate to admit it, he makes me happier than anyone else can.
Rae: Thanks for understanding, Charlie. I know this is weird, so thanks for being so cool about this.
Rae: But anyway, are you still going to Ball?
Charlie: Well, maybe, but I'm not really sure who to take right now. Hahaha weeeww
Rae: Maybe I can help you!! I'm not exactly the most popular kid, but being a school photographer has its perks. I can scope out the cute guys without looking like a weird stalker with a camera.
ADVERTISEMENT - CONTINUE READING BELOW
Charlie: Really??!! You'll do that?
Charlie: Omg, I'm really sorry for bothering you with this!
Charlie: I mean, you don't have to help me!!
Rae: I want to! Seriously, I do. Do you have a type? Tall? Dark? Smart?
Charlie: My type… Hmm, I don't really mind much about "types". I just really want to be comfortable during Grad Ball.
Rae: Hm… that's tough to test from looks alone. Do you have someone in particular in mind? That'd help me filter out the guys.
Charlie: Well, I mean.. there is this other guy..
Charlie: But I just met him!
Rae: SPILL!
Rae: Who is he?
Rae: Is he your type?
Charlie: Yes, I feel extremely comfortable around him!
Charlie: BUT. I. JUST. MET. HIM.
Rae: So what?! I'm not an expert at dating, but you're stunning. And sporty. Any guy would kill to have you make the first move.
ADVERTISEMENT - CONTINUE READING BELOW
Charlie: Ugh, I'll think about it. I crossed him out of my list long ago, because I can just imagine slow dancing with him…
Charlie: Being kilig ain't so pretty on me
Rae: Girl, with that face, anything is pretty on you
Rae: But I'm kinda nervous about the slow dancing, too. It's been a while since I talked to James.
Charlie: I bet you and James will be fine! Psh, you two, slow dancing? That's probably the best pair ever.
Rae: Kilig isn't even in my vocabulary. I'd look like an idiot. Crap. I don't even have a dress yet. Maybe I should just skip Ball? James will understand, right?
Charlie: Hahahahha! Are you kidding me? Kilig looking bad on you?
Charlie: Girl, you never look bad!!!!
Charlie: EVER.
Rae: :P whatever, Charlie.
Charlie: If you don't mind me asking, how did you fall for James?
Charlie: Sorry for being so cheesyyyyyyy
ADVERTISEMENT - CONTINUE READING BELOW
Rae: I don't think it was just one thing that made me fall for him. The little things just added up. But I remember the moment I realized it was real! It was during one of his basketball games. Against the Rockets, I think. He was sprinting, then he had a really, really bad fall—so bad that the entire gym just stopped breathing. When he stood up and said he was okay, that's when I knew I was in love.
Rae: Now I'M sorry for being cheesy!
Charlie: Wow, that's so beautiful. Extremely inspiring. At least I know I'm not the only one who feels that way.
Rae: Feeling inspired to ask the lucky guy now?
Charlie: HAHAHA NO I'M NOT INSPIRED TO ASK BRIAN YET. STOP IT!!!
Rae: Brian???
Charlie: Oh no… Hahaha, please don't tell anyone!
Charlie: I'M SO EMBARRASSED
ADVERTISEMENT - CONTINUE READING BELOW
Rae: Hahah. My lips are sealed, but judging from the way he drools when you pass by, I'm sure he'd say yes.
Rae: Wait, don't you have a game tomorrow?
Charlie: Oh gosh, it's so late! I'm planning to jog in the morning and do some practice drills, gotta sleep soon!
Rae: Oh ok! No prob. Good night. Thanks for being so cool about this, Charlie. :)
Charlie: Before I go to bed, I just wanted to say thank YOU! I didn't expect this conversation to turn out like this. I wish I'd gotten to know you more back then. Anyway, I'm just pretty grateful for the outcome of this convo, even if I didn't expect it at all. Hehe thank you again! Good night! :)
LISSA
My To-Do List:
[x] Kiss a complete stranger.
[ ] Grow an indoor plant. Keep said plant alive. 
ADVERTISEMENT - CONTINUE READING BELOW
[x] Perfect your recipe for apple crumble pie.
[ ] Get a master's degree abroad.
[ ] Join that boxing competition your trainer keeps telling you about.
[ ] Read TIME Magazine's top 50 books of all time. (17/50)
[ ] Do something crazy with your hair. (Options: pastel pink, pixie cut, or shaved on the sides.)
[x] Travel to another country alone.
[ ] Stand up for a stranger you encounter during your commute.
[ ] Go vegan for a month.
[ ] Volunteer in at least three outreach programs this year. (2/3)
[x] Let Sam get you drunk. Like, last-night-was-a-complete-blur drunk.
[x] Power through six plates at a buffet.
[ ] Learn to surf.
[ ] Meet one of your online friends in real life.
[ ] Give your condo the complete overhaul it so direly needs.
[x] Fall in love, for real, for once...and not worry about the repercussions.
[x] Run away. Not for good. But for you.
I wonder when you'll see me again... I wonder when I'll see myself again.
ADVERTISEMENT - CONTINUE READING BELOW
But I made a promise to myself, and I'm not backing out this time.