SAM

It's a random Wednesday night and I'm exhausted from work, but somehow KC managed to drag me out to one of her favorite clubs. "One drink!" She said, but it's almost midnight and I'm considering calling in sick at work tomorrow so I don't have to worry about my alarm. Mom hasn't even texted me to come home yet; she probably thinks this is normal post-breakup behavior and wants me to stay happy. As happy as one can get in a club, anyway. I close my eyes, sip my drink, and enjoy the music. There's this cute guy that keeps catching my eye. Tall, athletic build, and a sense of style. Just my type. It's been a few weeks since Ben and I broke up, and I haven't heard anything from him since. I wonder how he is... No, stop thinking about Ben right now, Sam. Focus on the music, and that cute guy. Who apparently dances really well. And has a really adorable smile. He's practically staring at me now, with that sly "oh she noticed me now I'm going to look away" move. Oh my gosh, he's flirting with me! Should I flirt back? What am I saying, of course I should.
ADVERTISEMENT - CONTINUE READING BELOW
"Hey, it's time to go!" KC shouts into my ear.
"What!" I protest. "Why now? That cute guy is making eye contact with me and I haven't even been able to return it!"
KC scans the room to check him out, "Wow, he is cute! You're right. He hasn't stopped staring at you."
I blush. Thank god nobody can see my crimson cheeks in this dark club.

"Come on, it's midnight and we have work tomorrow!" KC practically yells at me. "We have to go." She starts to walk out of the club, but I pull her back, closer to the light of the bar.
"Five more minutes," I plead, reaching into my bag and pulling out a piece of paper and a pen.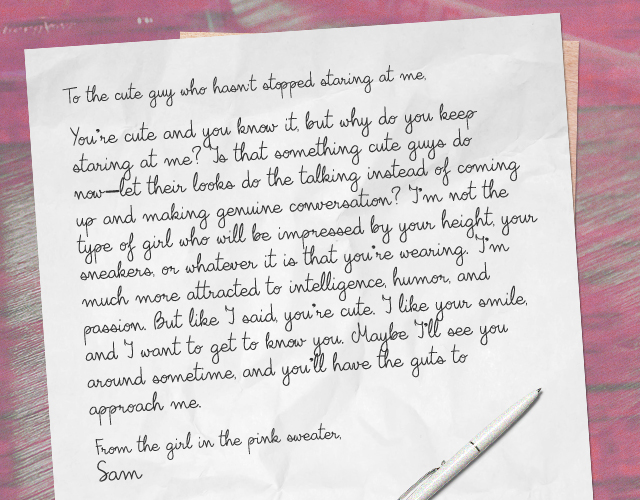 CHARLIE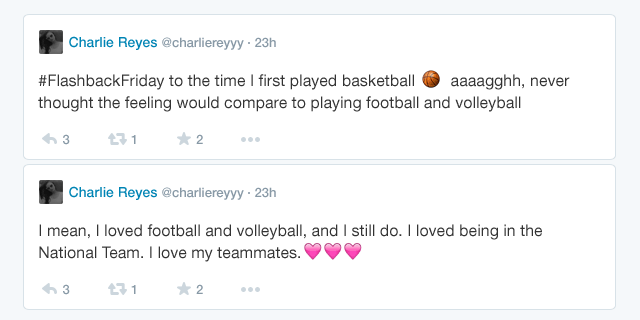 RAE
ADVERTISEMENT - CONTINUE READING BELOW
LISSA
ADVERTISEMENT - CONTINUE READING BELOW