After attending New York Master Chef Toba Garrett's demo at AHA, here are a few things we picked up from Creative Cookies.
Patience is key. Chef Toba says that it takes a complete 24 hour cycle for glace icing to set—in New York. So it might take even longer here factoring in the humidity in our country. She says that if you don't let the icing set completely, you'll end up with dull-looking cookies as opposed to pretty, glossy ones.
Be precise. When you line the edges of your cookies with royal icing, make sure to get all the edges. If you don't, the icing will just spill over and you won't achieve the look you want.
Don't be scared to try something new. When Chef Toba mixed the colors on one cookie and swirled around with a tooth pick, the result was, as she would say, "dazzling!"
There are no limits! Why settle for simple cookies when you can make them pretty? You can add embellishments that are edible! The possibilities are endless.
It is simple and easy. Although we noticed that Chef Toba's hands were steady and so accurate, she encouraged us saying that anyone can do it. With the right training and the right ingredients, we can all create dazzling designs on our cookies, cupcakes, and cakes, too!
Interested in joining her classes? For inquiries about New York Master Chef Toba Garrett classes or AHA Philippines' classes, call 892-7372/892-7702. AHA is on the 2nd Floor of Aguirre Building, 108 HV de la Costa St., Salcedo Village, Makati City,
ADVERTISEMENT - CONTINUE READING BELOW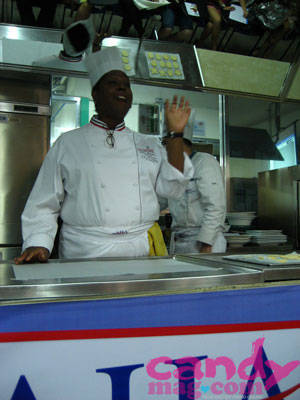 ADVERTISEMENT - CONTINUE READING BELOW