One day, probably in the not so distant future, you will break my heart.
I knew from the start what I was getting myself into. You were clear and you were fair, and for that I am grateful. But I couldn't, for the life of me, resist. And so with shoulders squared and expectations managed, I went straight ahead into the vast gray area of you and me. I continued to shower you with affection and make myself vulnerable to you. I gave you hugs and felt my knees go weak every time you squeezed me hard. I basked in your attention and my heart fluttered each time you openly expressed claim over me. I held out my hand for you to hold and smiled when you don't let go. I marveled at how easy the conversation flows when we're together, like how we can go from nonsense banter to serious life plans and personal issues. I like how you spontaneously put your arm around me when I'm close, how it's become a habit, unconscious and understood, never needing permission or explanation.
ADVERTISEMENT - CONTINUE READING BELOW
One day, in the not so distant future, you will break my heart. We'll probably stop talking and hanging out. There'll be no more banter between us, only distance. Things will be awkward and we'll both avoid places where we might see each other. When invited by a common friend, I'll make a habit of asking first who else is coming before saying yes; and to give me space, you'll make up some excuse not to go when you find out I'm coming.
ADVERTISEMENT - CONTINUE READING BELOW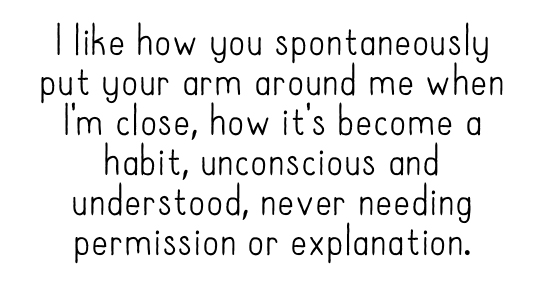 ADVERTISEMENT - CONTINUE READING BELOW
People who know how close we are will notice and ask why. When they do find out, they'll probably think you're a jerk for leading me on and breaking my heart. And they'll feel sorry for me because I should have known better than fall for you. I hope you know I'll never blame you for choosing happiness. Like I said, I knew what I was getting myself into. I wasn't a pawn in the game, I was a player too.
I wanted to write this as a metaphor to fictionalize our ending to save face but I couldn't. There's no hiding the simple truth that in the end, you'll choose someone else over me. I don't know if or how we'll patch things up but I have no regrets and I hope you have none too. It was a great run and I enjoyed every part of it.
So yeah, one day you will break my heart. And I'll be fine with that.
ADVERTISEMENT - CONTINUE READING BELOW
Sent in by Aya Fernandez. Got your own story to tell? Drop us an email at candymagazine @gmail.com! We'd love to hear what you have to say. If you're lucky, you just might get published in this space, too! Please indicate if you want to remain anonymous. We're also looking for artwork and illustrations to use with the stories, so please send some in if you want to be featured!