Without noticing, you wanted more from him. You wanted more than his friendship even though you promised you didn't want him. You wanted him to be yours and that blinded you from reality.
You knew from the very beginning and you promised yourself that you would have no expectations from him. But you forgot and you made foolish excuses for yourself. You wanted more from the boy who stayed by your side.
He isn't to blame, it was your selfish fantasies. His heart, always screamed her name but you plugged your ears. Eventually, that broke you and you can't blame him. You can't blame him because he showed you that he belongs to someone else.
When you see him walk by the halls, I know you wish for everything. I know you wish for that friendship. I know you miss him and you miss his presence in your life. You miss him calling your name and you ask why it should be like this over and over again until you look away from him. I'm sorry it had to be this way, your feelings haven't completely healed yet. I'm afraid that they might come back with a single snap. I'm sorry you have to miss him. It's better this way.
READ: But You Won't Let Me
And so this is where you are, ignoring him because of how sorry you are. I know you never wanted everything to end like this but you're here now. You have forgotten the promise you made to yourself that night. You forgot.
ADVERTISEMENT - CONTINUE READING BELOW
One day, when he leaves again, it won't hurt anymore. The both of you were never meant to drive the same lane, same roads indeed but different lanes. You both longed for company and you gave each other that but that too, was temporary.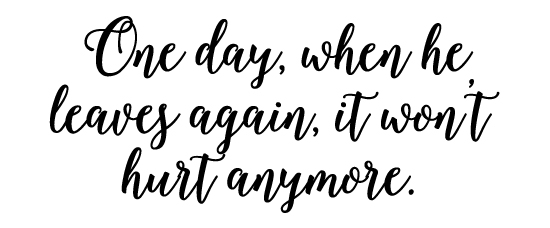 Sent in by mdap. Got your own story to tell? Drop us an email at candymagazine @gmail.com! We'd love to hear what you have to say. If you're lucky, you just might get published in this space, too! Please indicate if you want to remain anonymous. We're also looking for artwork and illustrations to use with the stories, so please send some in if you want to be featured!