You've invested so much feelings. You got hurt. You cried. You wallowed in self-pity. And now, because of that, you need to get over him.
I didn't say he isn't worth it, because in fact, he is. He is a sweet, adorable and likeable guy, who deserves to be loved and so are you. You deserve someone who looks at you adoringly the way your eyes sparkle for him, and only him.
It was exciting at first: The prospect of him and you. Of course, a girl with a crush would daydream romantic strolls and things with the object of her affection, and that's what you did. You got so lost in him, the way he sweetly answers your anonymous tumblr asks, the way he tweets how he appreciated the letter you wrote for him, how he posted a photo of your artwork for him on his tumblr, with a caption that it is "whoever you are, this is deeply appreciated". You have the guts to invest effort o him because he doesn't know you, and its done anonymously.
ADVERTISEMENT - CONTINUE READING BELOW
So when the time came that he now knows your name, you started to wish everything will go back to the way it used to be: You, the secret admirer he doesn't have a clue who in the world. Because things changed. You don't know what you did, he now sounds so formal. He now sounds disinterested, he now doesn't act even the least accomodating towards you. What on earth happened you ask? Maybe what you realized back then was true: It was okay and exciting because of the anonymous status. It was fun because its new, or maybe he knowns how much you adored him that it got in his head and boosted his ego. Who knows?
So my dearest, sweetest self. It's time to move on, and accept the fact that things are never really meant to happen. You have to accept the fact that it was fun while it lasted, and the concept of something more (even if its just being friends personally) is impossible. He is truly an impossible pursuit.
ADVERTISEMENT - CONTINUE READING BELOW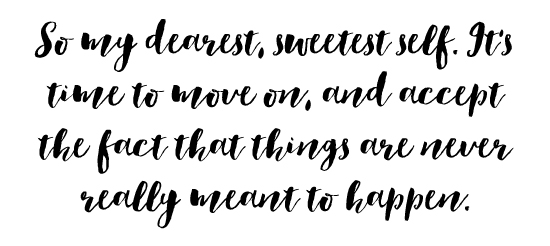 But I know you still think he is worth it, he is loveable and adorable. Because that's what your best at: Making people feel special, even if they doesn't deserve to.
If you're reading this, I know you know who you are, and I still wish you all the best. I didn't regret ever liking you, because I think I still do.
ADVERTISEMENT - CONTINUE READING BELOW
READ MORE:
To the Guy Who Inspires Me to Write
Meeting a Stranger in Bali
A Letter to My Old Self
Sent in by Franczesca Dela Cruz. Got your own story to tell? Drop us an email at candymagazine @gmail.com! We'd love to hear what you have to say. If you're lucky, you just might get published in this space, too! Please indicate if you want to remain anonymous. We're also looking for artwork and illustrations to use with the stories, so please send some in if you want to be featured!