"I wanted to tell you all of my secrets but you became one of them instead." You came unexpectedly, you came out of nowhere. One day, I just woke up, I met you and I fell in love with you. They always tell that in a relationship, guys fall for girls first but I can see no similarities with our situation right now, ours was different—or maybe MINE was different. I fell for you and you fell for her.
Hundreds of knives are stabbed here in my chest every time you tell me that you miss her and you are still in love with her. Every night I'm hoping that in the next morning, your heart and mind will scream my name. I've waited for 11:11 every night, wasted no unintentionally removed eye lashes of mine to grant my one wish and prayed before I go to bed that may be, maybe someday you'll be mine. I gave you hints but you ignored it, I tried to put it into jokes wishing you'll notice what's behind it but you never took them seriously. So I decided to keep what I felt for you, I decided to keep it in because I thought that was just the best thing to do. You were so blind to notice everything. It's so funny how I wished you to be mine but there I was still helping you to get your girl back. Truth is, every time you call me for help, I secretly hope that I was in her place, that may be fate could change it's phase a little bit, rewind time and make me that girl, the love of your life. If I were her, I would never ever let go of you. But no, I guess that will still remain as a wish and will forever be.
ADVERTISEMENT - CONTINUE READING BELOW
I'm not strong enough to risk our friendship. You're my best friend, the guy whom I can always lean on, the guy that will always tell me to not think twice about sharing my secrets with him because, he's my best friend and the guy who will always tell me that he'll take care of me in times of darkness and only me who knew that I was your damsel in distress. I hope you noticed everything sooner before because I came into the part where I hit the ground hard and no one was there to catch me at least.
And to the girl, the love of your life, you just really don't know how lucky you are, how blessed you are. But you ended up deciding to leave him with your words hitting his mind! How could you that? Changing his whole life regardless of the short time you two spent together. Even though I'm hurting, even though I'm broken secretly, I'm begging you to come back to him, to love him again because the fact that he's broken because of you. And the only cure to that poison is the one who also gave it, and that's you. It hurts me the most. I'd rather see him happy with you than see him looking at you miserably from afar, with those pair of eyes still helplessly in love with you.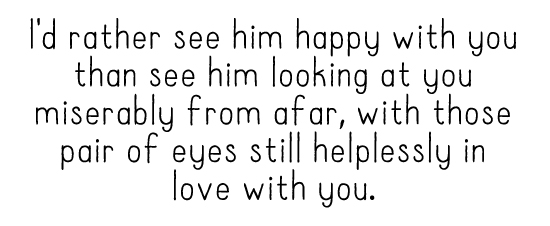 To my best friend, to the guy I'm in love with, you will always be my favorite secret. I'm starting to forget my feelings with you.Why? Because I want to forget it smiling, I want to forget it not regretting,. That even though you never knew how I felt, at least I had a chance to love you by my side. At least I got to pretend that I was yours and that you were mine. The pain was incomparable but the joy of secretly loving you was priceless. For now I must put it all into an end and forget all of my love for you until every bit of it is gone.
Sent in anonymously. Got your own story to tell? Drop us an email at candymagazine @gmail.com! We'd love to hear what you have to say. If you're lucky, you just might get published in this space, too! Please indicate if you want to remain anonymous. We're also looking for artwork and illustrations to use with the stories, so please send some in if you want to be featured!