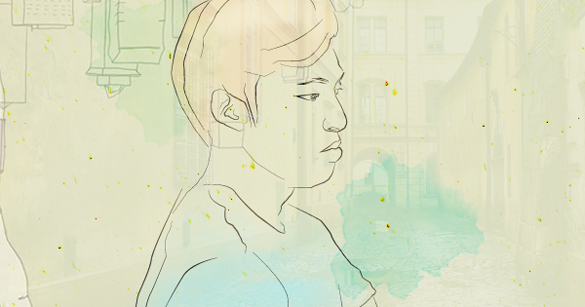 I remember the time our eyes met. I knew it wasn't the first because we've sometimes crossed paths in the hallway of our school. But that night seemed to be different. Maybe it's because I finally see you up close. It was a friend's birthday and we were both invited. I don't know if you noticed how I'd always sneak a glance at you. Your eyes, your smile, and even the way you treated others caught my attention and I instantly saw my ideal guy in you. You brought to life that character in movies and books I always dreamed to have. But that night passed and we didn't even dare talk to each other, only secret glimpses and exchanged smiles that made me want to know you more.
Days passed and it's the first day again of school after summer when I see a familiar face sitting at the left corner of the room opposite to mine. A smile suddenly formed on my lips. I knew this subject would now be my favorite. Maybe destiny has its own ways. I knew it would be the beginning of everything. We started talking about homework and projects and later on found ourselves talking about our favorite movies while sitting next to each other at the same table during lunch breaks.
ADVERTISEMENT - CONTINUE READING BELOW
My friends and yours started teasing us, saying that you like me. Though I never heard you confess to me personally, your actions made me believe anyway. You were the very first brave guy who asked me if he could accompany me home and you have no idea how my heart almost skipped a beat. I saw how kind your soul was when you bought those three roses from the little girl selling them by the side of our school so she could go home early. I remember that euphoric feeling when you handed those flowers to me.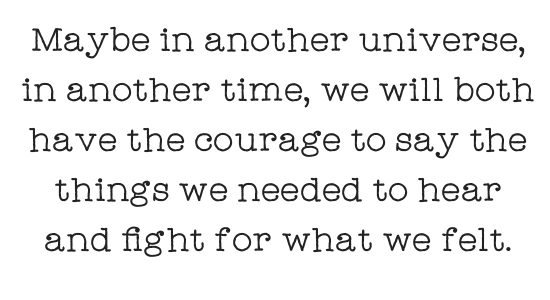 ADVERTISEMENT - CONTINUE READING BELOW
I don't know what happened, but those suddenly became just memories, happy memories I know might not happen again. Maybe we're the result of bad timing. Things gets complicated and bad decisions get in the way, but just so you know, you will always be my favorite What If, The One That Got Away, and an Almost-Lover. We may not end up the way we wanted, but I will always feel lucky that somehow in my life someone as beautiful as you passed by. I may have a lot of regrets of what I should have done and what it would be like to be with you but I end up remembering all the blissful memories I had with you. Maybe destiny has its own plan why we met and we'll end up with someone else. Maybe in another universe, in another time, we will both have the courage to say the things we needed to hear and fight for what we felt.
ADVERTISEMENT - CONTINUE READING BELOW
READ: Maybe One Day In Paris
Sent in by Louise Caballero. Got your own story to tell? Drop us an email at candymagazine @gmail.com! We'd love to hear what you have to say. If you're lucky, you just might get published in this space, too! Please indicate if you want to remain anonymous. We're also looking for artwork and illustrations to use with the stories, so please send some in if you want to be featured!