I know by now you already have a hint that I have a crush on you, judging by the way my friends react every time your group passes by ours. I'm sorry if they giggle a lot I have warned them countless times to stop but they just couldn't almost like how I couldn't stop thinking about you.
There was something about how you walked into that auditorium that cold day of August that turned my world upside-down. Of all the boys inside that room, you amazingly stood out. We were told to listen to the guest speaker but all I could hear was the intense beating of my heart while staring at you. For the first time in so long, nobody made me feel this kind of feeling and now you are effortlessly sending shivers and jolts to my system, it's the kind of feeling I want to keep. The speaker stopped talking suddenly it's time to go and the last thing I saw was you making your way out of that cold auditorium. I've never seen you again.
ADVERTISEMENT - CONTINUE READING BELOW
I started thinking that maybe I was just dreaming that day when I saw you. Because after that, I started looking for you in school but not even your shadow showed up. Funny thing is, I don't even have any idea what your name is. Did the world just get bigger for us not to meet?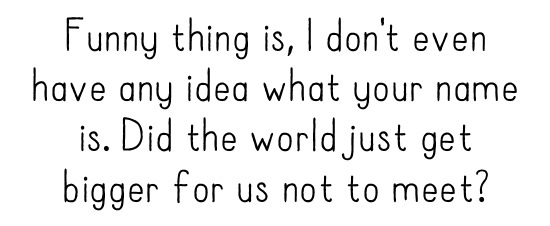 I start losing hope; the memory of your face is wearing off in my head. But just when I was about to give up, a light of hope came in shining. My friend told me that she saw you on Facebook. She showed me your profile and I was so thrilled when I knew what your name was. It was exactly the same as my favorite fictional character. And now that you have his name, he doesn't seem that fictional anymore. You made him non-fiction for me. I got so excited and of course I added you! When I finally saw your name in my notifications, I nearly fainted. It was just a friend request but it made me smile all week!
By then I started developing feelings for you. Funny how I used to ask my friends how they can have feelings for someone they just saw at school or somewhere else? Because for me to have feelings for someone I have to really know that person, be with that person. I just can't like someone because of mere looks. But I ask this question to myself now, how could I like you that fast without even knowing you? And I don't know the answer to that. All I know is that butterflies have been fluttering inside my stomach every time you pass by, the cold sweat forms on my forehead when the possibility of seeing you might happen, the heat in my cheeks every time my friends tease me, the way I go shy when you're around that makes my knees weak, and the smile plastered on my face with thoughts of you before going to sleep.
ADVERTISEMENT - CONTINUE READING BELOW
I really, really like you. You're the kind of guy who makes people want to write poetry and prose and the reason why my neck is aching because I have been craning my neck to see if you're around and look for your face in every crowd. I'm not usually like this. I'm afraid that I'm already falling for you hard. I'm liking you more than I'd want to allow myself. And it's terrifying because the chance of getting myself hurt is bigger than the chance of you and me.
Sent in anonymously. Got your own story to tell? Drop us an email at candymagazine @gmail.com! We'd love to hear what you have to say. If you're lucky, you just might get published in this space, too! Please indicate if you want to remain anonymous. We're also looking for artwork and illustrations to use with the stories, so please send some in if you want to be featured!
ADVERTISEMENT - CONTINUE READING BELOW