Our world crumbled apart without an explosion, without the sound of goodbyes or explanations resonating. I just heard every hello we made disappear and saw the one thing I am most afraid of—our souls, the two of us, drifting farther and farther away until I can no longer see you near me.
I remember making a promise to myself that you won't hear my cry resound nor see me gazing at the sunset over the past that keeps crawling up on my skin. But you and I made many promises that, clearly, we were too remiss to keep and certainly, this is one of them.
Haven't we made it far enough since we built what we had together? I guess we didn't see that one coming; we never knew, not until then, that we are best at destroying and not mending.
What do I do? It's been so long. I am still left with the aftermath of it all and there isn't anything more to fix?
ADVERTISEMENT - CONTINUE READING BELOW
I could still feel so wounded as the first blow and still hurting from the damage. It seems that you still linger everywhere I go and look at me, I don't want to hide from your shadow. I think you will always remain the half of the whole we used to and up until now I am incomplete as I'll ever be.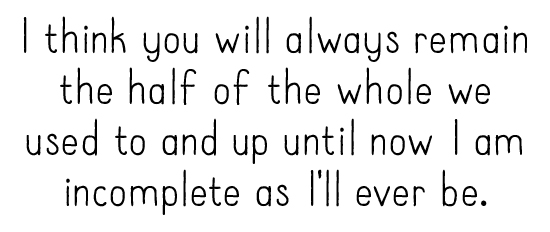 ADVERTISEMENT - CONTINUE READING BELOW
They say every person has a love they will never get over and I just know that mine will always be you. Like the greatest destructions put into history, you are the love that is difficult to forget. You are the love I will never get over.
I am sorry, you are the love I couldn't choose to recover.
READ MORE:
Love, How Did We End Up Here?
This is for Everyone Who Has Tried to Let Go
If I Were The One Who Broke Your Heart
Sent in by Alve Jane Aranton. Got your own story to tell? Drop us an email at candymagazine @gmail.com! We'd love to hear what you have to say. If you're lucky, you just might get published in this space, too! Please indicate if you want to remain anonymous. We're also looking for artwork and illustrations to use with the stories, so please send some in if you want to be featured!
ADVERTISEMENT - CONTINUE READING BELOW