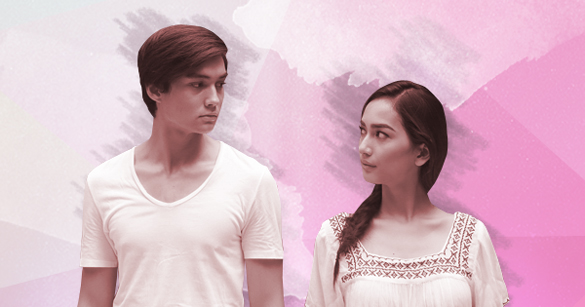 To My Young Love,
Older people say we're both too young to be in love. Maybe we're too young to be in a relationship, but I think we're never too young to feel love and to be in love. And I'm sure that the love we had was not just any ordinary love. It's not the kind of love that easily diminishes as time continues to tick by because our love has flourished beautifully as we got older.
However, time has a way of messing with so many things and with so many people. Unfortunately, time got us. Some people would say that we should fight for "us" if we really love each other. But that's the thing, it's not simply just about having love because love is not enough. It will never be. Just think of it this way, when you want to have chocolate cake, you can't have it if your only ingredient is chocolate because you'll need a whole lot of other ingredients. In a similar way, relationships are like that. You can't just have love. It may be the main ingredient—like how the chocolate is—but there are a lot of stuff you need. You need to have trust, patience, honesty, and the list goes on. The other important thing next to love, which messed with us badly, is time.
ADVERTISEMENT - CONTINUE READING BELOW
ADVERTISEMENT - CONTINUE READING BELOW
That's why we had to let go. Why I had to let go. I was willing to make everything right, because if I pushed through with what we had, I know it would still end sooner or later because we lacked one foundation. We lacked one thing. It may not seem much, but sometimes the smallest things are the ones that really matter. It's important to note that we had everything except one thing. If we got it right, we could have made it work.
So how do we have time work for us? Well, that's why it's called time. We have to wait. And I would be more than willing to risk waiting. For the right relationship would be able to stand the test of time. As for now, we are indeed young. We have so much more to see and more people to know. Let's just take the moments that time would give us as an opportunity to discover, to learn, to know, and to love more. Maybe time doesn't want us to miss out on anything right now because when the time is right, we can finally have all the moments we need. We wouldn't have regrets because time would have fixed everything that was broken before.
ADVERTISEMENT - CONTINUE READING BELOW
From The One Who Trusts In Time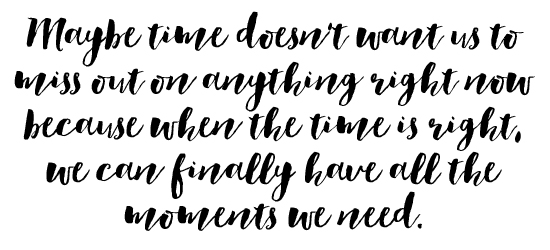 READ MORE:
An Open Letter to the Guy It's Never Going to be Over With
An Open Letter to My Heart
A Letter from the Girl You Left Behind
Sent in anonymously. Got your own story to tell? Drop us an email at candymagazine @gmail.com! We'd love to hear what you have to say. If you're lucky, you just might get published in this space, too! Please indicate if you want to remain anonymous. We're also looking for artwork and illustrations to use with the stories, so please send some in if you want to be featured!
ADVERTISEMENT - CONTINUE READING BELOW