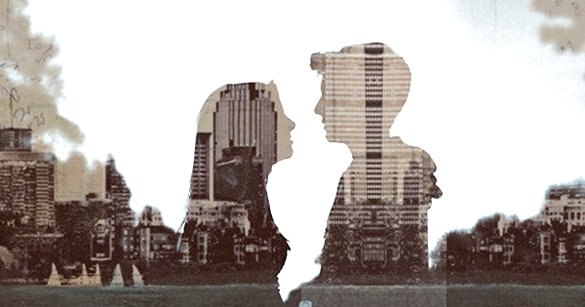 The Infiltrator
I used to see the world for what it was.
There were days when songs were just words with melodies,
a shirt was just a piece of clothing,
bread was just food,
and a place was just a place.
But you, you insensitive creature,
you have infiltrated my everything.
It seems as if all my five senses were designed to remind me of only one thing—you.
I see you, hear you, smell you, taste you, and feel you
in every single thing.
What once was just a can of soda now reminds me of how you were the only one to clean the rim before drinking from it.
A cookie was just flour, eggs, and some chocolate chips
until you turned them into a bittersweet reminder of the afternoons we spent baking.
The smell of cigarettes burning has become your shy lie of ""I don't smoke."
The pillow, soft against my back is now your hand gently pushing me through the crowd we were trying to escape.
And that song, that goddamn song,
is the night you took my first dance away.
You see,
you have somehow painted yourself onto every wall
and conquered the entire sky of this place called my life.
You have infiltrated my everything,
and now, there's no way I could possibly see the world the same way I used to.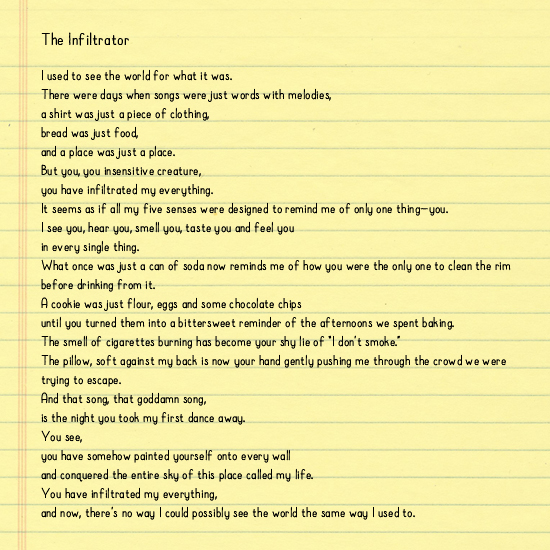 ADVERTISEMENT - CONTINUE READING BELOW
ADVERTISEMENT - CONTINUE READING BELOW
Sent in by Ria Ramirez. Got your own story to tell? Drop us an email at candymagazine @gmail.com! We'd love to hear what you have to say. If you're lucky, you just might get published in this space, too! Please indicate if you want to remain anonymous. We're also looking for artwork and illustrations to use with the stories, so please send some in if you want to be featured!