You have no idea what it's like to be in my place. The night you told me that the best thing was for us to go to our separate ways was the night I told myself that I'll be fine on my own, as I was before you. But I wasn't. It wasn't the same anymore.
Those sleepless nights where I don't do anything but cry over you. Those nights all I did was to re-read our messages and think what I did wrong to be left alone. Those days where I had to sit next to you and pretend that it's ok for me to not hug nor hold your hand anymore. Or those days where I usually just jump for joy because of happiness when I'm with you.
READ: To the One Who Chose To Let Me Go
I knew that we were falling apart when days passed and I wouldn't receive any messages from you. I pretended to be fine for you to see that it wasn't the end but you were too preoccupied to even have a second thought about it. You made up your mind without talking to me while I hopelessly and patiently waited to hear you say that we're okay.
ADVERTISEMENT - CONTINUE READING BELOW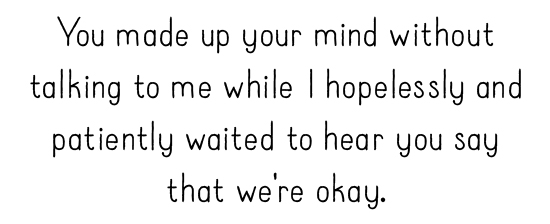 It's been weeks since I last heard you say that you love me. It's been a week like hell for me to pretend and make everyone believe that I'm ok when I feel like shutting down. It's been a week since they saw you with that smile while all they see in me is the dark circles under my eyes and tired body just waiting to give in.
READ: To the Guy I Still Love
I did everything to understand you. And believe me when I say that I'm fine now that we're going our separate ways now. What I can't do is to remain friends with you and look you in the eyes without shedding any tears. I understand that you're tired of our relationship. But please understand that I am tired of pretending that everything's okay. Im tired of being the strong one and up until now, I'm still holding on to your little promise of forever. Please understand that I cannot take any more pain. Please understand that I love myself, too. Please understand that I think it's time now for me to save myself.
I hope that day will come that I'll no longer feel any pain while looking at you while you enjoy this life without me. I hope the day will come that I can finally say that I've moved on. Always remember that I believed in you and that I tried so hard for us. So now that I've realized that you're so much better off without me, I'll do the same. I'll delete your messages, pictures, emails, and voice mails so I can finally go on. And even if we see each other often, I'll start to distance myself from that one thing that can hurt me—you. Now it's time for me to break away.
ADVERTISEMENT - CONTINUE READING BELOW
Sent in by Frances Bianca Quintana. Got your own story to tell? Drop us an email at candymagazine @gmail.com! We'd love to hear what you have to say. If you're lucky, you just might get published in this space, too! Please indicate if you want to remain anonymous. We're also looking for artwork and illustrations to use with the stories, so please send some in if you want to be featured! Please send original, unpublished work only.