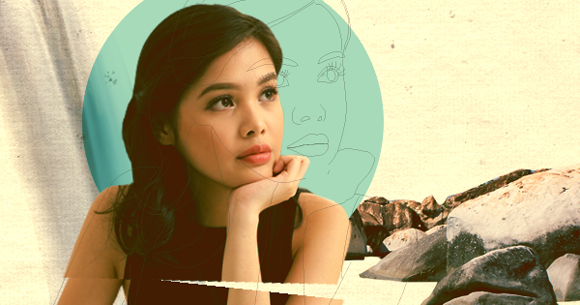 It has been a very long time.
It has been a year of firsts and lasts, which I'm sure you're aware of. For the past weeks, I was brave enough to spill and wholeheartedly share my thoughts to the world. It was my first time to feel something exceptional and that is why I have come to realize that you're worth writing about. You were worth my time, effort, and words. Believe me when I say that every blog post took incredible guts to write. Because on the night I started putting my hands to work on my thoughts about you, that's when I proved that emotional writing totally kills. At the same time, it helped me breathe freely without hard feelings, regrets, and grievances.
I know that I should embrace the thought of getting rid of you but I will never be okay deep down, not until I tell you every single detail that I've been wanting to say. In this way, I could release all the pent-up emotions I never expressed to you—all the things I assumed you knew. Don't get me wrong. I'm writing this for me to be extra fine and to move on with living my life. For the love of everything that is right in this orld, all I want is solace inside this labyrinth. And for the last time, I just want you to know that I'm writing this letter to you because I forgive you.
ADVERTISEMENT - CONTINUE READING BELOW
ADVERTISEMENT - CONTINUE READING BELOW
As I write the concluding section of my previous posts, I don't know how to begin it. I don't know the exact words that I should use to match with my neverending feelings. There are tears streaming down my face, yet I couldn't feel the trickle. I'm upset, but more than anything, I'm mad that after 3 months, you still have that power over me. I'm angry that you still have this huge impact in me enough to make me cry. I'm disappointed with myself because up until now, you're the one that I'm thinking about. And that's when it hit me—I'm not crying because I'm upset that we aren't together anymore, I'm upset because I feel sorry for who you and I have become.
You came into my life at just the right moment, and for a while, made me the happiest and saddest I've ever been in a long time. You were my first of my many firsts: the first person to let me know what it feels like to fall in love, how gratifying it could be to have a constant companion, and what a disastrous breakdown of a relationship looks like. You were the person I was looking up to, the person who I thought would never have the courage to break me into pieces, and the person I was proud to be with. More than just that, I knew that pain comes naturally but I kept loving you because I thought I could change the inevitable. I loved anyway because it's better to have loved and lost than to not have loved at all. In this long overdue message, all I could feel is a rush of nostalgia mixed with the anticipation of what could be.
ADVERTISEMENT - CONTINUE READING BELOW
I'd like to say that I'm glad that you are well, but as we both know I have absolutely no idea how you are. You had your own reasons; I had mine. Because of that, thank you. *whispers* You were the best thing that has ever happened to me. Thank you so much for 11 months filled with happiness, laughter, and pain. Thank you for the movie dates, geek talks, food trips, coffee dates and many more. Thank you for making me who I am today — strong, tough, and carefree. Thank you for the genuine love, love. Apparently, I don't know which was more excruciating – living with that horrible absence or being with you again. You were worth the risk that's why I took the fall. Saying that I regret a single thing would mean that I regret what once made me happy.
Other than that, the only way out of the labyrinth of suffering is to forgive. And so, I forgive you for not telling me your reasons ahead of time. I forgive you because there were countless times you made me so sad. I forgive you for taking away the happiness inside me. I forgive you for making me feel that I'm not enough. I forgive you for breaking me into a thousand pieces. And I'm sorry.
ADVERTISEMENT - CONTINUE READING BELOW
Maybe this isn't the time we're supposed to talk. Maybe the circumstances just don't deserve words and its beauty lies in the silences. Maybe years from now we'd get to see each other somewhere, familiarity drawing us in. Who knows, maybe then you're already a licensed doctor and I'm a lawyer. Maybe then, we will have the guts to talk to each other... again.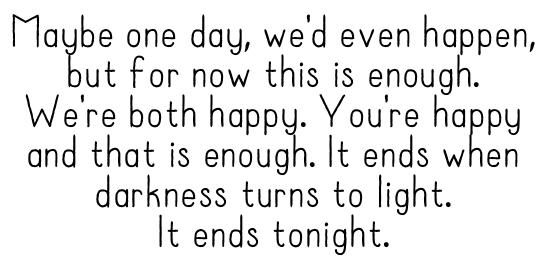 ADVERTISEMENT - CONTINUE READING BELOW
But then, I swear on the River Styx that hopefully you'll be the last guy I'll be writing about. Because the next time I fall in love, I'll be extra careful. You don't get to choose if you get hurt in this world but you do have some say in who hurts you. Based on my experiences, I could say that I like my choices.
Promise me to slay college, okay? It's just sad because I didn't get to see you before you move to Katip, but maybe it's for the best. If only it were easier to remain friends after such attachment; friendship from the beginning would have suited us better. You know what? I still love what we used to have, what we used to be, and what you meant to me. I want to say that I am still in love with you. But words are the knives that can tear a fragile friendship into a million ribbons, never to be whole again. After all that we've been through, I choose self-respect over the comfort of having someone there.
ADVERTISEMENT - CONTINUE READING BELOW
I love you and I would have given everything up to be with you but I have to let you go. I love(d) you from Tartarus and back, but I love myself more. You'll always be my sweetest downfall and my hardest goodbye. Maybe one day, you'll think of me. Maybe one day, we'd even happen, but for now this is enough. We're both happy. You're happy and that is enough. It ends when darkness turns to light. It ends tonight.
Love,
Angeli Alyssa
Angeli Alyssa Andan blogs at angelialyssa.tumblr.com.Got your own story to tell? Drop us an email at candymagazine @gmail.com! We'd love to hear what you have to say. If you're lucky, you just might get published in this space, too! Please indicate if you want to remain anonymous. We're also looking for artwork and illustrations to use with the stories, so please send some in if you want to be featured!
ADVERTISEMENT - CONTINUE READING BELOW