It's funny how just months ago, you were on top of my "close friends" list. How months ago, we were so excited for our one-month-long summer break. How months ago, we were texting each other non-stop. How months ago, we were hating this distance that was keeping us from being together. How months ago, you were the first person I tell everything to. How months ago, I was the love of your life, and you were mine.
I know holding onto our relationship was hard. It was hard for the two of us. We got used to seeing each other every day since second year high school, but then life snuck up on us. College happened. I love you too much to ask for you to choose a university that would be much convenient for us. I can't let you give up your dream school. I thought we could make this work. I thought our love was strong enough to withstand the distance and all our problems. But I was wrong. So wrong.
Now, there you are. On the right side of my Facebook screen. On the "more friends" list. Though I have mastered the art of not stalking your profile anymore, I still can't seem to master the art of letting you go. So here I am, scrolling down every now and then to check if you're still online or not. I feel pathetic for still hoping you would eventually realize you still love me and would magically come back to me just like those in the movies. I know life is never like that. Definitely not my life, but you can't blame me. After 5 years, you left me just like that. You said what you felt for me was gone. You said you still care for me, but not in that way anymore.
ADVERTISEMENT - CONTINUE READING BELOW
We both made sacrifices for this relationship to work. But why was it so easy for you to throw it all away? It's like everything we've been through never really mattered. Was I really that easy to let go? I never imagined we'd end like this. Up until now, I still can't believe you would give up on me like that. I always thought you were the one I'd be spending my life with.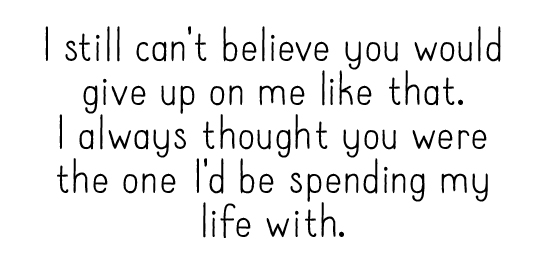 Funny how I still hope for something when there is no hope left. I want to get rid of this feeling, and maybe someday I will. For the meantime, let me enjoy this heartbreaking experience I have right now. Life surely is painfully funny, but it is also breathtakingly beautiful. So I'm just gonna hold on to my dear heart and trust God has everything under control.
READ MORE:
Here's the Apology Letter You Owe Me
A Letter to My Future Love
For Every Girl Waiting For The One
Sent in Hannah S. Got your own story to tell? Drop us an email at candymagazine @gmail.com! We'd love to hear what you have to say. If you're lucky, you just might get published in this space, too! Please indicate if you want to remain anonymous. We're also looking for artwork and illustrations to use with the stories, so please send some in if you want to be featured!