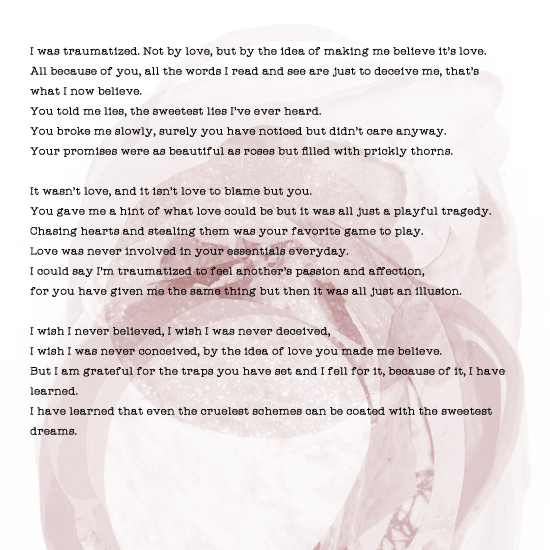 I was traumatized. Not by love, but by the idea of making me believe it's love.
All because of you, all the words I read and see are just to deceive me, that's what I now believe.
You told me lies, the sweetest lies I've ever heard.
You broke me slowly, surely you have noticed but didn't care anyway.
Your promises were as beautiful as roses but filled with prickly thorns.
It wasn't love, and it isn't love to blame but you.
You gave me a hint of what love could be but it was all just a playful tragedy.
Chasing hearts and stealing them was your favorite game to play.
Love was never involved in your essentials everyday.
I could say I'm traumatized to feel another's passion and affection,
for you have given me the same thing but then it was all just an illusion.
I wish I never believed, I wish I was never deceived,
I wish I was never conceived, by the idea of love you made me believe.
But I am grateful for the traps you have set and I fell for it, because of it, I have learned.
I have learned that even the cruelest schemes can be coated with the sweetest dreams.
ADVERTISEMENT - CONTINUE READING BELOW
READ MORE:
A World of Possibilities
It Used To Be Us
The Irony of Love
Sent in by The Adventure Bug. Got your own story to tell? Drop us an email at candymagazine @gmail.com! We'd love to hear what you have to say. If you're lucky, you just might get published in this space, too! Please indicate if you want to remain anonymous. We're also looking for artwork and illustrations to use with the stories, so please send some in if you want to be featured!